Rhys Jones' neonatal chair design was his graduate project at Carleton University School of Industrial Design in Canada. The chair, specifically designed for Neonatal Intensive Care Units (NICU's), allows mothers to comfortably breastfeed, bottle-feed and bond with their newborns. His design has already won him awards including a Rocket User Experience award.
This neonatal chair design is especially useful because current care chairs are not suitable for most NICU's in Canada. Not only are they bulky, lacking wheels and difficult to move but many don't fit in the rooms. With this information and after conducting contextual interviews at the Ottawa Hospital NICU with nurses and a new mother, Jones designed a neonatal chair that was user centred.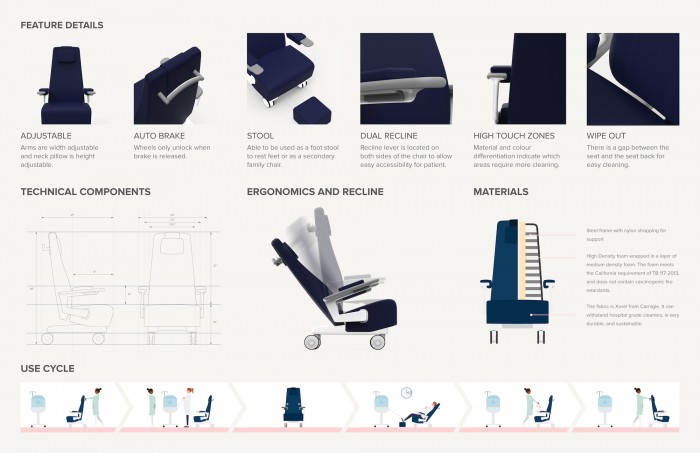 The chair ensures maximum comfortability while a caregiver is nurturing a newborn. The arms are adjustable for hip width, while the neck is adjustable for height. The wheels are at the back and the front, for increased mobility. The chair is fitted with an auto brake mechanism, which means the wheels only unlock when the brake is released. The chair can easily be reclined by levers on both sides to allow accessibility to the user.
An important feature of this chair is that is can be easily cleaned, which is important for a hospital setting, especially NICU's.
The user experience centric chair is what social and human-centred design is about.
Rhys Jones is a 2017 Design Indaba Global Graduate. See the full lineup.