Providing temporary shelter for those in need is not always an easy task. Various obstacles such as a lack of tools for construction and hard to reach areas can stifle relief efforts. To overcome these obstacles, Portugal-based social design and architecture firm, STUDIOMUDA has come up with an easily deployable, lightweight shelter that can be dropped out of an airplane, carried by hand or transported in a vehicle.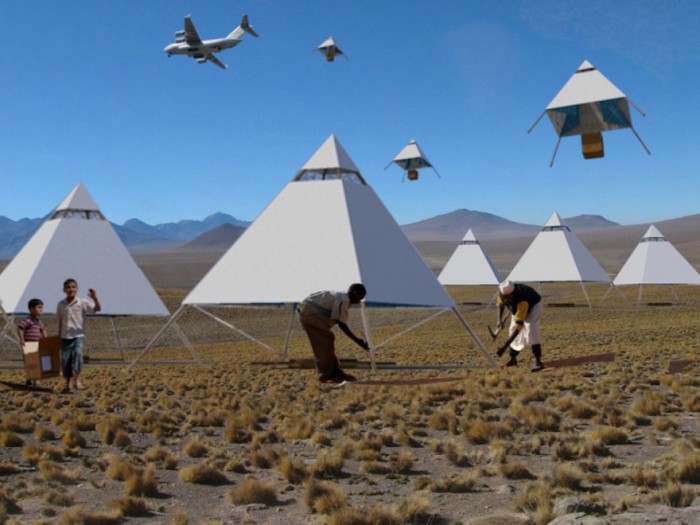 The triangular structure is designed to float like a parachute down to people stranded in an area without shelter. Its simple design features a light bamboo frame consisting of four bamboo poles and a nylon mesh canopy that secures everything together. Because the shelter is prefabricated, there is no need for construction. When the shelters land, they are ready to be used.
To create a parachute effect while in the air, the studio included a wooden crate of supplies secured by steel cables beneath the design, which is intended to pull the light structure down and acts as a counterbalance feature in flight.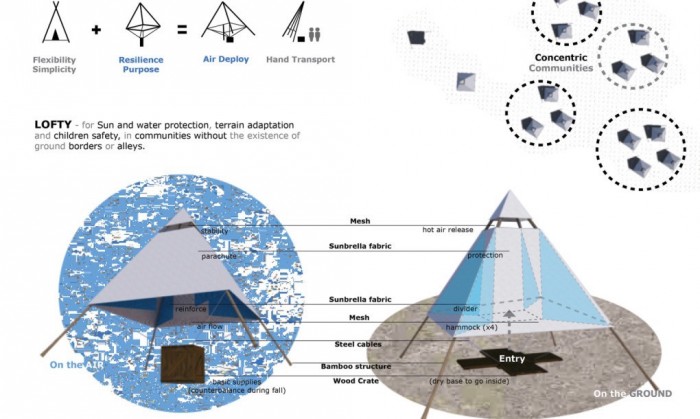 When on the ground, the shelter looks like a tee-pee on stilts. Its canopy is made out of sunbrella canvassing, which protects inhabitants from the sun, heat and rain. A raised canvas roof allows for natural ventilation and cooling inside the structure.
Shade created by Lofty can be utilised on the ground but to enter into the temporary dwelling, one would use the opening underneath the canopy. Once inside, four mesh hammocks built into the four corners of the triangular home provide private and comfortable resting places.