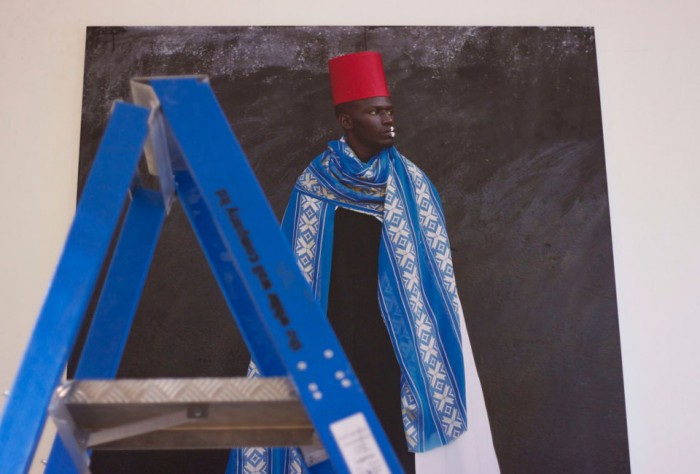 1:54 African art fair installation at Somerset House in London last week.
More than 70 painters, sculptors and photographers were represented at 1:54 – named for the number of countries in the continent – from well-established names with representation in London to those with no presence outside of their homelands. The fair took place in a wing of the major arts and cultural centre Somerset House in central London, and the works on show cost between about £1000 and £300 000.
1:54 took place simultaneously with Frieze week, a heavy hitter on the international art fair scene. This year Frieze featured two African galleries: leading South African art galleries, Goodman and Stevenson. Last year Stevenson showed, too.
According to a report in the US Charlotte Observer, London now has four galleries focussed on African contemporary art, three of which opened in the last three years: the more established October Gallery, an early champion of acclaimed Ghanaian sculptor El Anatsui; the Jack Bell Gallery, opened in 2010; the Tiwani Contemporary, a Nigeria-focussed gallery that opened in 2011; and GAFRA, which is a few months old.
The Tate, home to the capital's best-known collection of contemporary art, launched an African acquisitions committee last year while auction house Bonhams has made more than a million pounds this year from the sale of African art through its "Africa Now" auction. Bonhams claims to be the world record holder for sales for all the major South African artists, the sale of Irma Stern's "Arab Priest" for $5 000 000 among them. Bonhams auctioneer Giles Peppiatt is reported as saying that he has never seen so much interest in art from the continent.
The UK Financial Times reported that no galleries from north or South Africa were represented at 1:54, despite SA having the most developed art market on the continent. "We were a bit disappointed that none wanted to show here," the fair's founding director Touria El Glaoui is reported as saying about SA galleries. El Glaoui is a Moroccan curator.
Approached for comment on why Stevenson did not participate in 1:54, opting only to show at Frieze (for the second year), director of the gallery Joost Bosland referred to a quote he had given the FT last week: "For a start, one of its sponsors is Christie's," he said in that report. "And I don't think auction houses should be backing fairs."
"While any opportunity for artists from the African continent to show is good, we have fought long and hard to get these artists into the mainstream, so I am not sure that a separate platform is the way forward," he added.
While no South African galleries were represented, there were South African artists among those featured: Billie Zangewa, born in Malawi, raised in Botswana and later moved to Grahamstown and then Johannesburg in South Africa; Richard Butler-Bowden, born in Cape Town, South Africa, and now lives and works in Australia; Karel Nel, born in Pietermaritzburg, South Africa, and now lives and works in Johannesburg; Ernest Mancoba, born in Johannesburg and died in Paris; Zemba Luzamba, born in the Democratic Republic of the Congo and now lives and works in Cape Town; and Frank Marshall, who has lived in various parts of South Africa and studied in Pretoria.