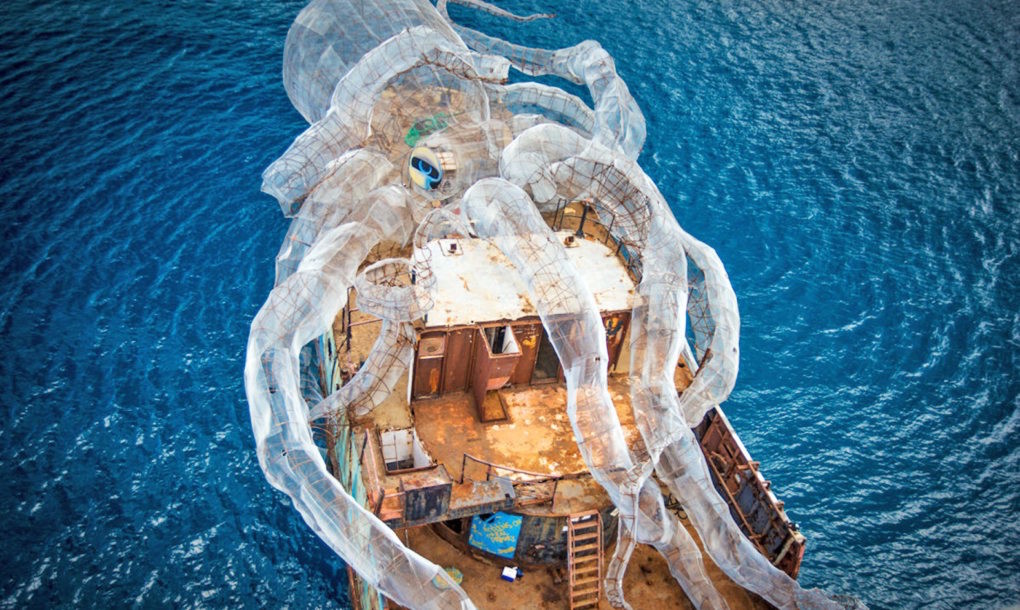 Off the coast of Virgin Gorda – an island in the British Virgin Islands – a defunct Pearl Harbour ship named the Kodiak Queen now lies at the bottom of the ocean. Featuring an enormous mesh Octopus constructed by a group of 'eco-artists' going by the name Secret Samurai Productions, the unique art installation was created to serve as both a tourist diving site and a way to draw attention and conservation efforts to the region's fast dwindling coral reef populations.
According to a report from Unite BVI, a nonprofit dedicated to supporting the islands, global warming and overfishing of the goliath grouper fish species have adversely affected the health of around ninety per cent of the area's coral reefs. Part of an initiative called Project YOKO, the Kodiak Queen art installation seeks to combat this in more ways than one.
After the Secret Samurai Productions sufficiently cleaned the vessel and transformed its chambers into an interactive art experience, the massive, hollow octopus and its 80-foot tentacles were positioned and secured on top. Once it opens to visitors, diving it will require a $10 donation (diving reefs is usually free) that will funnel back into marine health research and children's swim education.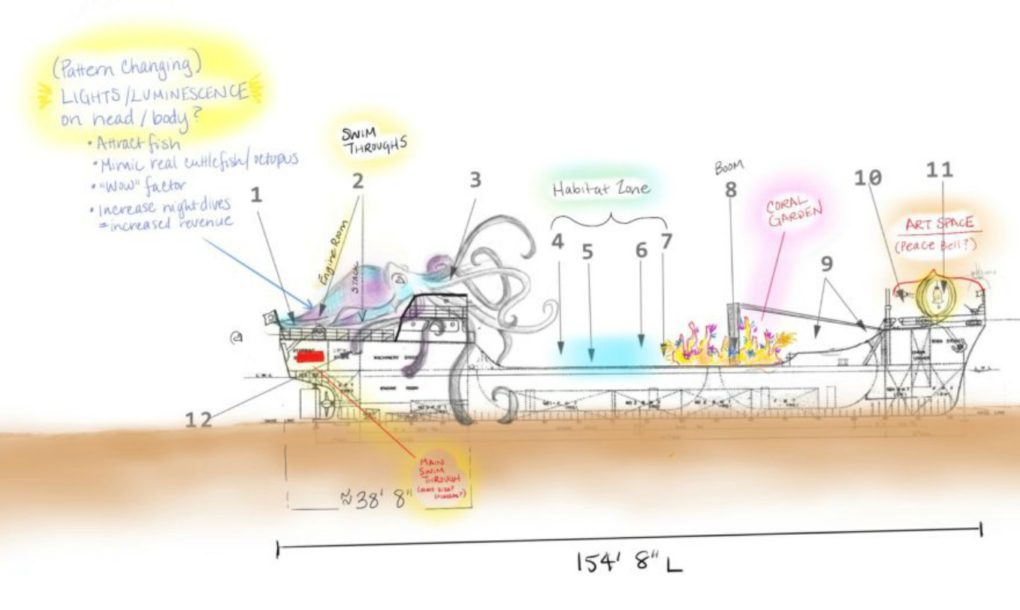 "We had this fun, wacky idea to catalyse play and joy to unite people around a project that would touch on a number of different challenges," Aydika James, art director of Secret Samurai Productions, tells Global Advisors. "The whole purpose is that eventually all the people who put this together will be forgotten, and the new life and economy the reef will create will remain."
As well as being an educational experience for divers, the Kodiak Queen's octopus will also serve as a tool to stimulate the repopulation of the region's grouper fish population. Crucial to the health of the reefs, the installation's body and tentacles were designed to create a protected habitat for the species.
To learn more about Project YOKO, visit the website here. You can also watch the teaser for a documentary about the project by filmmaker Rob Sorrenti here.