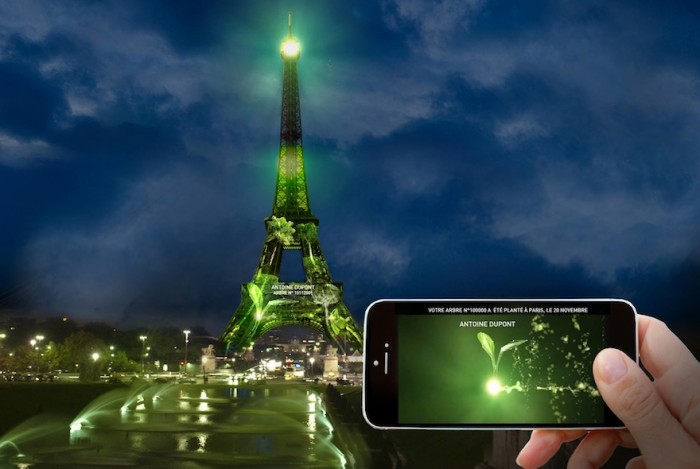 Artist Naziha Mestaoui is planning to grow a virtual forest on the Eiffel Tower that will be matched by a real one in the soil
During the UN Climate Change Conference in December 2015, Belgian artist Naziha Mestaoui is planning to create a virtual forest on the Eiffel Tower. For every individual that supports the project, a tree will grow in 3D light projections on the Eiffel Tower to the rhythm of the supporter's heartbeat. Each tree will also show the supporter's name. For every tree in light there will be one planted in reality.
Mestaoui explains that she is interested in finding ways to connect the virtual and the real: the One Heart One Tree project turns a digital forest into real saplings in reforestation programmes around the world.
The Climate Change Conference (COP21) is a significant and appropriate event during which the One Heart One Tree art work will take place. International attention will be focused on the city, with global warming and its harmful effects on nature at the centre of conversations.
In order to join in and see their own heartbeat tree on the Eiffel Tower users must download an app from the One Heart One Tree website and measure their heartbeat using their smartphone.
Mestaoui spent a year living in the Amazon, where she saw that trees were more than just a source of wood: they were seen as a living source of energy and spirit.