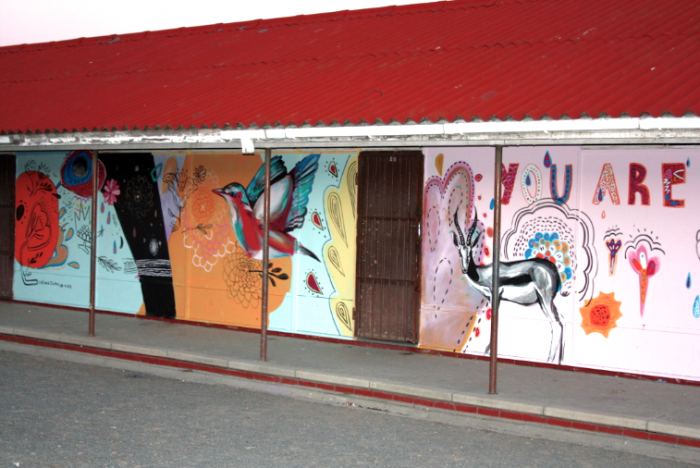 A Colour Ikamva project at Mannenberg Primary school.
"I have spent many days disillusioned over the collective pains of our country, over failing systems and unequal opportunity," reflects Cape Town-based creative Megan King. "And despite all those days where I've tried to convince myself otherwise, I still love and believe in humanity, I love learning about other people's stories and I love South Africa."
So instead of giving in to the disillusionment, King sought a solution. She wanted her solution to be bright and bold. And she wanted it to help children feel empowered and creative.
King founded Colour iKamva ("ikamva" means "the future" in isiXhosa) with Cape Town activist Ricky Lee Gordon (also known as street artist Freddy Sam) from A/Word of Art.
The social initiative works with IkamvaYouth to beautify schools and educational spaces in a collaborative process of co-creation with students. The idea is to help the students re-imagine their school and their future.
"We co-design and co-produce the artwork but we also teach valuable creative and life skills through workshops that encourage expression and self-empowerment," King explains.
This approach of using creativity as a tool for empowerment earned them official recognition as a World Design Capital 2014 project.
King points to a quote by music genius Wolfgang Amadeus Mozart that inspires her: "Neither a lofty degree of intelligence nor imagination nor both together go to the making of genius. Love, love, love, that is the soul of genius."
Colour Ikamva believes that love can inspire genius, and love can express itself in the environments we choose to create around us, she says.
"We want to instill a renewed sense of pride and possibility in students."
In December 2013, they completed a pilot intervention at Thembalidanisi Primary School in Ikageng, sponsored by paint brand Dulux.
"The project was a great starting point for us. We learnt so much about who we are and got to meet some amazing people and students," she recalls. "I recently ran into Patrick, the district co-ordinator of IkamvaYouth (who we worked with) and he told me that the school has changed forever. Before, they were worried about attendance rates but the project has ensured enthusiasm and excitement for kids to attend school!"
Since then, Colour Ikamva has gone from strength to strength transforming dreary, neglected spaces into vibrant, loved places of learning. Masibambane Library and Mannenberg Primary School have both received the Colour Ikamva treatment and more recently the team tagged along with GreenPop to lend support to the tree-planting social enterprise's festival in Zambia. There they produced five co-created murals and two radically transformed classrooms filled with artworks by 24 students of the Libala Primary School.
Until now, it has always been about what is asthetically pleasing and beautiful with a dream-element – lots of animals and nature – that kids will enjoy, and that is open to interpretation, she explains.
"Now, we are focussing more on coming up with a narrative using the kids' stories and creating unique patterns in the workshops that each kid paints on their own. We are also experimenting with artworks that have an educational function. For example, we made a huge map of Africa labeled with all its countries at Libala Primary School in Zambia."
Closer to home, the team will be hosting a Makerthon in Delft on the outskirts of Cape Town with their friends from The Shift, designer Heath Nash and the World Design Capital 2014 team that will transform the entrance of Delft South Community Hall. Together with 50 children they will be creating a space where the youngsters can connect to their creativity and to each other.
What is the most rewarding part of the work? For King it is the children's feedback.
"One of our students at Libala Primary School, Audrey, said 'I learnt that creativity is me, my imagination, it's my voice and a dream inside of me that I can start planning before physically making it. I believe what I make is special and I want to teach this to my brother and sister.'"