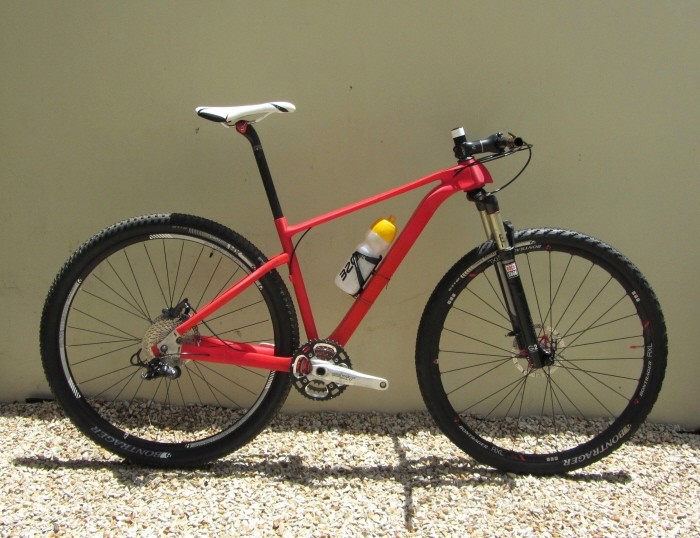 Custom Racing Bikes by Calvin Botha.
Industrial design graduate Calvin Botha designed his first bike when he was 16. Since then, he has been "more than obsessed" with bicycles.
"In high school, while everyone else was paying attention, I was drawing bicycle frames in class," says Botha, one of the few bicycle frame builders in Cape Town and the only one using carbon fibre.
"I had one goal. I matriculated in 2005 and immediately started working in a bicycle shop so I could pay for engineers to transfer my drawings into CAD and learn the in's and out's of bicycle design."
After graduating from the Cape Peninsula University of Technology in 2012, he started his own business, Custom Racing Bikes, building carbon bicycle frames. He designs and manufactures custom-built racing bikes using a MakerBot 3D printer, which enables him to create complex aerodynamic shapes and achieve a high level of system integration.
Once the cores are printed, he wraps them with carbon fibre to create bespoke racing machines. The carbon layer is designed to match the customer's weight and riding style and is applied to the light-weight ABS core with a special hybrid manufacturing technique.
The bikes he makes are typically used in ultra-marathons such as the Absa Cape Epic.
One of his customers finished in the top 10 of this year's Sani2C Race in the women's general classification, he says with pride.
Being a super-niche market (he says there is only himself and two other companies in the world making fully customisable carbon bicycle frames), it's no wonder Botha has been an autodidact.
He credits a chance meeting at Design Indaba Expo 2014, where he was an Emerging Creative, with changing the course of his career. Graeme Murray, a South African who invented the first bike in the world with a fully adjustable carbon-fibre frame, introduced him to Advanced Fibre Form, an engineering, tooling and production firm in Strand, Cape Town, which will be manufacturing his bikes.
"After 10 years of wanting this dream to come to fruition, the beginning is finally within in my grasp," he says.
Where is his favourite place to ride his own bike? "Lately I've been riding to the King's Blockhouse [on Devil's Peak, Table Mountain] just before sunrise, that's nice. But my all-time favourite has to be Tokai Forest. I've been riding there since I was 14… there are so many memories there… you feel at peace."