Dennis Osadebe is a contemporary artist from Nigeria whose latest project, titled Stand for Something (2019), made in collaboration with Unique Board, draws from the idea, mentality and philosophy of Neo Africa.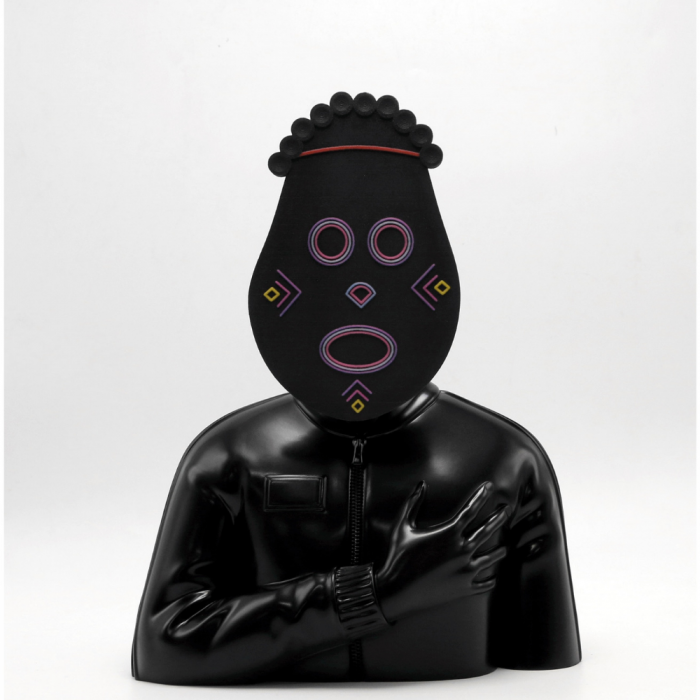 Osadebe asked the question "What do you stand for?" and "What does that say about you?" For him the Neo African movement was something worth standing for and thus provided the inspiration for the Stand for Something sculpture.
In the words of the artist, Neo Africa is "An ideology about reimagining Africa. It is also the character of the 21st century artist who is energetic, provocative and progressive. It is full of soul, personality and hope. Neo Africa is an attitude, it's a reality, it is the now reality."
This philosophy shines through in his latest piece of art. The Stand for Something sculpture is crafted and designed using resin and 3D printed plaster. Once constructed, the artwork is delicately completed using a semi-gloss and matte finish.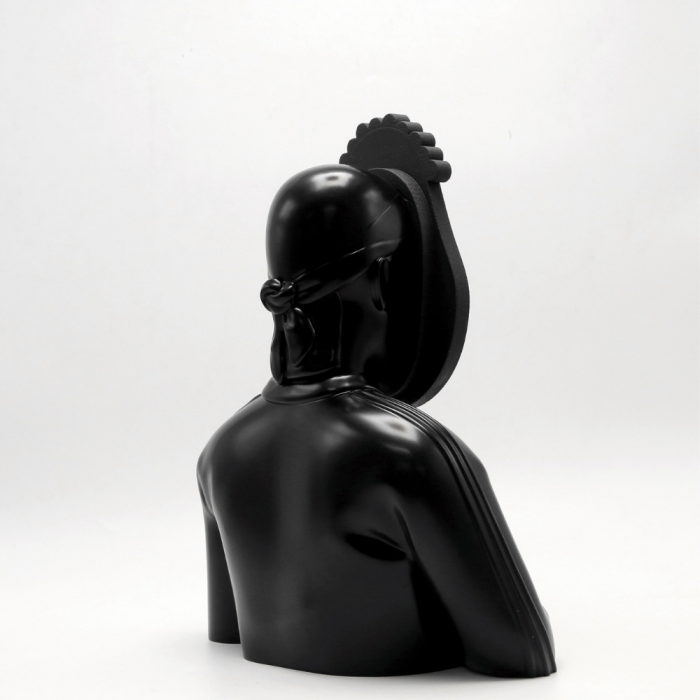 The piece combines elements of contemporary urban trends and traditional aesthetic. The attire of the body takes the form of urban streetwear, whereas the face is covered in a traditional Nigerian mask. Unlike his previous pieces that were doused in bold and exuberant colours, the sculpture is jet black with details of colour shaping the face of the mask.
"In this piece, I have combined both urban and traditional cultures in order to reflect the Nigeria of today, a Nigeria (where) the history of which has produced me as an artist and the forward-moving nature of which continues to influence me every single day," says the artist.
Masking the subjects of his art is a common thread that runs through his work. Besides using the traditional Nigerian masks, he has made use of a technological-type helmet.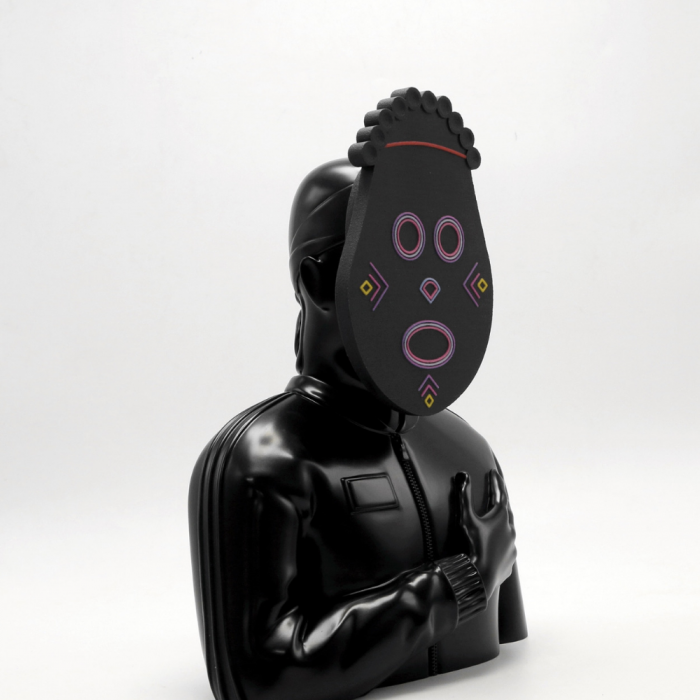 In an interview with Omenka, Osadebe explains his reasoning for this, "It binds the diverse characters of the works together. The helmet (and mask) also creates a sense of anonymity, disguising the identity of its user. Additionally, masks and facial concealment have long been used by Nigerian artists to define relationships between individuals, communities, the environment or the cosmos and, sometimes to challenge the status quo."
For this specific piece Osadebe explains that he's taken a fresh look at the Mask through the use of colour, textures and style of production.
The piece is available for purchase from the Unique Board site.
Read more on Dennis Osadebe and his take on African art.