Nigerian brand, Keexs (An innovative and social Footwear brand in Africa) and South African based Afrikanswiss (Africa's premier denim brand) recently collaborated on a new collection for South African Fashion Week 2017. The recent xenophobic attacks on foreigners, especially Nigerians living in South Africa did not deter these brands from working together to promote unity in the African fashion industry.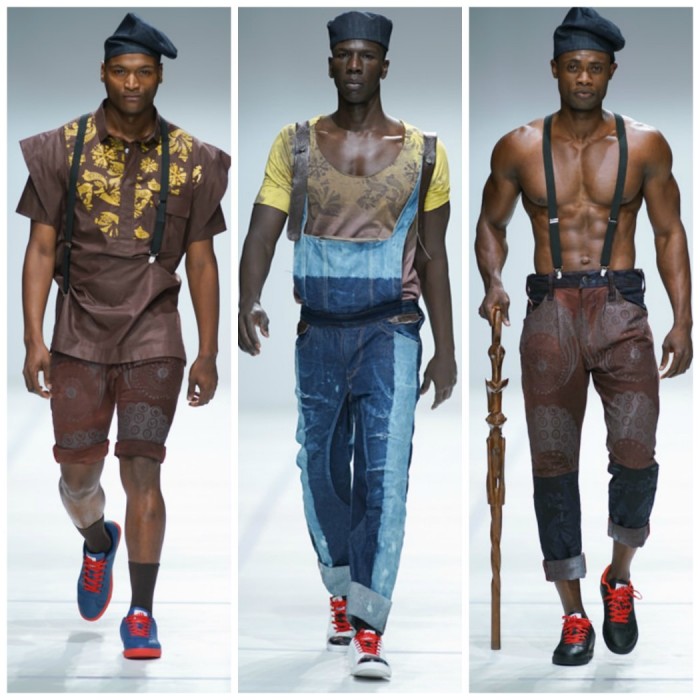 Showcased at the Hyde Park corner in Johannesburg on 31 March; the new Spring/Summer 2017 collection, "Naija man in Soweto" tells the story of a modern merge of cultures, with interesting pieces like the denim 'fila' to the denim embroidered 'buba', it's safe to say that there's no limit to the creativity of African fashion designers.
The Keexs sneaker collection with art curated by self-taught artist Lemi Ghariokwu, draws inspiration and pays tribute to the legendary Fela Anikulapo – Kuti, a Nigerian multi-instrumentalist, musician, composer, pioneer of the Afrobeat music genre, human rights activist and political maverick who has inspired millions of people all over the world.
The Afrikanswiss collection fused Nigerian traditional wear with pantsula street wear. Pantsula, a highly energetic dance originated in the black townships of South Africa during the Apartheid era. It developed into a form of social commentary for black South Africans and although it has undergone several transformations with the country's changing political tides, it is still relevant today.
Nigeria and South Africa could be likened to the Biblical Aaron and Moses, endowed with the responsibility of bringing Africa out from the bondage of despair, decline and underdevelopment. As regional powers, history has imposed on them the enormous task of finding solutions to some of the most pressing African concerns.
The Keexs and Afrikanswiss collection will be available in select retail stores in Nigeria and South Africa by Spring 2017.