As a developing continent, Africa faces a number of healthcare challenges. A lack of infrastructure or the lack of access to healthcare professionals exacerbates problems like the HIV epidemic, the burden of tuberculosis, maternal health and non-communicable diseases. According to a survey conducted by growth partnership company Frost & Sullivan, digital health startups will be key to relieving the strain on the healthcare industry. One such startup was recently awarded the inaugural MTN Entrepreneurship Challenge. Created in Ghana, MedRx connects patients to healthcare centres and healthcare personnel using a mobile app.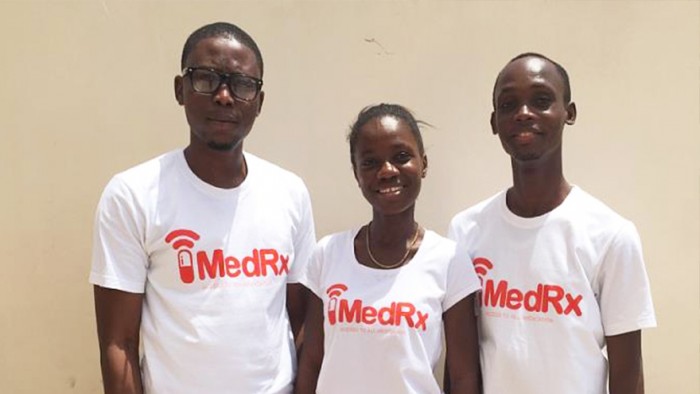 The MedRx team, Victoria Acheampong, Hayford Brako and Yannick Kabu Bosomprah, designed an app that functions both online and offline. It is an interactive health platform that connects patients to health personnel from various fields of practice. These fields include hospitals, pharmacies, laboratories and academia.
According to the team's website, the MedRx app enables users to find any medication they need from pharmacies, ask any health related questions on the Med Forum, find nearby health centres or health professionals and many other health benefits.
The system makes the act of seeking help comfortable and private.
Speaking to IT News Africa, Acheampong said the app is like "having a pharmacy on your phone and having access to medication."
The team received top honours at the MTN Entrepreneurship Festival held at Philippi Village in Cape Town, South Africa. The festival was launched on 15 February 2016. It involved a total of 26 countries, 61 Universities and 1529 applicants across the African continent. Furthermore, this process included 734 big ideas, 30 hours of live pitching over seven days in 11 countries and 411 hours of judging to determine the finalists.
Along with an award of $25 000, MedRX also won a year-long partnership with online retailer Jumia, a facebook start-up program and the opportunity to be developed at the MTN Solution Space at the University of Cape Town Graduate School of Business.
"Health is a very important to move any nation forward and this trend can be seen across the African continent. As a team, we wanted to make this integral connection easier between medical resources and the people on the ground, and the MedRX application does just this. The implementation of our application will give us the opportunity to be more effective in our country and create positive change and it will be our ultimate goal to upscale and take this positive change to everyone across Africa. We truly hope that this is the beginning of a very bright future for us," Acheampong was quoted as saying.