The Museum of Fine Arts, Boston is set to launch its #techstyle exhibition this month. The exhibition will explore the future of design and how it has been influenced by the synergy of technology and fashion. This relationship has brought about a number of unprecedented changes in the world of garment creation. From clothes that move and change with the wearer to dresses that are ready to wear off the 3D-printer, we look at three designs that are at the forefront of fashion innovation.
The Kinematics Petal Dress
The integration of technology and fashion has also changed the way people interact with their clothing. US-based generative design studio Nervous System took this fact into account when designing the Kinematics Petal Dress, a garment that made up of interlocking parts customised to fit the wearer's unique shape.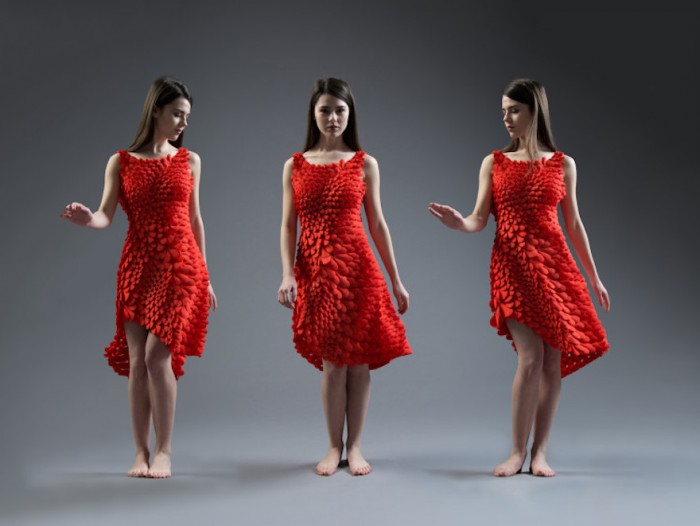 Kinematics is a system for 4D printing that creates complex, foldable forms composed of articulated pieces. Inspired by petals, feathers and scales, Nervous System designed a new textile language for Kinematics in which the interconnected elements are articulated as overlapping shells.
3D printed in durable nylon textile, each interlocking component of the dress is rigid, but they behave as a continuous textile. The dress is able to move and adapt to the wearer's movements.
Anthozoa: Cape & Skirt
Designed by Dutch designer Iris van Herpen and MIT Media Lab associate professor Neri Oxman, the Anthozoa Cape and Skirt might not be a favourite among trypophobic but it has made waves in the world of fashion and tech since its debut in 2013.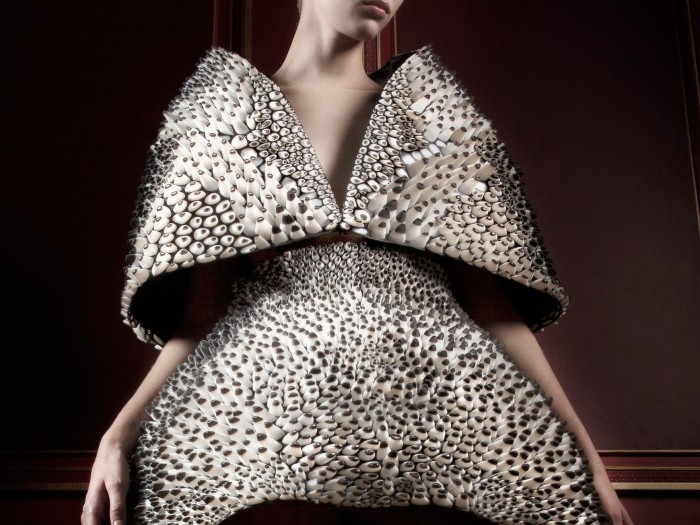 According to Oxman's web page, the 3D-printed skirt and cape were produced using Stratasys' unique Objet Connex multi-material 3D printing technology. The designers were able to print using a variety of materials. This allowed both hard and soft materials to be incorporated within the design, crucial to the movement and texture of the piece.
Its seamless design paved a new way of manufacturing garments, setting the stage for the next generation of ready-to-wear clothing.
CuteCircuit's interactive commission
London-based studio CuteCircuit has been commissioned by the MFA to design a dress that allows anyone to #tweetthedress and see their message scroll across the garment's 10,000 MicroLEDs. According to Dezeen, the dress will display images from the museum's collections. The images will be selected by visitors using an iPad in the gallery.
CuteCircuit designed the first Twitter dress worn by Nicole Scherzinger.
The show opens 6 March and runs until 10 July 2016 at the MFA, one of the largest museums in the United States. Thirty-two designers from around the world are expected to take part in the exhibition.