Ivan Brown is one of Design Indaba's Emerging Creatives of 2017. With a keen interest in industrial design and childhood roots in the countryside of Magaliesburg, South Africa, Brown tackles the problem of dwindling bee populations – a mounting dilemma that beekeepers the world over are facing.
We asked the designer about his bellwether project Beegin, a dual research and infrastructure initiative that could enhance the life of the insect as well as the farmer. If successfully implemented, Beegin will bolster food security in South Africa in two ways: by injecting additional income to small-scale farming communities and by safeguarding the pollination of our crops.
Beegin not only reflects the designer's personal affection for bees, but also his desire to uplift marginalised farmers by giving them the right tools for sustainable beekeeping. He spoke with local farmers to discuss the real-world problems they face on ground level.
"Although I have always been fascinated by bees and apiculture, the project emerged from thorough research procedures. I interviewed urban farmers who told me they were interested in beekeeping but could not afford the equipment.
I spoke to beekeepers who explained that the industry is in decline due to theft, vandalism, diseases, pests, fires, floods and pesticides. I began working with the farmers and beekeepers to develop a solution after that."
By coming in contact with the people whose work would be influenced by his innovation, Brown gained a better understand of what the best route to take for Beegin would be. It became clear to him that it the plight of local beekeepers extends further than the physical design of a beehive, that affordability would also have to be accounted for to allow these farmers to produce honey on their own.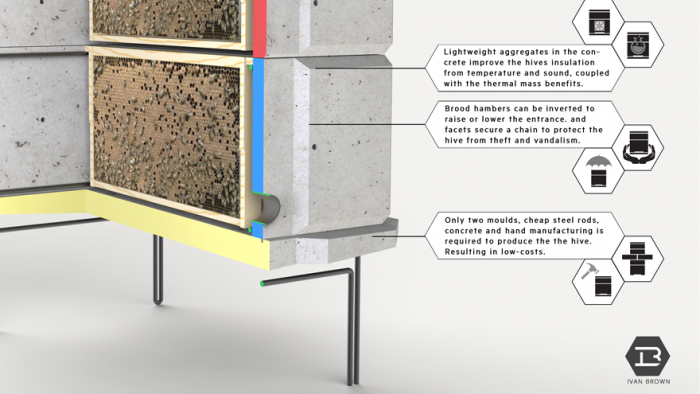 "The aim of the project is to develop an appropriate (sustainable and accessible) system for beekeeping in our country. At the core of Beegin lies the lightweight-concrete beehive design – a more durable, low-cost and protective structure.
The moulds that are used to create the beehives are also part of the system. The moulds can be sold or sponsored to people so that they can produce beehives locally for themselves and their communities. At the moment I have 5 urban farmers and 5 beekeepers testing out the Beegin system with some great initial results."
He added, "There are a number of designers to whom I aspire to, those who are at the forefront of design for social development such as Adam Kahane (Reos Partners) and Timothy Prestero (Design that Matters)."