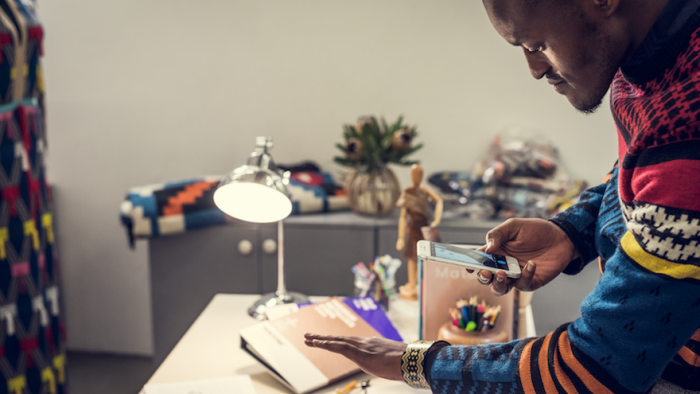 Mna Nam by Laduma in collaboration with Sanlam
Financial giant Sanlam teamed up with renowned South African designer Laduma Ngxokolo to create a functional piece of fashion that helps its wearer save money. Launched during national savings month, Mna Nam allows its owners to improve their savings habits by diverting savings to a digital savings wallet with a simple scan of the wrist.
It marries the simplicity of the QR code scanner with the necessity of saving. The Mna Nam is worn around the wrist and made from modern acrylic with Ngxokolo's signature bold patterns in gold.
Ngxokolo – who was part of the Design Indaba Emerging Creatives programme and spoke on the Conference stage in 2011– recently completed his masters in Material Futures. Since establishing his brand in 2011, the designer has won numerous awards including the 2015 Vogue Italia Scouting for Africa prize. He believes that fashion is about more than just aesthetics. "This shift is already being seen globally, wearable tech combatting fitness concerns, sunglasses sensing brainwaves, and swimwear materials making swimmers move faster. Mna Nam takes wearable tech into the financial sphere, giving people a stylish solution to saving."
The placement of the device on the wrist is strategic in that it reminds wearers to save before they spend. "Africa has a history of ingenuity when it comes to repurposing tech to solve very specific problems. We used this to leverage mobile and all its capabilities," added Ngxokolo.
Visit the Mna Nam website to find out how you can become an owner.
Watch the Talk with Issa Diabaté