Last year, artists Alka Dass and Tyra Naidoo were having a conversation about how they felt displaced in the South African art scene.
"As Indian women artists from South Africa we felt that this narrative in the art world was under-represented and was not taken very seriously, or spoken about," Dass says. In their talks, they gave one another support with regards to their mutual struggles regarding feeling overlooked, falling outside of the racial black-and-white binary that so often dominates dialogue in South Africa.
Even in art school, Naidoo noticed a gaping hole where it came to learning about South Asian art history and contemporary art beyond the odd Anish Kapoor reference. The feelings they shared were being mirrored in similar conversations happening between South African Indian artists across the creative industry.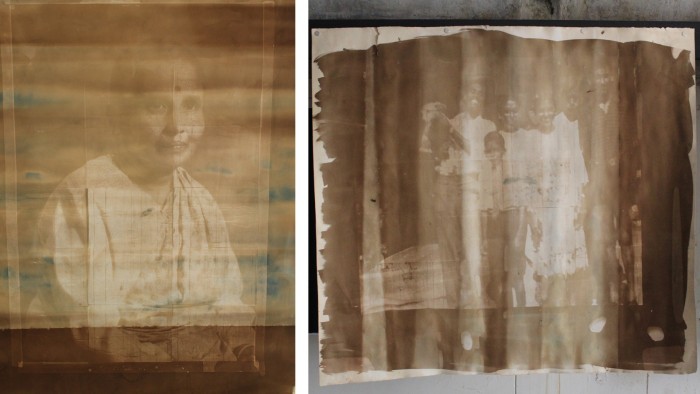 Kate'Lyn Chetty
"I do not see much Desi* representation in the art world here in South Africa," says Cape Town-based artist and gallery assistant Akshar Maganbeharie. "This is something that has always bugged me since I started studying. I rarely see Desi artists thriving in the South African art world, and I often notice that Desi creatives are mostly involved behind the scenes; handling the admin and numbers. I find this a tiny bit problematic."
Naidoo decided to start a WhatsApp group where she and fellow Desi artists could have these conversations in larger numbers. The initial members then in turn invited the Desi artists they knew to join.
The group now consists of practising artists, curators and gallery workers, writers and photographers who know each other from art school, from high school, from parties or who have never met face-to-face, but follow each other's work on platforms such as Instagram. The topic of representation came up early in group conversations, and so did the idea of starting a more formal, public collective which they called Kutti Collective.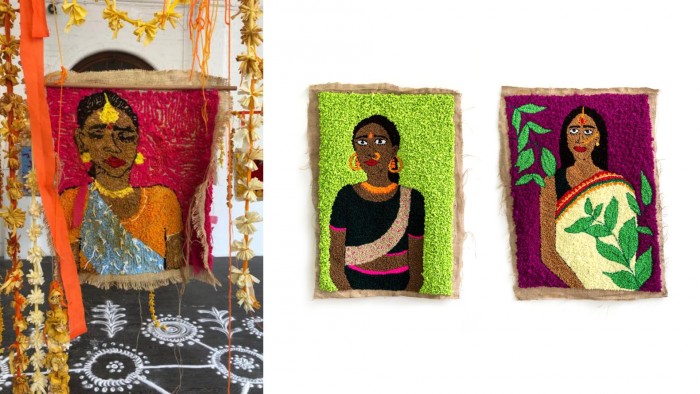 Talia Ramkilawan
"It's not a single person's idea," artist Talia Ramkilawan says. "We all contributed to the idea of the collective in some way, and all therefore brought it to life."
Kutti Collective takes its name from the word 'Kutti' (pronounced cu-tee), a derogatory term in Hindi and Punjabi slang meaning 'bitch' (female dog). Multi-disciplinary artist and writer Saaiq'a wrote their manifesto: "As a collective of Desi women & LGBTQ+ artists we are continuously reclaiming our minds, bodies and identities within both cultural structures and in public/social structures. These are largely sustained by colonial legacy and patriarchy," she says. "By using the term 'kutti' — a word that was originally used to shame and vilify 'us' — this projected shaming related to our 'insufficiency' is now being adopted, and a subverting of its meaning allows us to reclaim our agency and identities."
Together with Saaiq'a, Dass, Naidoo, Ramkilawan and Maganbeharie, the collective includes curator and jewellery designer Githan Coopoo, artist Kate'Lyn Chetty, writer and journalist Youlendree Appasamy, and performance artist and founder of queer night club Death of Glitter, Tazmé Pillay.
Based in different cities: Cape Town, Johannesburg, Durban and in places as far as France, the WhatsApp group is vital for the sharing of their ideas. "As important and as good at mobilising people as representation is, it's not the focus of the collective for me," Appasamy says. "It's about sharing, swapping, creating and dialoguing about things that affect us in a way that isn't Orientalist, or beholden to the erasures and violence from institutional structures. Also, Kutti can, one hopes, shine a light on, and be an umbrella for a host of artists of Indian origin to exist under. There's power in collectivity and collaboration."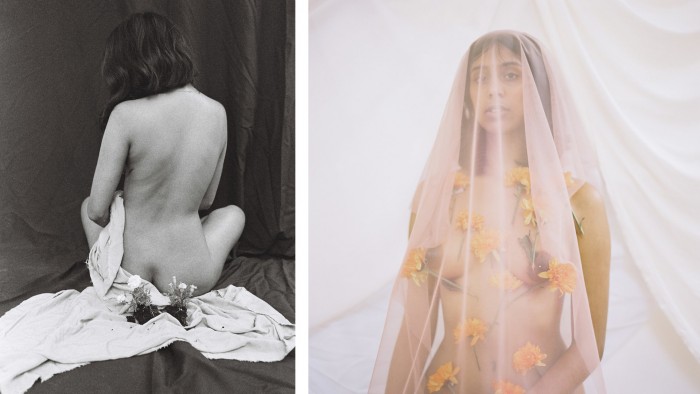 Tyra Naidoo
By means of collaborations, events, group exhibitions and performances they aim to raise the visibility of Desi artists in the country; but they also take time to celebrate their cultural heritage.
Last month, Kutti Collective hosted a Bollywood hip-hop night in Cape Town called 'Karou' for the Desi community in the city. "Bring your bhangra moves, your lenghas you've been dying to wear, dhal to share and all the Bollywood dance moves you practiced as a child," the event description exclaimed.
But it was about more than letting loose while Sanjay Leela Bhansali's film 'Bajirao Mastani' played in the background: the collective received feedback from people saying they had felt seen. "People at the event were so emotional about having space and feeling comfortable," Naidoo says. This is something that's not always afforded to everyone in a segregated city such as Cape Town.
This reclamation of their South Asian heritage underpins much of the work the Kutti artists create in their individual capacity. Art has proved an outlet to examine their identity and to relearn the history of Indian people in South Africa. "There are so many Indian histories that have been disavowed from the South African Indian community that this collective allows us to remember," Chetty says.
In her practice, her research spans her family's history from their arrival in the country as indentured labourers. She's reproduced documents from this time on sugarcane paper and created stained cyanotypes using old family photographs in response to the poorly documented history. "Being part of the Kutti Collective means we are actively archiving our history [now]," she says.
Dass also uses old photographs in her work by printing them on textiles — old tea tray covers or handkerchiefs — she collected from her family. "These pieces explore nostalgia as well as try to reclaim a history that was very easily forgotten in South Africa," she says. She also uses spices in her work as a link to her culture and her ancestry.
Alka Dass
"Spices immediately make me think of home. I think of my grandmother's home in which I grew up and how the kitchen was a very sacred space. In Indian culture food is so important, it brings families together." She uses spices to make certain pigments, and also to awaken the senses of the viewer by by using scent.
Much of Pillay's performance art stems from Hindu ritual, which he subverts in an attempt to reconcile his queer identity with his conservative Indian heritage. Coopoo incorporates symbols and shapes from Malayali culture (of the state of Kerala, India) into the jewellery he produces,and mixes these with other personally significant motifs. Indian women in cultural dress feature in Ramkilawan's bright tapestries. "My work deals with subverting the image of family trauma by healing through making," she says. "The womxn were about creating a Desi community, a presence. I also came to see a bit of myself in the portraits."
"We can make work that engages our culture, heritage, and history," Naidoo insists, "but if we want to make work about cups, fuckboiz, queerness, environmentalism or something that's just aesthetic, we should be able to without interrogation or fetishisation."
Her work looks into her personal struggles that she finds many Desi and immigrant bodies share: "wanting to belong and wanting a concretised understanding of one's own identity," she says. Her most recent work 'I carry the sun', a photographic and video series created with Meghan Daniels, is a celebration of her brown skin. "And that is how I want my culture, and all those who live and are a part of being Desi, to feel: celebrated and empowered," she says.
For Kutti Collective, the group serves to support, celebrate and empower each other. "There's something that ties Desi people together here in South Africa," Pillay adds. "I think it comes from being part of a diaspora that we tend to look out for each other and are hungry to find a home within each other and our experiences."
Kutti Collective is an example of how what is murmured in private conversations — where people feel at home and safe to share their struggles — can collectively become a chorus that rings in change.
*Desi are the people, cultures, and products of the Indian subcontinent and their diaspora.