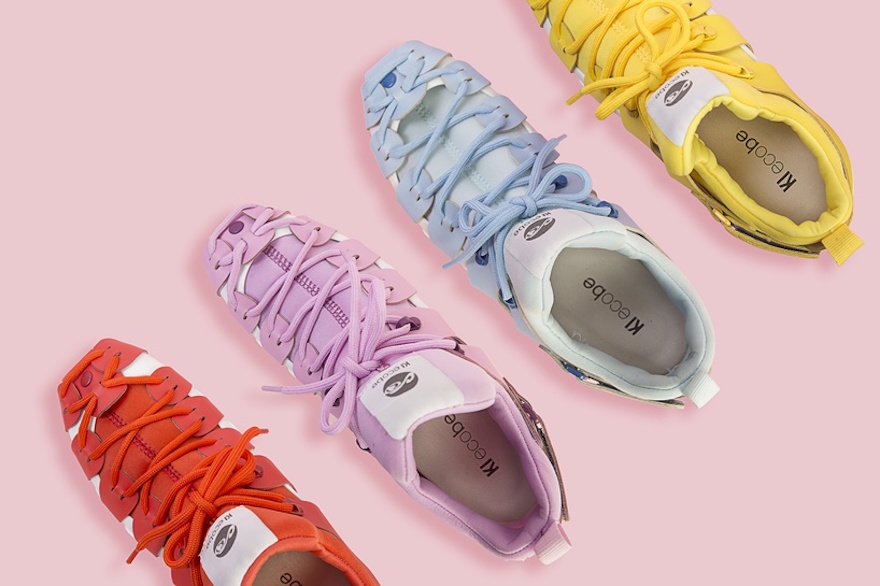 There are numerous long-term health risks associated with factory work. One of them is the constant exposure to chemicals like toluene and methyl ethyl ketone through industrial strength glue - which can often lead to illness or even death. Designer Gyudeog Kim first encountered the harshness of these chemicals while working at a shoe production plant in South Korea in the 90s. Almost two decades later he's developed a way to eliminate glue from the shoe production process entirely.
Introducing Ki Ecobe; a modular, customisable shoe that employs zero toxic adhesives. Able to be self-assembled in less than five minutes, it all but eliminates factory labour (factory workers still sew together the slipper-like, inner part of the shoe) and wearers are able to choose from a range of colours and various styles.
Featuring a recyclable rubber strap that snaps onto the inner sole in a jigsaw-puzzle-like fashion, the shoe's outsole can be recycled once it wears down. Rather than having to replace the entire shoe, you can simply replace the interchangeable parts when it becomes necessary. Ki Ecobe intends to provide discounts for returning worn-out shoes for recycling. They want to reuse this material wherever possible.
"Our goal in making this shoe," Kim tells Fast Co. Design, "was not to replace factory workers with robots, rather, to improve the factory workers' lives by eliminating the worst of the processes in the shoe manufacturing industry."
Currently running a crowdfunding campaign via Kickstarter, the extraordinary footwear has already been the recipient of the Red Dot Design Award, the iF Design Award, and the Green Good Design Award. Kim plans to expand the brand around this glue-free, sustainable philosophy and is already working on another design that needs no adhesive.
To contribute to their crowdfunding, visit the Ki Ecobe Kickstarter page, or you can check out the website to learn more about them.