Kenyan photographer Thandiwe Muriu's journey into photography began at 14, when her father taught her and her sisters how to use digital cameras. "I like to say before then that I had all this art inside of me that was looking for an outlet but hadn't found one yet. From my first interaction with the camera, I knew there was a connection between photography and I," she says.
She dabbled in commercial photography, and eventually, on the advice of a fellow photographer started to explore her own style. This birthed her current show, CAMO, a project that began in 2015, now showing at 193 Gallery in Paris. The concept began as a way to appreciate African fabric, but Muriu quickly realized there was so much more to say.
"If I speak of African beauty, I need to focus on more than what we wear and explore who we are and how that makes us uniquely beautiful," she says. "I am so proud to come from this continent! To me, being African means being colorful and full of life," she says.
With that in mind, Muriu homed in on certain items, objects, and styles that reflect her Kenyan culture. "We often wear our hair in braids or chemically straightened, even though we have a rich history of beautiful, architectural hairstyles that are being forgotten. I incorporate this into my work to spark conversation around how we can wear it today. I like to call it 'modernizing history'," she adds. "Our dark skin, too, is one of our most striking features and I want to encourage young girls to celebrate that."
Although exploring serious and thought-provoking themes, Muriu wanted to approach these in a more accessible and playful way. This she did by using graphic fabrics as backdrops and everyday objects as props - items that every Kenyan has in their homes. Objects like bottle tops, plastic combs, sieves, straws and even bottle cleaning brushes feature.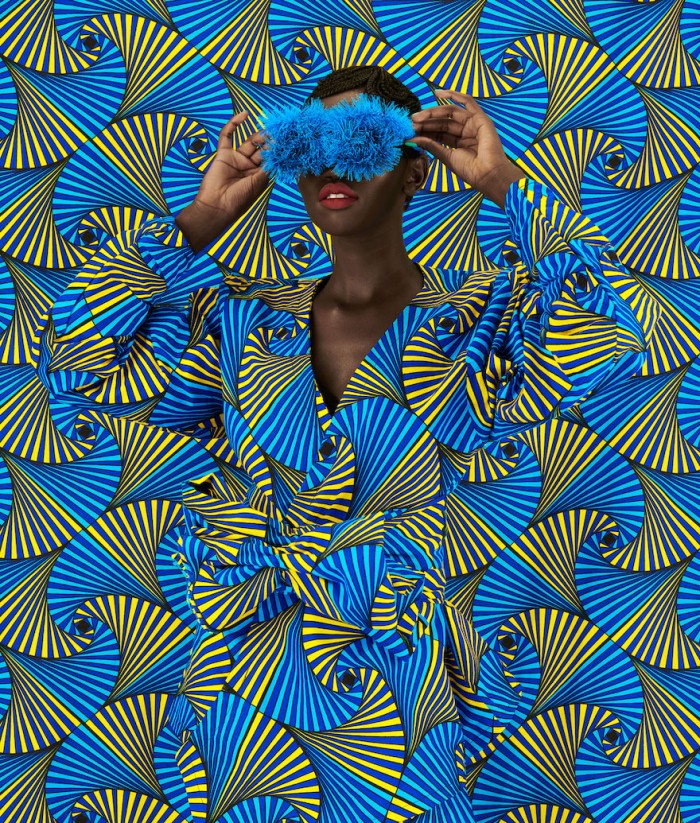 "Kenyans are very resourceful people and one of the most common things I see is objects being used for something other than their intended purpose. For example, plastic handheld mirrors being used as side-mirrors on a bicycle weaving through traffic, or even as decorative clothing accessories on a Maasai warrior!" she explains.
She has extended this idea in the work. The combs in her piece titled Camo 2.0 4452 are universally used by men and women in Kenya; the eyewear in Camo 08 is made from hair pins often found at hair stalls; while the bottle cap hair in Camo 11 is directly inspired by how soft drinks tie into her own culture.
"In the Kikuyu tribe, sodas are used as part of the dowry negotiation process. If the bride-to-be consents to the marriage, she pours a soda for the in-laws when her fiancé comes formally to ask for her hand," she explains.
The fabrics also have significance. As backdrops, they celebrate Muriu's culture. Beyond this however, they also have a deeper meaning. "The series is titled CAMO because of how the subject of each image camouflages into the background. It's a commentary on how many times we can lose ourselves in our culture and community and yet there are such unique things about every individual. It's a little ironic - I want my models to blend into the background even as they stand out," she says.
Here's more:
Visit 193gallery.com and thandiwemuriu.com.
African Photography comes back to New York.
Telling positive African stories through photography.
Everyday South African stories told through photography.
Tanzanian photographer dispels menstruation taboos.
Senegalese photographer Omar Victor Diop uses the medium to capture the diversity of modern African societies and lifestyles.
Omar Victor Diop is reviving the tradition of studio photography in Senegal, and recreating portraits of historical African leaders.
Credits:
supplied