While the entertainment industry has made noticeable strides in terms of the representation of black narratives recently, one genre in which black bodies remain on the periphery is science fiction. While the Star Wars franchise recently made room for the series' first black stormtrooper, Kenyan graphic artist Jacque Njeri takes the Afrofuturism movement further in her vibrant MaaSci series which reimagines the Nilotic ethnic group in space.
An indigenous tribe who live mainly in Kenya and Tanzania, the Maasai have held onto their culture and customs to date regardless of efforts by the government to embrace civilization. Their role in the series by Njeri was to provide that rich cultural aesthetic to the different science fiction themes represented in the compositions.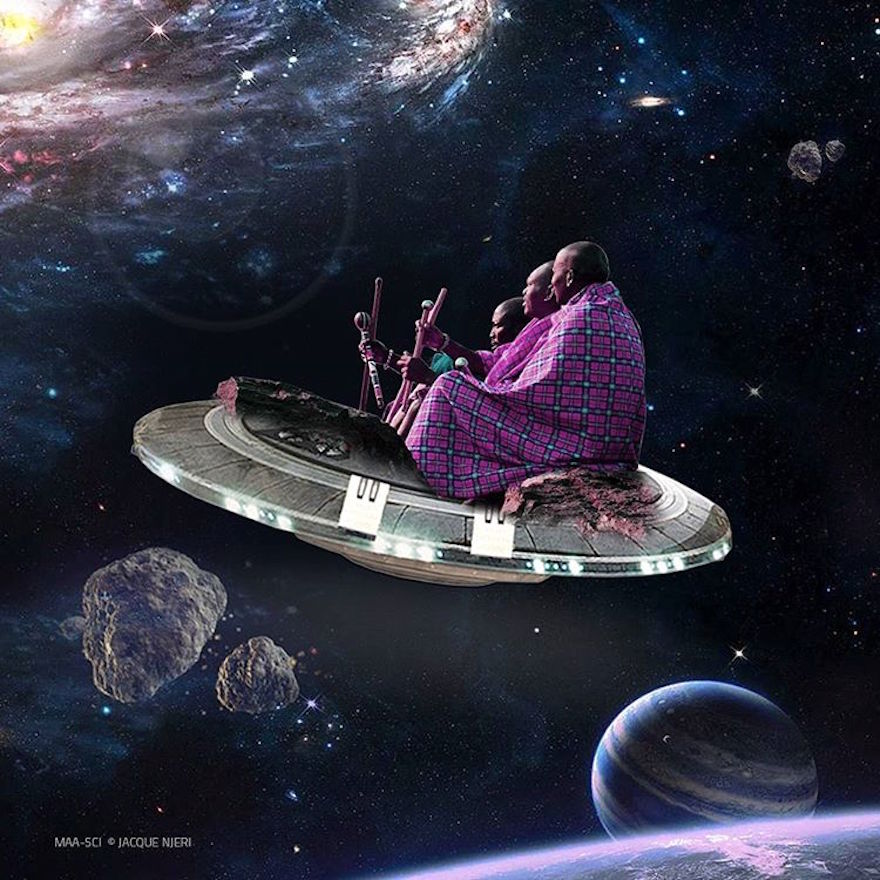 In MaaSci, Njeri presents a collection of digital collages that imagine the Maasai in outer space. Cloaked in traditional blankets, a trio of men are seen floating through the galaxy on a flying saucer. Another image sees a young boy carrying a spear and a black-headed lamb as he walks among the clouds toward another planet. Others feature Maasai women as cyborgs, astronauts and more.
"It is also a statement that the inclusion of black characters in Sci-Fi is a dependent on authors, artists, filmmakers and other content creators immersing themselves into the field and making that a possibility," Njeri says.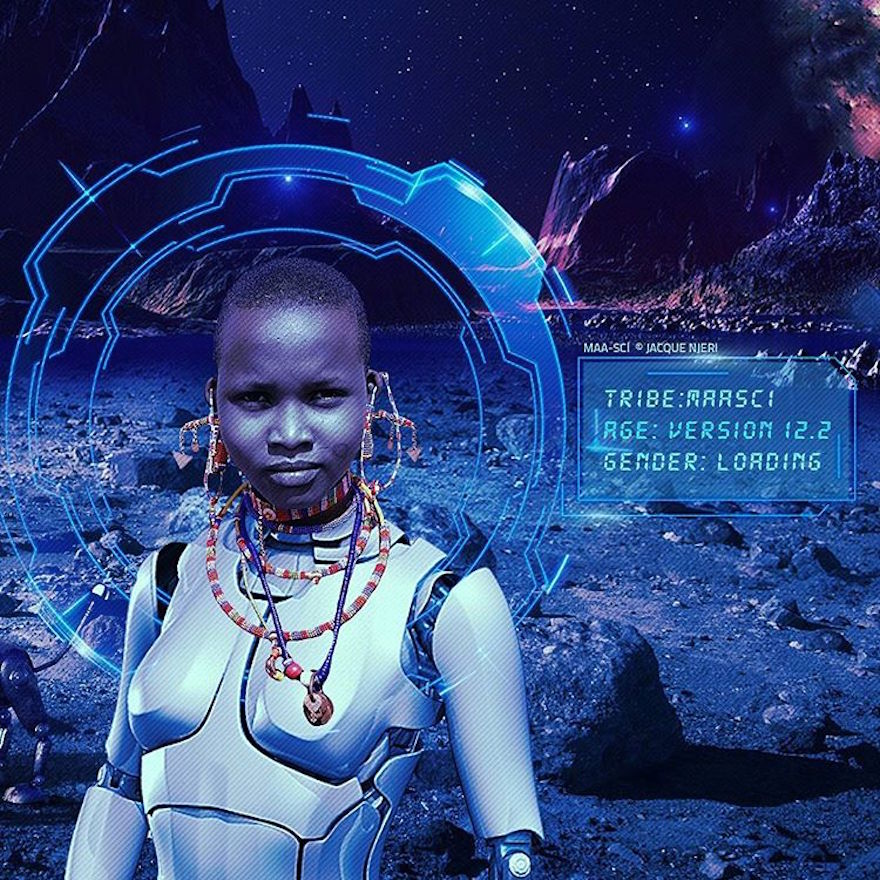 Sketching and writing since she was a child – engrossed in everything from calligraphy, graffiti, and just creating visual – Njeri went on to pursue her bachelors of art in design at the University of Nairobi. While there, she jumped at the opportunity to experiment with different design and art mediums and eventually ended up majoring in visual communication design.
Her futuristic reimagining of the Maasai comes from a desire to highlight just how the absence of people of colour and other groups undermines the wealth that diversity offers. "The idea was triggered by the name MaaSci, a portmanteau of Maasai & Sci-Fi," Njere says. "However, it's undeniable that there have been outside influences such as scenes from Star Wars that felt visually comparable to the African terrain."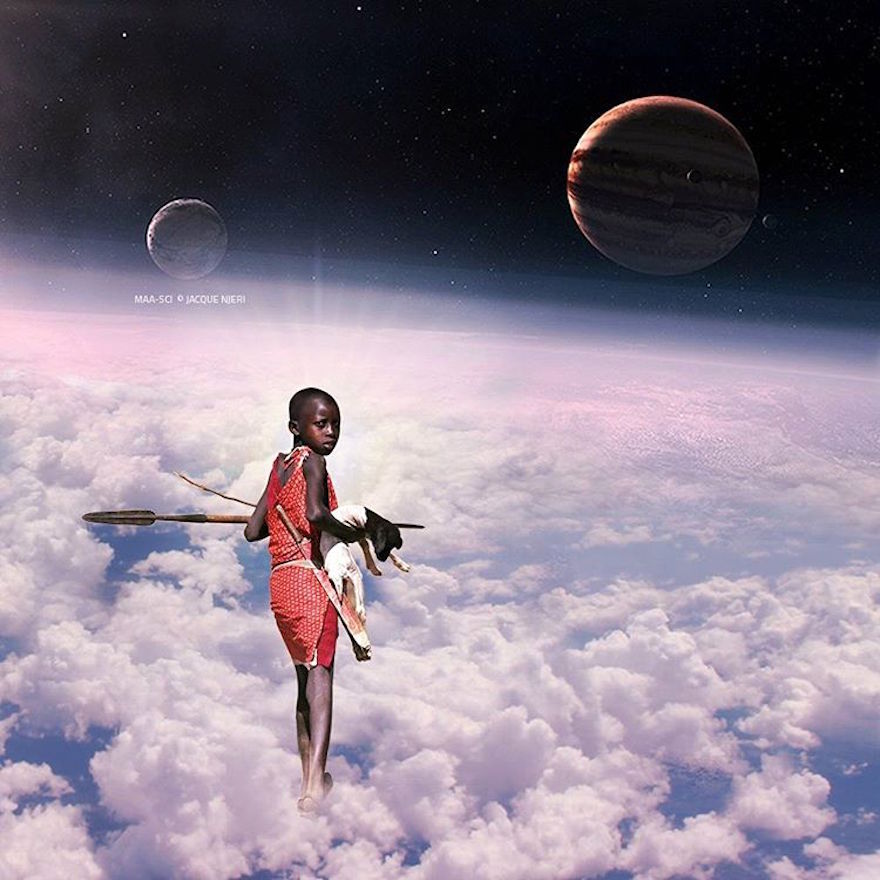 While she currently works predominantly with Photoshop, Njere is teaching herself how to use additional software to better model the elements from her imagination and add context to the compositions. "The main challenge," she says, "is finding readily available resources; images that would fit the exact angles, textures, and resolution – hence the need to learn new tools."
In a new project called the MauMau Dream, she plans to revamp Kenya's colonial heroes to embody a more valiant form. "Most of the images we have are of them in a pitiful state, in captivity or of them arraigned in court," she says.
She's also working with different people to extend the MaaSci concept through literature and art installations.
"Art, when used well, is able to shift the mentality of a people and introduce new ideas for people to extend into existence for progression of society both socially and within the advancement of technology," she explains.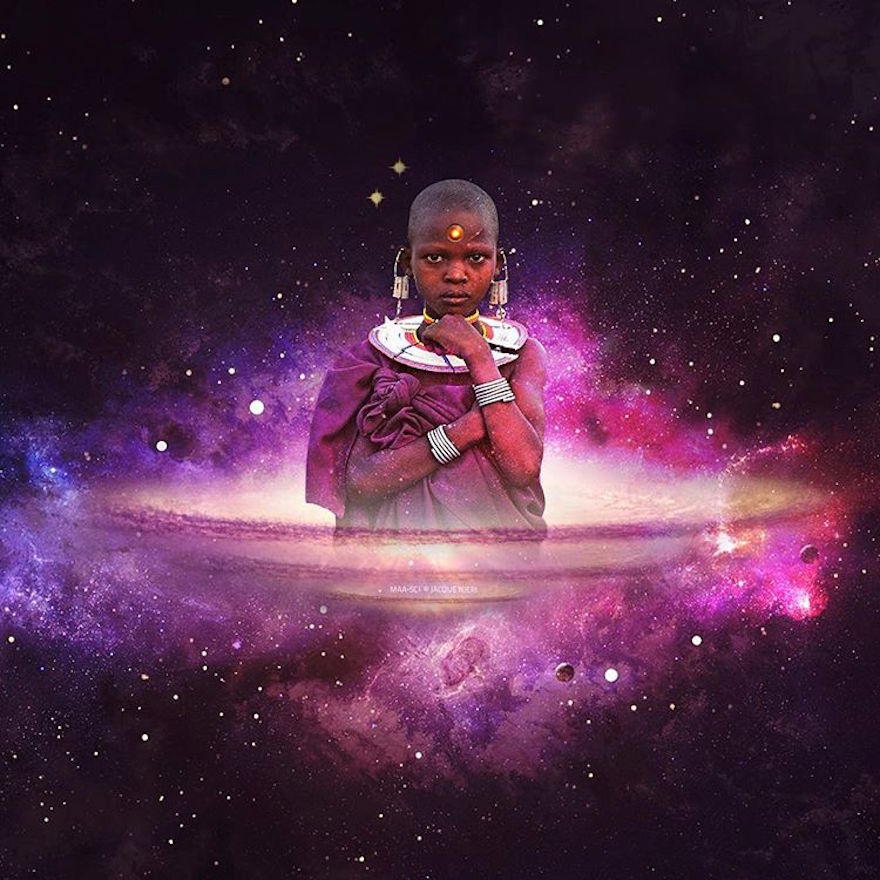 Keep up to date with Njere's work by following her on Instagram.