Delicious, distinct and oh-so divine, the Cape Town-based artisanal chocolate company Honest Chocolate produces hand-crafted treats of the highest quality, all made with organic ingredients.
The brainchild of Anthony Gird and Michael de Klerk, Honest Chocolate is enjoying rave reviews both inside and outside foodie circles.
We chatted to the duo about their work, their inspiration and the wonderful packaging of their chocolates.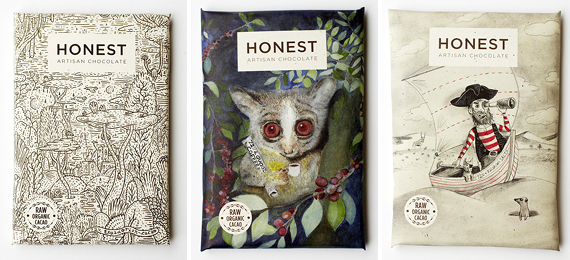 What drew you to chocolate?
We were both eating raw cacao powder and beans with smoothies and cereal as a health supplement before we started making chocolate. That was our pathway into chocolate. We just experimented with the cacao and ended up making some delicious bonbons.
Tell us about your chocolate making process, and how it sets you apart from industry giants and other small producers?
On the ingredient side we use raw cacao, which is very different from almost all chocolate makers, who normally use roasted cacao beans. We also use agave nectar (low GI fructose) rather than cane sugar, and none of our products contain dairy. 
On the production side we are rather old school. We temper our chocolate by hand on a granite slab, hand dip and hand mould our truffles and hand mould and hand wrap all the slabs.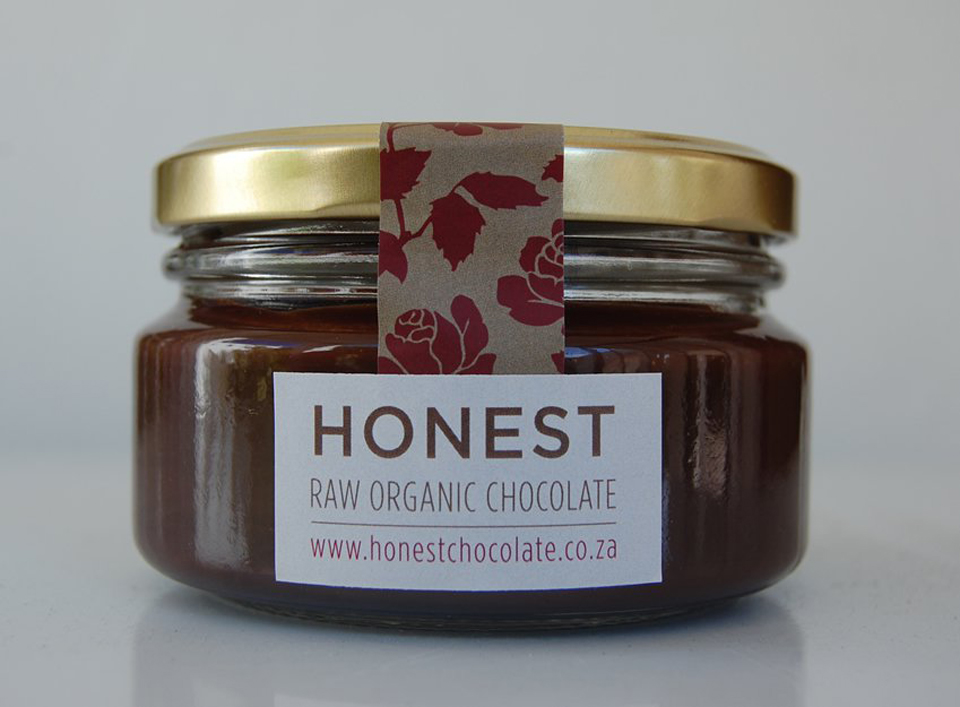 Tell us more about the packaging? 
We have always been close to the local art scene and it just seemed natural for us to put artwork on our wrappers. It is a fun process for us and and we love the artworks, so it's been great that everyone else likes it too.
The bonbon boxes and initial branding was done by Vicki Peters, together with ourselves. For the slabs we got a different artist to design a wrapper that tells a story about the flavour. We come up with a flavour and a concept and then choose an artist who we think will best translate that on a wrapper.
Here are the slab details:
72% with Nibs:
Pure raw organic cacao and agave with pieces of crushed cacao beans (called nibs) sprinkled onto the slab. Bar wrapper illustration by Jean de Wet.
72% with Maca:
Pure raw organic cacao and agave with a bit of maca root from Peru. Maca is a source of natural energy and vitality (it also enhances the libido...) and gives the chocolate a very subtle malty flavour. The design is hand stamped by ourselves.
72% with Coffee:
Pure raw organic cacao and agave with cracked organic coffee beans sprinkled on the back. Bar wrapper illustration by Marsi.
72% with Kalahari Desert Salt:
Pure raw organic cacao and agave with Onyx Kalahari Desert salt. Bar wrapper illustration by Toby Newsome.
72% with Orange:
Pure raw organic cacao and agave with South African Sweet Orange Oil. Design by Marsi and hand stamped by ourselves.
88%:
Pure raw organic cacao and agave, the darker side of chocolate... "Don't be afraid of the dark". Bar wrapper illustration by Michael Taylor.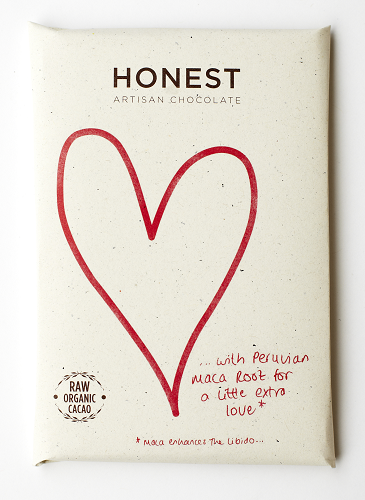 Which of your products is your personal favourite?
The 88% "Dracula – Don't be afraid of the dark" slab. You really get a good idea of the flavour of the bean.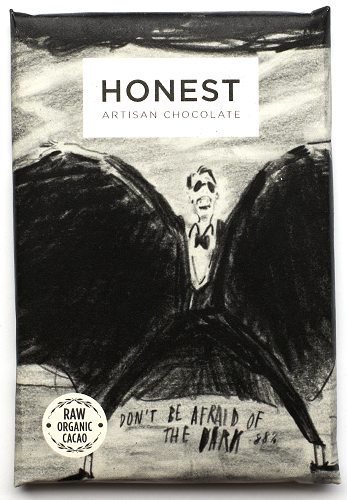 Which product is your shining star?
The original bonbon truffle was the first thing we ever made and it's still the most popular.
Why do you believe it is important to source ethical raw materials?
Personally we couldn't make a product knowing that someone else (or a particular natural environment) was paying a heavy price in order for us to get it cheaply. Benefits should be shared across the supply chain, but we need to get more of the benefits back to the source. Also sourcing ethically produced materials often promotes sustainability, not just at the source but in a whole industry.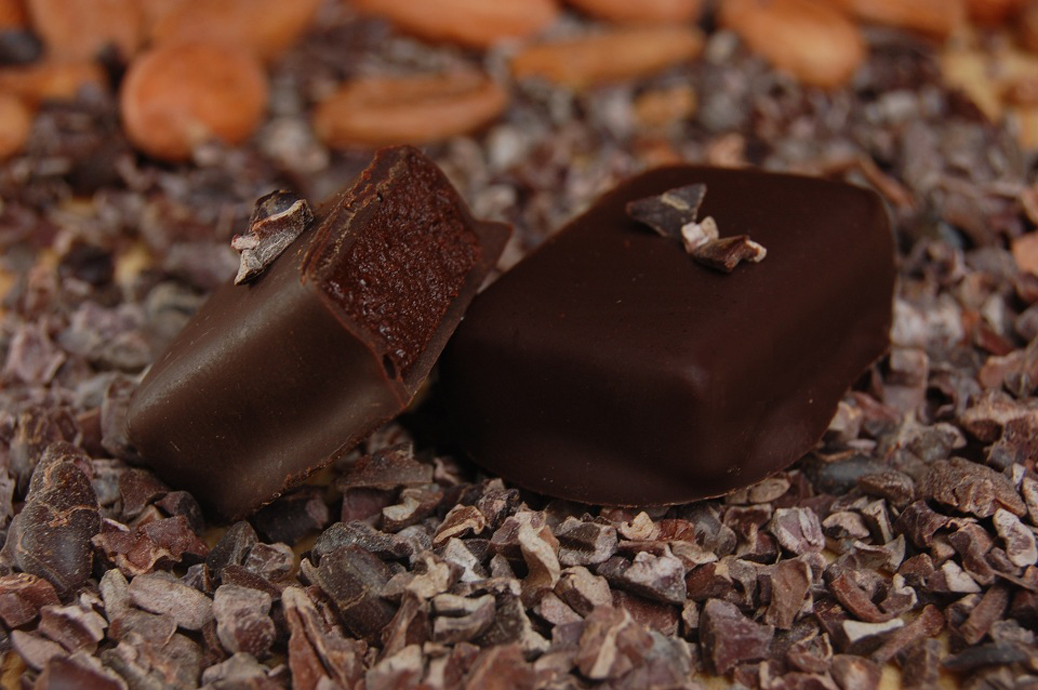 What has the market reaction to your chocolates been like? Is South African a nation that understands and appreciates fine chocolates?
Quality hand made chocolate is only now becoming as appreciated as artisan coffee or bread for example. Education has always been a big part of what we do – letting people know about the worth of the ingredients (raw, organic etc) and the old school process. There has definitely been a shift in the last three years and people are appreciating it now.
Can you elaborate on why you chose the name Honest Chocolate?
Our ethos is about being open about what we do, using ethically sourced cacao, and using organic ingredients – an honestly run chocolate company. We like to be transparent - we even have windows into our kitchen so you can watch us making!
Looking forward, do you have any interesting (expansion) plans in the pipeline?
YES! In the next two weeks we will release a brand new flavour and two new wrappers by new artists! The new flavour combines 72% chocolate with a rare pepper from Ghana called Grains of Paradise. The chocolate has a spicy pepper flavour with a citrus zing. Amazing. This wrapper is desingned by Carmen Ziervogel and the new Orange slab wrapper is designed by Georgina Gratrix.
Honest Chocolate will be exhibiting at Design Indaba Expo from 1 to 3 March 2013.