Ocean Builders, a Panama-based company specialising in innovative marine technology, has officially launched floating homes that take 'sea views' to another level. Named SeaPods, the seashell-inspired homes employ buoyancy technology to sit 7.5 feet above the water level.
The company, led by Rüdiger Koch and Grant Romundt, hopes to use their innovative technology to allow humans to move onto the sea and live in harmony with nature to improve their quality of life. Dutch architect Koen Olthuis, the founder of architecture studio Waterstudio.NL, which specialises in floating structures to face floods and rising sea levels, was tasked with designing three pod models – one of which is the SeaPod.
The pods' floating capabilities were inspired by the physical properties of an iceberg, where most of the mass sits underwater. The SeaPods are propelled almost 3m above the water by 1,688 cubic feet of buoyant, air-filled steel tubes that rest below the surface. The home's foundation uses steel and concrete, while the exterior is carpeted with fibreglass, a gel coat, and foam. Just like traditional 'land' homes, the SeaPods, which adopt a hyper-modern, minimalist design style, are fitted with rooms and amenities like a master bedroom, bathroom, kitchen and living area. The SeaPods also have skylights and large windows, allowing residents views of both the sky and the surrounding ocean.
SeaPods are 'smart homes' and are equipped with smart functions that are controlled by the rings worn by residents that allow them to change music or unlock doors with a wave of their hand. Tying in with the futuristic approach are hidden light switches, power outlets, lightbulbs, and LED light strips tucked within floor and ceiling grooves that can provide either blue-toned daytime or yellow-toned nighttime light.
The marine homes also hope to contribute to marine growth and encourage harmonious living with the ocean: "When you build a home on the water you actually create a habitat for ocean life to thrive. Anytime you put something in the water that makes shade, it attracts sea life. It often starts with barnacles and other life starts to grow on the underwater surface of your Pods. This can lead to coral growth and eventually homes for fish," said Ocean Builders. Marine detection technology is also available in the homes to alert pod residents when dolphins, whales or other sea creatures are nearby.
The SeaPod – which will range from around $295,000 to $1.5 million in price – is currently being built in Linton Bay Marina in Panama, with hopes that the first residential models will be available for living in 2023.
OceanBuilders, along with Koen Olthuis, have also designed other floating pod models, the GreenPod and EcoPod, that hope to provide alternative living spaces in the heart of nature.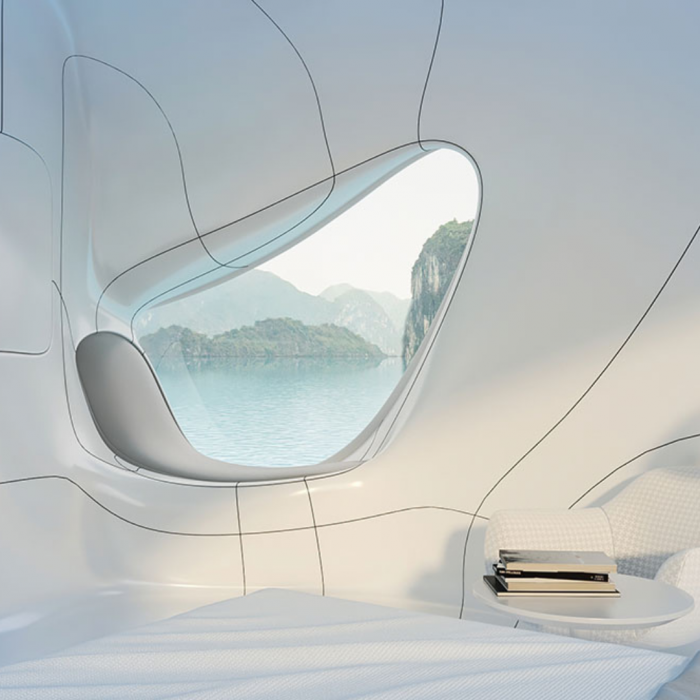 Read more:
CrossWater: Revolutionising water transport.
Credits: Ocean Builders