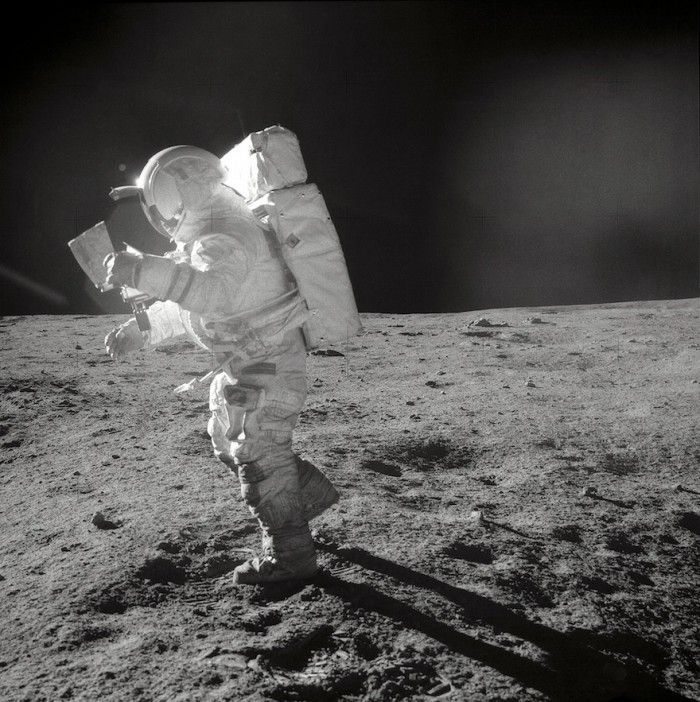 Astronaut Edgar D. Mitchell, Apollo 14 Lunar Module pilot, moves across the lunar surface as he looks over a traverse map during extravehicular activity (EVA). Lunar dust can be seen clinging to the boots and legs of the space suit. Image: NASA
As man continues to explore the solar system, Elon Musk works steadily towards his plan to colonise Mars, and space tourism becomes slowly (slightly) more "affordable", NASA announced their challenge to members of the public for ideas on how they can test the durability of their EVA (extravehicular activity) spacesuits.
NASA needs textile tests that allow them to assess the wear and tear of materials in conditions very different from earth's atmosphere. NASA's existing spacesuits have been designed and tested for low earth orbit: for use by astronauts in places like the International Space Station. The conditions on the Moon, on Mars and on large asteroids further out in space are drastically different from low earth orbit and the next generation of suits will have to be designed with these conditions in mind.
Dirt, dust, radiation and temperature all vary widely depending on the celestial body the spacesuit will be used on, so standard testing methods are hard to define. The spacesuit needs to comprehensively protect the wearer from the harsh conditions encountered during space travel. The test for the textiles must take no longer than an hour and must be able to run autonomously.
The NASA Textile Test Methods Challenge closes to entries on 3 December 2015 and the winners will be announced in late January 2016. Along with a total prize pool of $15 000, the winner may be given opportunities to collaborate with NASA in the future. For more information on how to enter the challenge, have a look at NASA's Challenge page.
NASA's recent 3D Printed Habitat Challenge Design Competition was won by the Mars Ice House, by SEArch and Clouds AO.