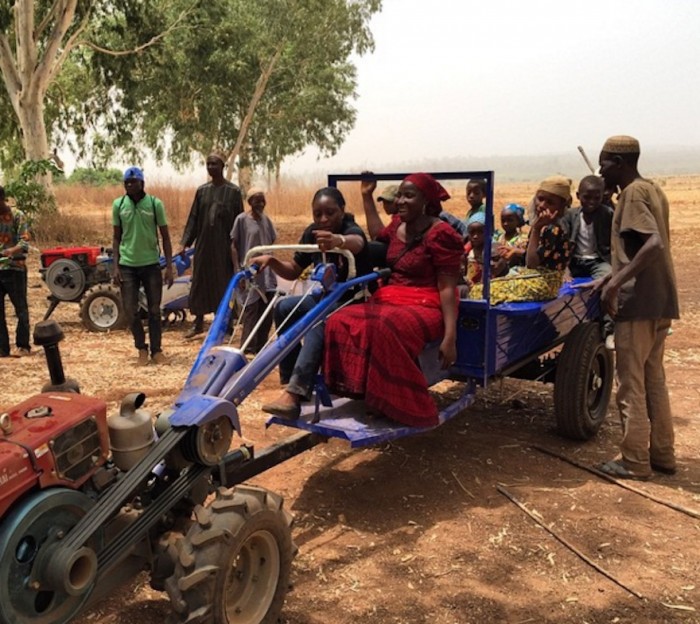 Technology startup Hello Tractor is an on-demand farming machinery service for farmers in rural Africa
Many rural farmers in Africa can't afford to own any high-tech equipment. The cost of buying and maintaining a new tractor for example, is way beyond the means of most smallholders. Hello tractor, which has been described as the "Uber for tractors", is a startup in Nigeria that offers farmers access to machinery via an sms order system. Farmers then pay for the tractor when the job is complete using mobile money (a pervasive form of cashless payment in Africa).
For the farmers, these rentable tractors are more efficient and significantly cheaper than taking on temporary labour, and can therefore help increase the profit and the yield of the farm.
The tractors owned by Hello Tractor are also "smart tractors": they are fitted out with GPS antennas that can transmit data, even in areas where there is no internet connection. This data can be used to add value to the farmers themselves and to industry stakeholders.
In an interview with Techabal.com, Hello Tractor founder Jehiel Oliver (a US citizen with a background in investment banking) said the data collected includes farm location and size, crops grown, and time of planting and harvesting. This can be combined with public information such as weather and soil types to build unique farmer profiles.
Hello Tractor is facilitating entrepreneurship in Nigerian agriculture by empowering the farmers.