If the Grand Prix winners at this year's Loerie Awards are any indication, the South African ad industry had a great year. From mi-Phone's tiny Afro-centric emoticons to Coca-Cola South Africa's soaring manmade rainbow, the winners in the most prestigious category veered from digital to real-life elements. The four winners also included a site-specific print-communication campaign for a new bar in Joburg and good old-fashioned radio ads for Lucozade that played on the medium's potential as a verbally persuasive tool. Here they are:
Outdoor and collateral media: FCB South Africa
Coca-Cola South Africa wanted to create something to celebrate the 20th anniversary of democracy in South Africa. FCB's 'A Rainbow for the Rainbow Nation' campaign brought the love back to Bishop Desmond Tutu's hope-filled phrase, now more often ironic in its use. Coca-Cola wrapped the Life Centre building, an iconic skyscraper in Johannesburg, from top to bottom in its red and white branding and included a massive birthday wish sign viewable from a distance. But the magic touch came from some careful calculations and strategically placed sprinklers shooting out recycled water that created a permanent rainbow over the building. They didn't just show the symbol, they created it.
Communication design: Grid Worldwide Branding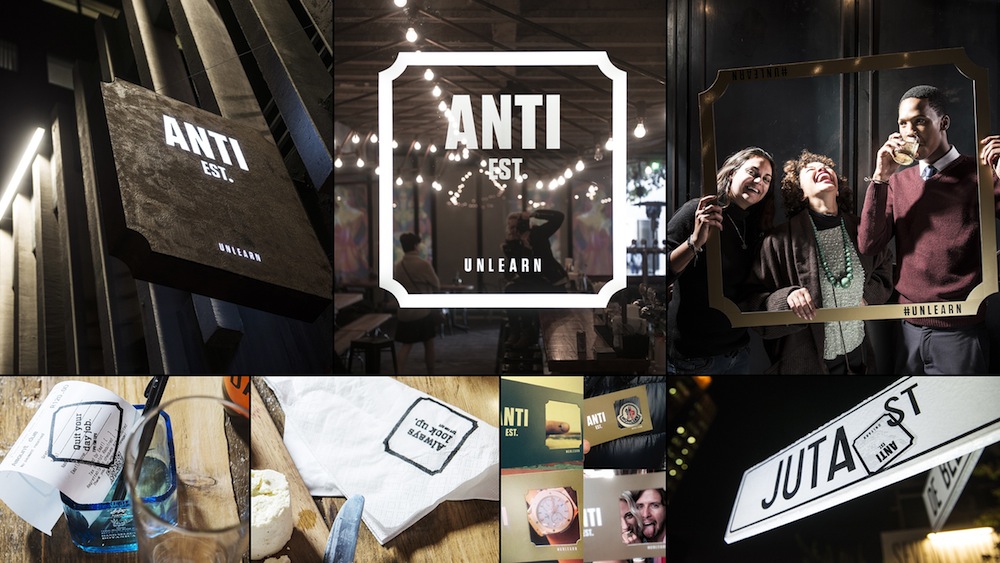 For Anti Est., a bar in Joburg's hip Braamfontein area, Grid Worldwide Branding created the '#unlearn' campaign to establish the bar's brand values of free thinking and challenging conventions. The campaign preached the power of "unlearning to learn" – not letting first impressions dictate your opinions. Multiple touchpoints and visual communications conveyed this message in entertaining, confrontational and amusing ways. A large mural inside the bar depicted fully covered virginal nuns in one type of coloured light and scantily clad go-go girls in another. Pizza boxes were emblazoned with phrases such as "Don't put me in a box", "Love what's inside" and "You look beautiful". Posters exhorted bar-goers to look beyond their assumptions with portraits depicting celebrities Kanye West and Kim Kardashian as hybrid figures whose bottom half was replaced by nude Renaissance sculptures. The campaign's deconstructive message was perfectly pitched to appeal to the students and hipsters who patronise the bar.
Digital and interactive communication: One Kingdom Creative Studio
One Kingdom Creative Studio didn't miss a beat in response to the #emojiethnicityupdate challenge trending on Twitter to create racially diverse picture characters. Its Oju Africa App produced a series of Afrocentric emojis for client mi-Fone, which makes affordable mobile phones for all Africans to enjoy the world's most up-to-date technology. Mi-Fone wanted to ensure that the offerings available on the phone also suited the African market. Every mi-Fone now comes standard with the Afri-emoticons. In the first two weeks of the app launching there were over 25 000 downloads. With around 84 million internet-enabled mobile phones in Africa, the opportunity for growth is huge. The campaign and app received nearly R19 million in media coverage and was featured by CNN, Huffington Post, Design Taxi, International Business Times and many more.
Radio communication: Ogilvy & Mather Johannesburg
In the style of epic speeches from different eras in history, Ogilvy & Mather Johannesburg's 'Give Me Strength' radio ads for Lucozade narrate the everyday battles endured by common people who ultimately succeed with the boost they get from the energy drink. The radio ad is so compelling that it sweeps listeners up in the fight for triumph. This is storytelling with a brilliant dash of humour. It showcases the energy drink's appeal to the average, not just the sportsmen of the world.