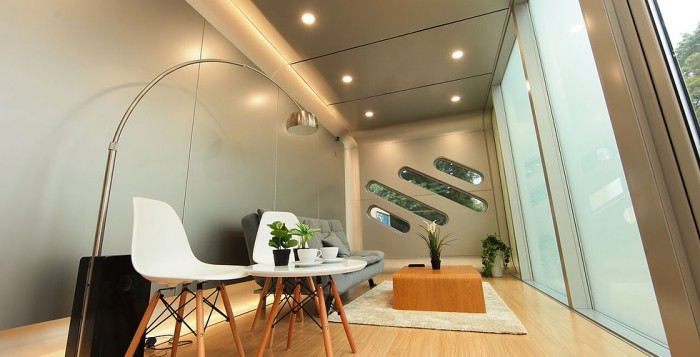 Alpod is the latest in high-end mobile dwelling solutions from Chinese manufacturers AluHouse. Designed alongside Arup Engineers and James Law Cybertechture, who were responsible for the architecture and interior design, Alpod offers a stylish and modern pod-style housing option at an affordable price.
Using an aluminum shell structure to support the weight distribution of the unit, AluHouse created a strong and lightweight dwelling that is easy to transport and assemble. This construction method also eliminates the use of interior support structures, creating an open plan living space. The floor to ceiling glazing offers a seamless merger of interior and exterior, creating a bright and breezy home.
The futuristic interior boasts many features such as specialised lighting design, skylights, air conditioning, and fitted kitchens and bathrooms.
AluHouse has taken on a multipurpose approach to the design and say the units can be used as a permanent dwelling, office space, exhibition venue, mobile shop or weekend away cottage.
AluHouse hopes to develop Alpod to such a degree that its units could be stacked and linked to create multi-structure communities in the future.