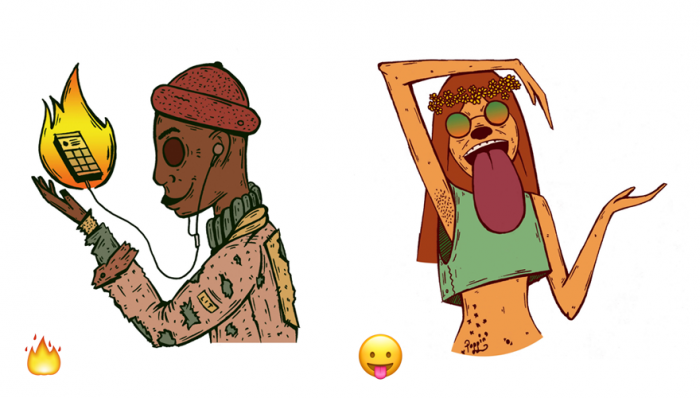 Forever Emojinal is a poster series inspired by the design of emojis and how they form part of the dynamic behaviour of young people on the internet. Imagining what emojis might look like as unique characters, former Emerging Creative and South African illustrator Thulisizwe Mamba depicts each icon as an expression of local youth culture.
Mamba started visualising the concepts behind the series after speaking with his peers about the curious new way that people infuse their dialogue on social media with emojis and emoticons to reinforce a thought or feeling that is not as easily demonstrated with words.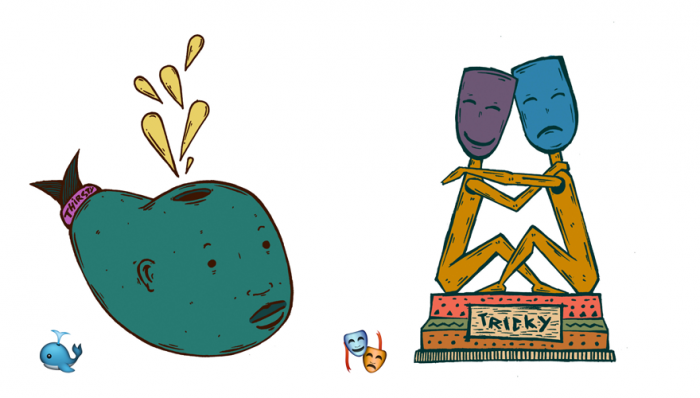 The idea was sparked by the online behaviour of young South Africans on social media and conversations with my friends about local youth identity. There is this cultural unfolding that no one is documenting. And I think it is going unnoticed because it is happening in real-time on fast-paced media platforms.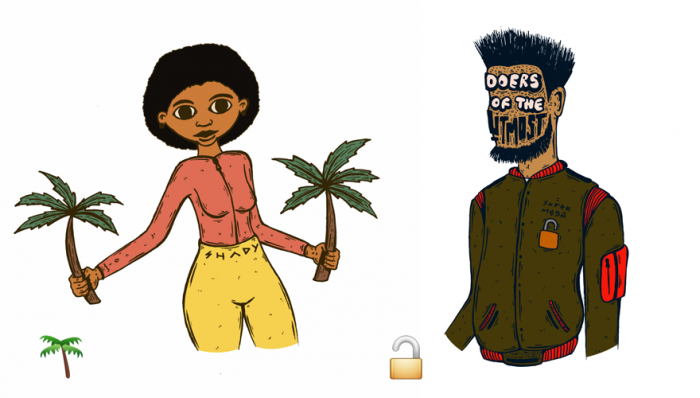 Observing the fluid and constantly evolving nature of this kind of communication, Mamba adds, "The behaviour is raw, funny and politically-aware – all the characteristics of modern youth. There is an unfolding of a new emoji language with meanings very different from the actual emojis themselves. I felt I needed to have a project that documents this dynamic behaviour so it serves as a mirror of a social reality."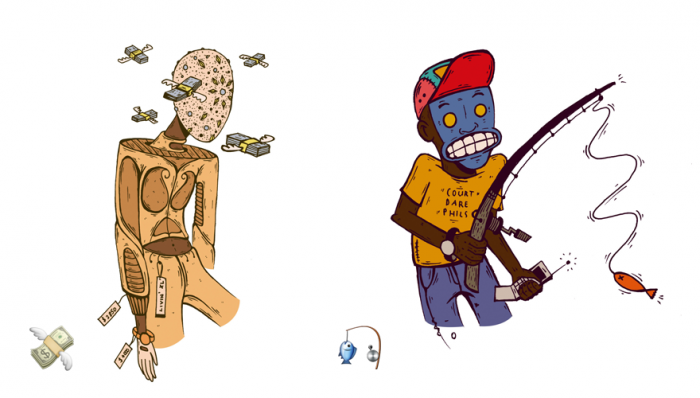 We asked Mamba about the nitty-gritty process that takes place during the creation of his artworks.
"The process is very linear – idea, sketch, scan with my phone, send it to the computer, then Photoshop. But for this project, it was awfully hard to link the emoji with a character or make the emoji an actual character. For example, the flame emoji means 'lit'.
Once that was out of the way, it was a matter of sketching out the character that best represents the kind of person that uses the emoji in its cultural context, or a character associated with the definition of the emoji. I felt that having a character-emoji relationship would reinforce the communication and make it easier to digest."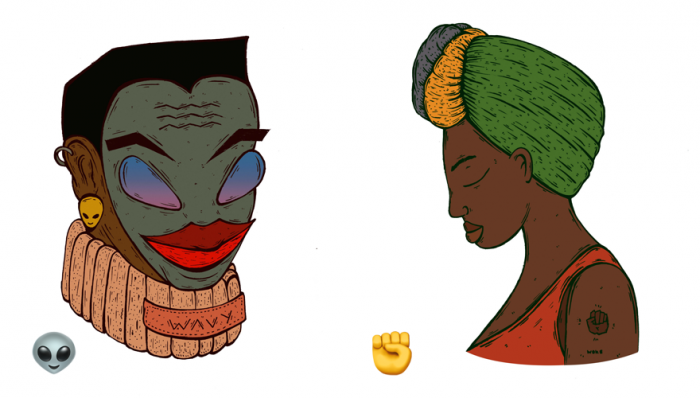 Mamba keeps visual references on-hand throughout his illustrating process, drawing from different schools of design to keep his artworks charged with inspiration.
"I do use visual reference as I illustrate, but it's more to inform the style of the drawing than anything else. Funnily enough, all the character drawings were referenced from Maison Margiela's A/W collections.
I always try to use references that aren't linked to graphic design or illustration directly. So it's constantly fashion, product design, user interface design – generally things I find interesting outside of the spectrum of the work that I do. The drawing style that I have right now is the one I'm most comfortable with and it's very natural to me. It just feels right," he says.
Read more:
Tandekile Mkize on unafraid self-expression using film, photography and fashion
Through the lens of 6 Emerging Creatives
Zinhle Zulu's graphic novel is the story of Nandipha, the protector of the Zulu Kingdom