Artificial intelligence, augmented and synthetic realities, and bio engineering are starting to disrupt our collective and individual worldview. In a future unknown, how will designers step into their natural role as agents of change and design solutions that are sustainable for both people and the planet? This is a topic Fjord co-founder and CEO Olof Schybergson will unpick as he joins a host of great speakers at the Design Indaba Conference 2019 at the end of February.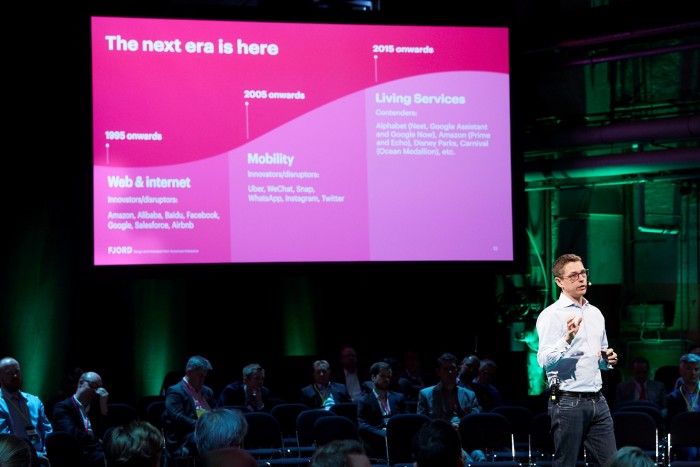 "It's our duty as designers to enable people to use tech easily, but also to turn off and tune out whenever they wish," said Schybergson. "People are doing this more and more today. And it's not so much a lifestyle choice – it's actually now a mental health issue. So we're seeing a rapidly rising rate of people disconnecting, unsubscribing and opting out from the digital noise that has built up over the last few decades. People respect brands more if they don't shout and they offer more value per interaction. Designers have a leading role in this area, as we explored in 'Silence is gold,' one of our 2019 Fjord Trends."
Fjord Trends 2019: The search for value from Fjord on Vimeo.
Fjord, design and innovation from Accenture Interactive, designs breakthrough connected products and services. Fjord employs around 1,000 people across 28 studios worldwide, which includes the most recent addition in Johannesburg, the first studio in Africa. This marks Fjord's commitment to deepening its design capabilities in the region to deliver transformative digital experiences in a dynamic and innovative marketplace. With a rapidly growing middle class and the youngest median continental population in the world – just 19 – six of the 10 fastest-growing economies in the world are in Africa.
Schybergson is excited about the future of design and Fjord's experience in Africa: "Africa's place on the world business stage is growing rapidly as its strong entrepreneurial and creative culture gives rise to innovative, world-leading initiatives. We're witnessing more and more African businesses set out to meet the needs of new and existing audiences by providing fundamental services powered by new technologies.
These businesses understand the essential role of design to deliver these advantages and are looking for a partner to create the best possible experience for them. Our new studio enables us to be that partner, coupling our global design expertise with on-the-ground insight and understanding. We're inspired and enthused by the scope for design to grow the fortunes of this incredible region!"
We're really looking forward to hearing what Olof Schysbergson has to say about design and its future in Africa. Don't miss out, book your ticket here.
Read up on other announced speakers:
Dynamic graphic design duo Tin&Ed are set to speak at Design Indaba 2019
South African icon Thandiswa Mazwai joins the Design Indaba 2019 lineup
Nigerian fashion powerhouse Adebayo Oke-Lawal brings Orange Culture to Design Indaba 2019