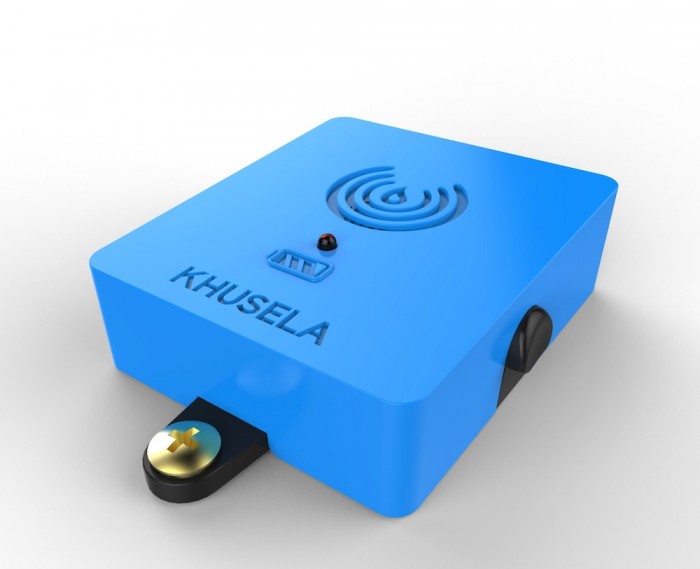 Lumkani fire protection device.
Where there is smoke, there is fire – and this is exactly the problem when it comes to fire detection in informal settlements. Many shack dwellers still use fossil fuels for both cooking and lighting so traditional smoke detectors don't work in this environment, making the ever-present danger of fire even harder to prevent.
Enter Lumkani – a social enterprise that is pioneering a new low-cost fire protection system, which recently scooped the People's Choice award at the Global Social Venture Competition (GSVC) at the University of California, Berkeley in the US.
The early warning system grew out of the thesis of engineering honours student Francois Petousis from the University of Cape Town. But a devastating shack fire that displaced thousands of people in Khayelitsha on New Year's Day 2013 was the catalyst for a multidisciplinary team of six creative thinkers to turn theory into reality. Petousis co-founded Khusela with his electrical engineering lecturer at UCT, Samuel Ginsberg. They are joined by fellow electrical engineer Paul Mesarcik, economist David Gluckman, industrial designer Max Basler and Emily Vining, whose experience lies in community engagement expert.
The device is an innovative heat detector as opposed to a smoke detector, which is ill-suited for the informal settlement environment given the cooking, heating and lighting methods used.
In the event of a fire, the device detects the high temperature and begins ringing to alert those inside the dwelling. This first level of protection gives the family the opportunity to deal with the fire before it reaches an unmanageable scale or to evacuate the house.
But a second, innovative layer of protection also kicks in: "All our devices are networked using transmission technology. This means that if a fire breaks out in one home, the devices in homes within a 100-metre radius of the fire will also be triggered, creating a community-wide call to action," Gluckman explains. "This system is valuable as it provides a proactive early warning system for people to save their property, their families and, in the best case scenario, to deal with the fire before it has reached a critical scale."
The Lumkani team took a collaborative approach with the communities the device would serve to ensure that the final product was a viable solution for them. From the outset, they established a partnership with CORC (Community Organisation Resource Centre), a subsidiary of Shack/Slum Dwellers International. "It is truly a grassroots organisation with networks throughout South Africa and strong and trusted relationships, built up over years, with the communities we wish to serve," Gluckman says. "Through CORC's network, we were able to create our own trusting relationships with leadership structures in the communities we wish to run a pilot."
The community contributed to the design process, providing key insights through regular reference groups, survey analysis and forums that have taken the project down a number of roads that they otherwise would not have explored.
"Properly understanding this environment, through regular discussion with communities and the fire department and getting to grips with what fire situations really look like have all been internalised in the design of the device and system," Gluckman notes. "Our distribution, sales and marketing strategies continue to be shaped and informed by local knowledge and insights, ensuring our methods are appropriate and effective in making the Lumkani device accessible in informal settlements."
A big design consideration was to make the device affordable. "The design, both electronic and casing, is elegant. We have sourced high-functionality components at the lowest possible cost and we are using local manufacturers as far as possible. The device will come at a cost of approximately R85, and the battery will only need to be replaced after three years."
The team is currently in the technology testing phase of the device and plan to roll out a pilot in October. This will include laboratory and real-situation testing to ensure that the technology is robust enough to detect only real fire.
The data and feedback received from communities in the subsequent five-month pilot will lead to possible design and technology alterations, after which Lumkani will be available for large-scale roll-out in February 2015.