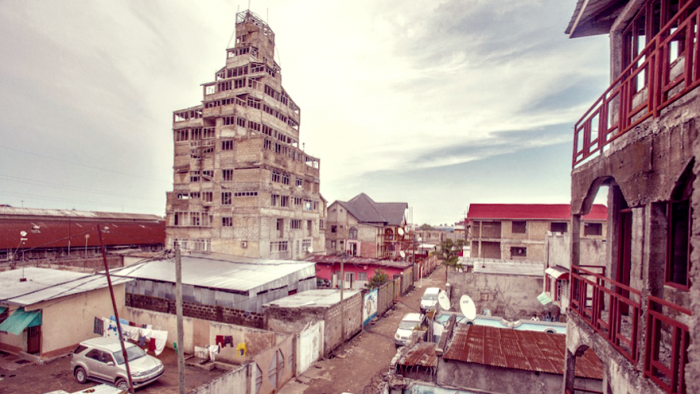 The Tower – A Concrete Utopia is a Belgo-Congolese film produced by anthropologist Philip de Boeck and renowned photographer Sammy Baloji. This film is a reflection in the form of a visual essay on the legacy of colonial architecture in the Congo, the social afterlives of colonialist infrastructure, and different historical and contemporary visions for the city of Kinshasa.
The trailer below follows a guided tour by 'Docteur', the owner and creator of a remarkable building that is situated in the municipality of Limete, Kinshasa, the capital of the Congo. Conceived and realised by the doctor without the help of any professional architects, as demonstrated by the unusual resting areas between each staircase, the construction of this as yet unfinished tower was started in 2003.
The Doctor's guided tour through this enigmatic building offers unusual insight into the way old buildings are reimagined to fit new purposes.
In this way, producers Baloji and De Boeck do not only comment on the degradation of colonial infrastructures over time. But they also explore the ways in which the city continues to reformulate these earlier propositions. On the face of dilapidated buildings from a bygone era, citizens create new openings, possibilities and alternative utopian visions that form part of the city's societal fabric.
More on film and storytelling:
Jabu Nadia Newman talks about the importance of womxn in film
Malawian artist Samson Kambalu on the non-Western ways of crafting a narrative
On how South Africa's small, forgotten towns inspired Five Fingers for Marseilles