Following a showcase at the annual National Arts Festival in Grahamstown in June this year, Lady Skollie's Groot Gat exhibition has arrived at the Standard Bank Art Gallery in Johannesburg. In a series of paintings and a video installation, the artist invites viewers to explore artworks inspired by Bushman paintings in a powerful attempt to 'fill in the gaps' left by history, oppression and colonialism by imagining what San, Koi, Griqua and other brown communities' artwork would've looked like had it had the opportunity to thrive.
In her artist's statement, Lady Skollie writes, 'The erasure of Bushman paintings in Africa has left behind a big void, a hole with no end, a gaping omission that lies unfilled. These paintings were the expression of a culture that has long been suppressed, silenced and forgotten.' Through this exhibition, she provides a fresh lens to view artistic narratives that have been omitted from history, encouraging the audience to confront uncomfortable truths surrounding Bushman culture.
The visual feast is at once a story of 'selected truths and curated lies' and a vibrant expression of a culture. The exhibition unfolds around Boesmansgat, a legendary freshwater cave in the Northern Cape previously used as a fishing hole by indigenous peoples. The pieces in the exhibition, which include the triptych 'Rub Us Out' and 'Ek is 'n Watermeid III', were heavily influenced by the Bushman artist Coex'ae Qgam, also known as Dada, whose paintings were a powerful expression of her people's connection to the land, their spiritual beliefs and their daily lives. Groot Gat imagines Dada as a deity who paints beautiful cave paintings to draw in souls before 'snatching them off the face of the earth'.
Lady Skollie is one of the biggest names in art at the moment: in 2022 she won the Standard Bank Young Artist Award, in 2020 she walked off with the 10th Annual FNB Art Prize, and in 2019 she took the GQ Woman of the Year Award.
Groot Gat runs until 15 December 2023.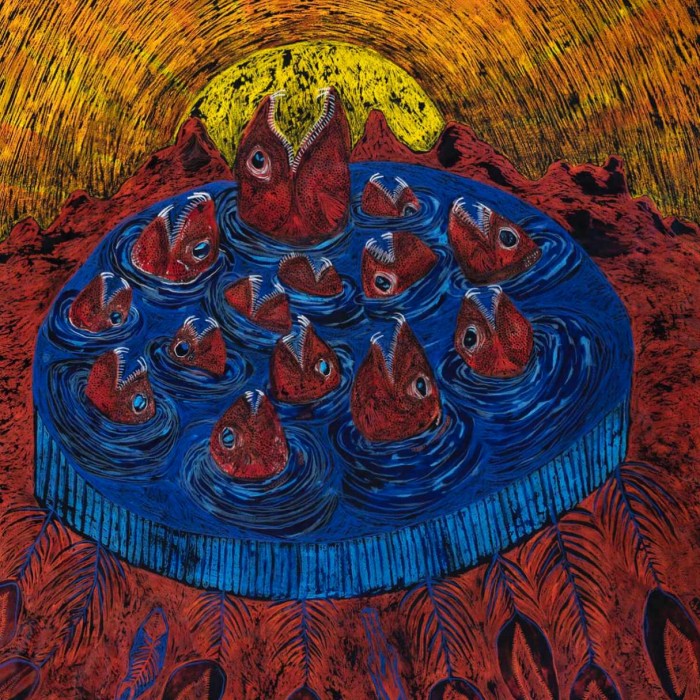 Read more
Telling stories through colour
Lady Skollie's latest exhibition is a manifestation of her desires
Photographs: Lady Skollie.