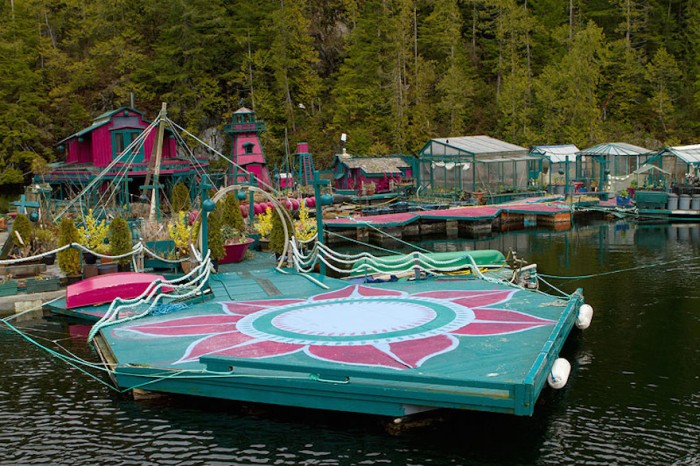 A Canadian couple assembled a self-sustaining home on water.
In 1992, artists Wayne Adams and Catherine King of Canada decided to live off the grid. They packed up their things and headed out, determined to make their own paradise. What resulted was an eco-friendly, self-sustaining floating home surrounded by floating gardens.
Aptly named Freedom Cove, the floating hotel is made of 12 platforms that are connected by metal and wood planks. It is located in a protected nook on the western fringe of Vancouver Island, Canada.
The family live off fruits, vegetables and plants grown in the home's greenhouses, all of which had been assembled over several years.
The unique home also functions as a hotel and the family often receive visitors looking for a taste of their simple yet exotic life.
Adams' journey began as a ranger. During the long months roaming the forests, Adams took up carving to pass the time. This went on to become his passion and he left his job to pursue a career in art.
At the same time, King, an accomplished musician, dancer, and entertainer was inspired by Adams' carving technique. She developed her own carving style which was heavily influenced by her background in music and dance.
The two creatives combined their hands-on approach to create what a number of people have described as a magical floating palace.
Photos courtesy of GoTofino.Com