Playful yet complex illustrations and animations are what Melbourne graphic design duo Tin&Ed are known for. But in recent years they have shifted focus. Now, they explore the convergence of the physical and digital worlds to create intricate installations and live digital experiences.
A project that showcases this creative shift is a collaboration of music and visual arts, called Sound + Vision. In this Tin&Ed worked alongside Vice and Samsung to create a video projection that looked at the marriage of music and technology.
The video's visuals explore different stages of nature through eccentric, colourful portals, while Australian singer, Charles Murdoch performed live. The entire performance took place at the iconic Concert Hall at the Sydney Opera House.
The audience members were also allowed to control aspects of the visuals through an app developed for the event. This project, like many of Tin&Ed's other work looked at a core theme within their brand: collaboration.
"We always work together on everything. From beginning to end. We might split up the management and production of a project, but conceptually and creatively our projects are completely collaborative," said Tin&Ed during an interview with Sneaker Freaker.
The artists whose real names are Tin Nguyen and Edward Cutting first got their start over 10 years ago when they met at design school. Their first project was a punk rock magazine.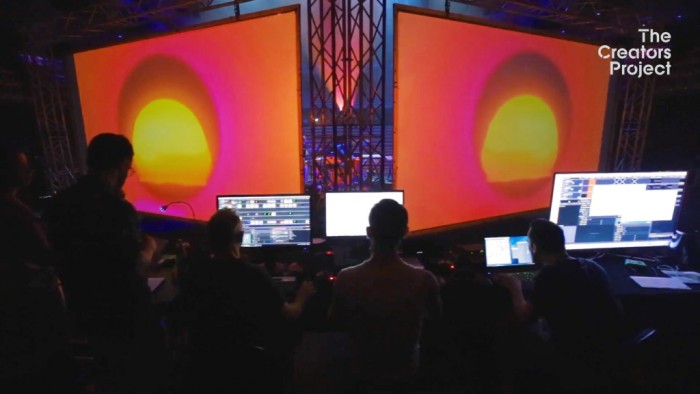 In this, they realised the power of working together but also in collaborating with other brands, independent or high profile.
Some of the brands they've worked with include Adidas, Visa, Samsung, Ikea and most recently Nike. The collaboration with Nike occurred in 2018 and looked at Tin&Ed to create a powerful installation that was inspired by the brand's most famous shoe, the Nike Air Force 1.
"The Air Force 1 is interesting because it holds a different meaning and relevance to everyone. We also love the AF-1 from a design point of view, it's such a pure and simple form but also so iconic and recognisable — it's almost cartoon-like," they explain.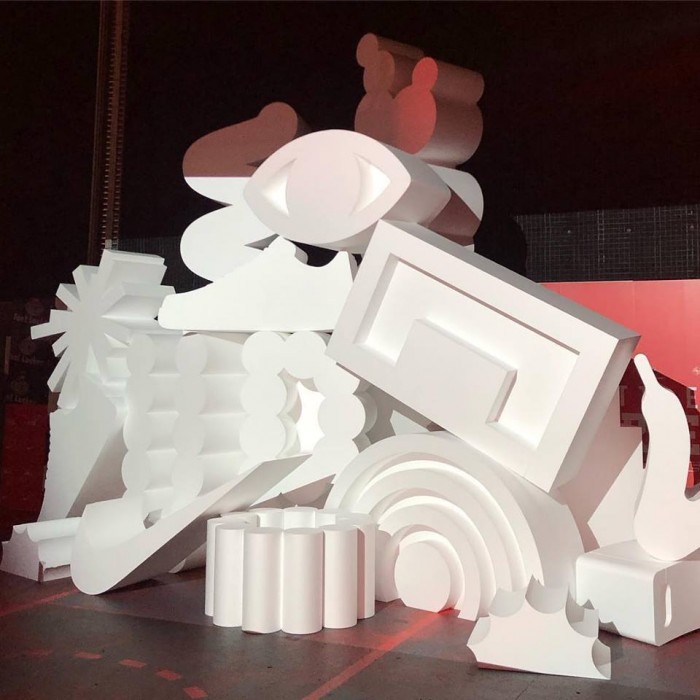 From this Tin&Ed created a physical installation which mimicked a blank canvas like the shoe. It also looked at blurring the lines between work and play, design and art, like much of their work does.
According to the designers, the actual concept was to represent the shoe as the cultural icon and they did so through shapes, forms and lighting.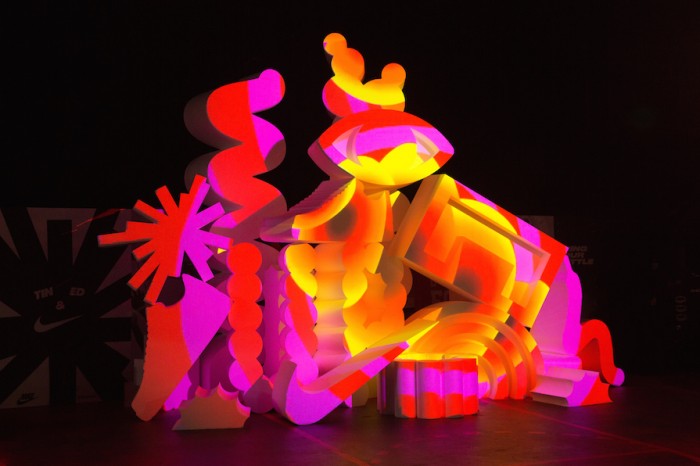 "For this project we were super excited to be able to create a physical installation that we could use as a canvas for live projections, bringing together these physical and digital worlds," says Tin&Ed.
Adding: "Our installation is a playful exploration of the invisible forces that connect us all. Some of these forces are physical, like gravity, whilst others are metaphysical or cultural."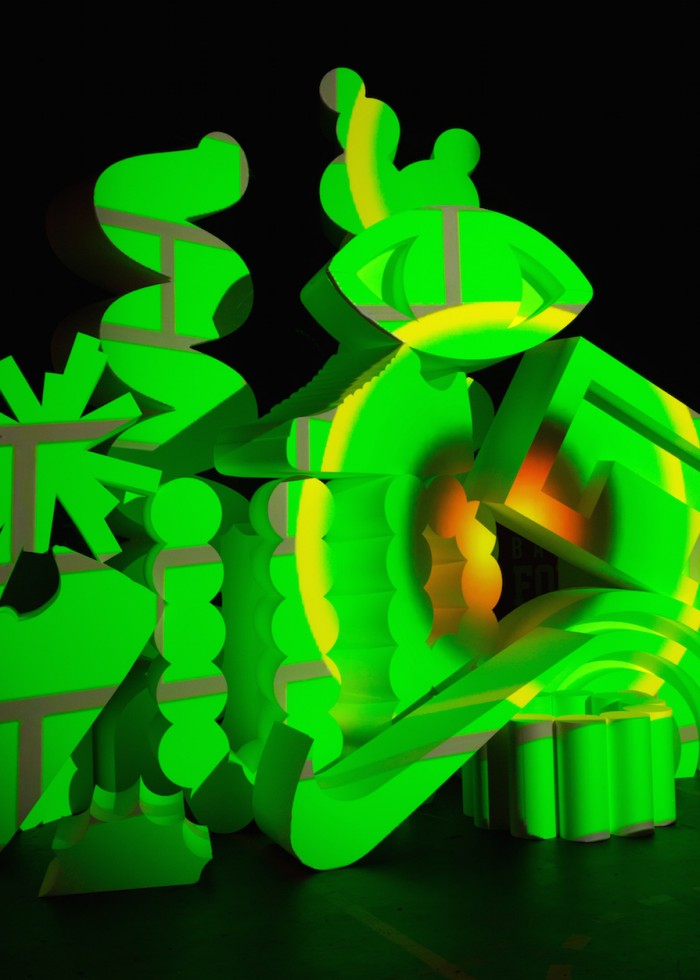 The installation was exhibited at the Nike Battle Force event which took place in Melbourne and allowed audience members to interact with it. This is also not the first exhibition for the duo. They've previously exhibited their work at BODW in Hong Kong and The Shanghai Institute for Visual Art.
They've also lectured around the globe including at the 2018 AGI Congress in Mexico City, which brought together influential graphic designers who are pushing boundaries within their work. Tin&Ed are currently members of the prestigious conference to which they were inducted in 2016.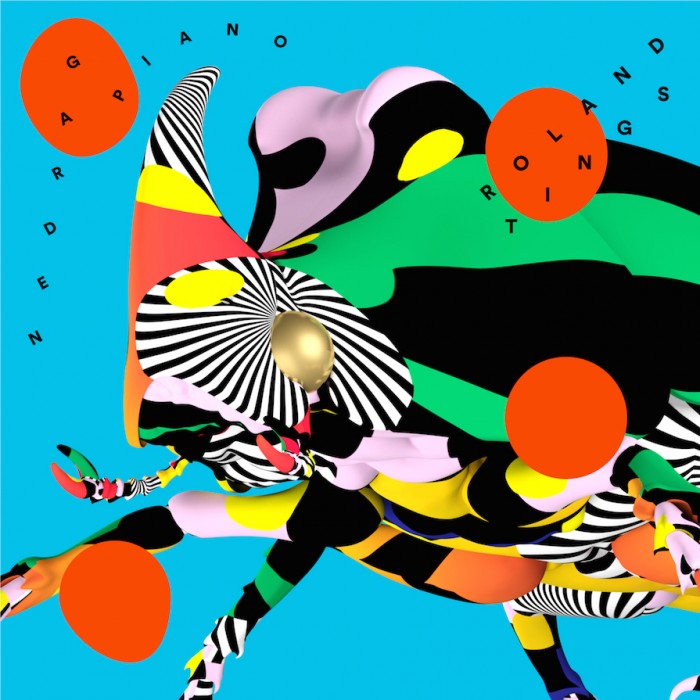 Recently, the duo opened a new studio thousand of miles away from home in New York City. Here they continue to grow their brand by reinvention. This is something Tin&Ed do to remain innovative and original. The artists always keep the creative world guessing on what's coming next.
When they take the Design Indaba Conference stage next month they are going to bring planned madness and eccentric fun. They are also set to take our audience on a multi-sensory journey with their work.
The 2019 Design Indaba Conference will be taking place from the 27 Feb to 1 March and will host an array of architects, artists, graphic designers and many more. It will also look at up and coming creative innovators who are making waves within the industry.
Find out more about the 2019 Design Indaba Conference and BOOK YOUR TICKETS HERE.
Read up on our announced speakers:
Nigerian fashion powerhouse Adebayo Oke-Lawal brings Orange Culture to Design Indaba 2019
South African icon Thandiswa Mazwai joins the Design Indaba 2019 lineup
Zipline's Keenan Wyrobek will speak at Design Indaba Conference 2019
Watch the Talk with Tin&Ed