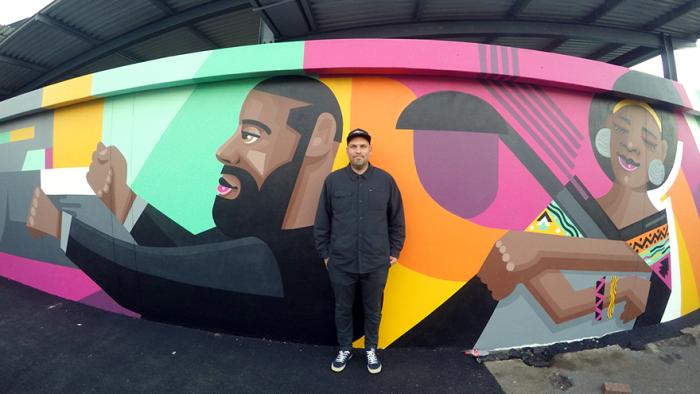 The Taxi Dance Mural is the latest street art project of former Design Indaba Emerging Creative Wesley van Eeden (also known by his pseudonym Resoborg). It is a sprawling, colourful mural that depicts different African figures enjoying music in contemporary style. Van Eeden is a proponent of graffiti as a catalyst for upliftment and that street art helps fight against the homogeny of modern urban spaces – and this mural is no exception.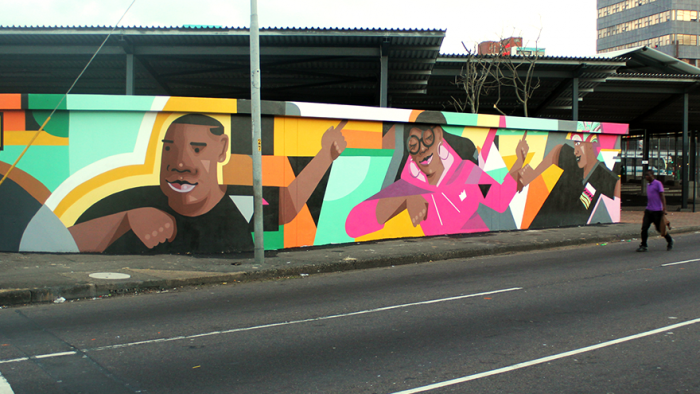 The mural is located on Umgeni Road in Durban and is meant to give the newly rebuilt Cartwright Taxi Rank a vivid and welcoming exterior. The project was commissioned by the eThekwini municipality.
Van Eeden's design features strong geometric lines, subtle distortion between human figures and surrounding abstract shapes and a whole lot of colour.
Apart from revitalising the wall for the benefit of the local taxi rank, van Eeden believes The Taxi Dance Mural will be a valuable addition for local pedestrians to enjoy seeing as they go about their business.
"In a time of both urban decay and renewal, the artwork is positioned in a transient environment, where you will find locals travelling to and from work," says van Eeden. "This vibrant art piece is aimed at inspiring locals and uplifting the surrounding environment where decaying buildings and city dwellers meet."