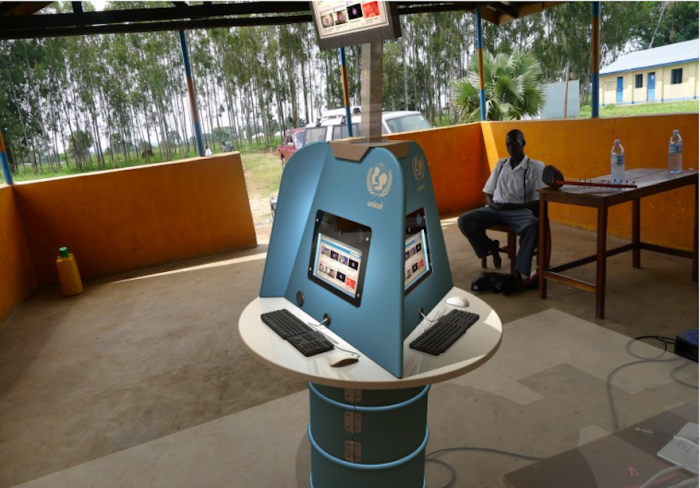 Design without Borders and Unicef Uganda's Digital Drum
Design without Borders was started by Norsk Form and Petter Opsvik in 2001 to find ways of highlighting problem areas and initiating progress through design in underdeveloped countries.
In this technologically run era, it's difficult to comprehend an efficient education system that has no access to information online. Design without Borders, in collaboration with Unicef Uganda's Technical Innovation Centre, recognised a need to bring 21st-century computer literacy skills to youths in off-the-grid areas of Uganda, and developed the Digital Drum and uPortal.
"The objective of the project is to bridge the information gap between those who are connected to the internet and those who are not," says Xin Li Design without Border's user interaction designer.
We want to provide a good offline portal information system so they have got essential information, learn new things and have fun.
The drum is a cost-effective, robust and easily accessible oil drum that houses the hardware. The design of the kiosk underwent a number of prototypes and used local craftsmanship. The computers are not used individually so Design without Borders had to come up with a user-friendly design to enable students to gather around one monitor and move freely around the kiosk between monitors to observe what was happening on all sides. The aim is for it to be a fun, learning and social experience.
In Design without Borders we follow the principle of human centered design, looking at every project though stakeholders' and users' perspective and trying to find the middle ground, says Li.
Eventually they settled on a circular table-top design, which allows free-flow interaction around the monitors that are mounted on dividers and also hold speakers. The entire system is solar-powered, practically maintenance free and literally bulletproof and has been designed to be able to withstand any tampering or theft.
The students are not given free range of the internet. Intensive research determined the exact needs particular to the youth of Uganda, as well as how they related to and used technology – computers in particular. Each Digital Drum system is pre-loaded with uPortal, an easy to understand and relevant multimedia program using bespoke interactive design and information technology that had to take into consideration needs, interest and skill levels. The result is a simple interface and a system that incorporates the whole of Wikipedia as well as Unicef's own educational content.
Many of the youth in Uganda's rural areas have little to no access to computers. A number of them don't attend school due to financial constraints, and even if they do, any computers that schools may have are insufficient for pupils to adequately engage and learn from.
To date, the drums have been distributed to over 40 youth centres in Uganda.
Naturally, the Ugandan youth are excited about the project and see the Digital Drums as inspiration and an opportunity to become whatever it is they've imagined themselves becoming one day, be it a VJ or a pilot.
The impact is more tremendous than I think I can imagine, says Design without Borders designer Per Endre Skarvik.