When it comes to mobility development, we are constrained by existing buildings, paths and the general lay of the land. Without urban planning, transport systems seem to fill in the gaps, ensuring that there is a way to get from point A to B, but lacking the efficiency of a meticulously built-out design. It is similar to playing a game of connect-the-dots, but instead of chronologically matching up the dots, we just connect them haphazardly. The end result usually involves traffic jams and inappropriately designated bus lines.
On top of this, when transport evolves with technological innovation, so does the way we move through our cities. Mobility development, therefore, must take into account the future needs and possibilities which might affect human movement. This means that in order for urban planning to be truly sustainable, it must also be speculative.
Rosa Pera, José Luis de Vicente and Víctor del Río are three curators who set out to investigate speculative urban mobility through collecting the works of designers from the past and present. These works are displayed at the exhibition Trans Utopias: Mobility, Movement, Mobilization, which is currently on display at the CentroCentro in Madrid.
One of the pieces at the exhibition is Future street. A town of the future. View from an aeroplane (1911). Drawn by French architect Eugène Hénard, it illustrates the sky littered with airplanes and the city itself follows a radial design expanding from a central building, taller than the Eiffel Tower.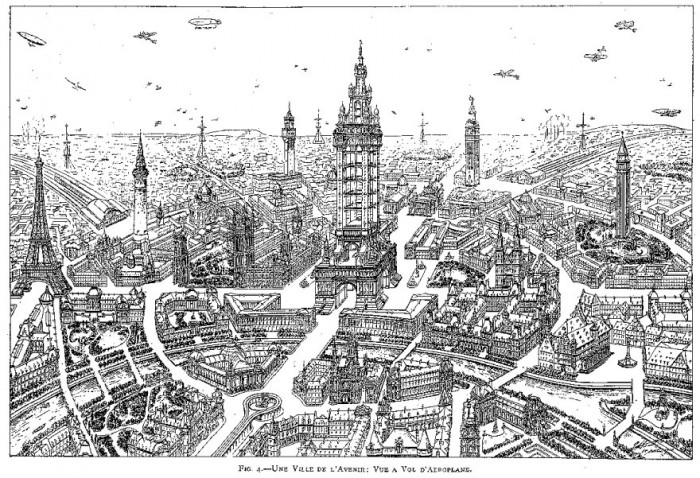 Hénard was an influential urban planner whose studies and solutions, particularly in traffic systems, still affect the way we move today. He was a pioneer for the roundabout which first appeared in Paris in 1907, and was soon after adopted by the UK and Germany. He was also an advocate for green spaces in cities, which as we know today, improves both the quality of life and the biodiversity of a city.
In terms of his speculative designs, Hénard once proposed a mobile sidewalk with wagons on rails where people would hop on and off as they moved about a city. This idea is not too distant from the moving walkways now found in many airports around the world which improve human traffic flow.
Also on show, is photographer Eric Tabuchi's series, Twentysix Recycled Gasoline Stations (2010). In this photo series, Tabuchi explores how some solutions from the past have had to adapt with the changing urban environment. Each photo showcases a different petrol station in France which no longer serves as a petrol station. They range from the old structures which are used simply as advertorial spaces to garden pottery shops and bakeries. Ironically, one of the stations has even been converted into a video store, yet another outdated franchise. In this way, Tabuchi's photos contrast Hénard's detailed urban planning by highlighting the more aimless transformations which surround urban mobility.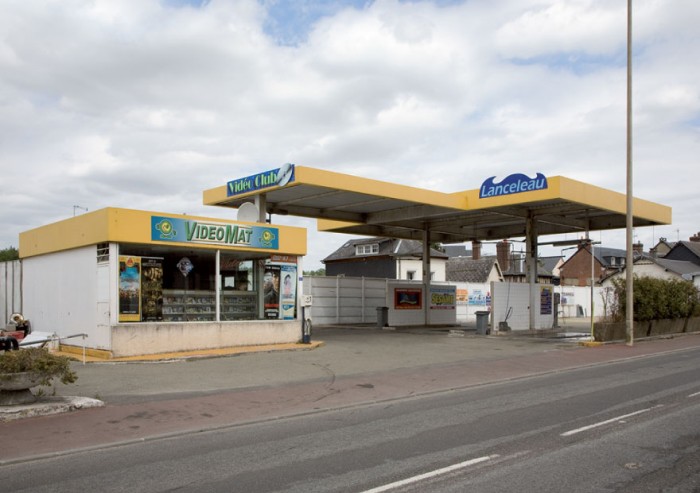 Lavinia Scaletti looks towards the approaching housing problem in London in her design Houseless not Homeless. Scaletti, who graduated with a Masters in Architecture from the Royal College of Art in 2015, designed a communal living space which will serve as housing for a substantial number of people.
London is expected to have a population of 10 million people by the year 2035 and with the current rate of building, this will leave around 300,000 people without a home. Scaletti's project not only deals with this issue through collective housing, but the plan also includes placing these Urban Homes near main transport hubs to ensure ease of movement around the city. According to her portfolio on the Royal College of Art site, "Urban Homes promotes a new collective lifestyle where the boundaries between public and private, individual and collective are redefined and where individual lifestyles and identities can flourish."
The Trans Utopias exhibition displays these works among others in order to examine the timeline of mobility development. Although the exhibition does not explicitly analyse the connections of the designs on show, by placing them in the same space the curators allow visitors to explore the angles which mobility has been tackled from in the past and present.
The exhibition has free entry and will be on display at CentroCentro until the 30th of September 2018.
Read more on urban design:
Can you deliver affordable housing while increasing the quality?
When a natural disaster occurred in Chile, Alejandro Aravena and his team set out to rebuild the city
How can we adjust our world to accommodate an ever-expanding global population?