It's difficult to imagine two locations as vastly different from one another as Dar es Salaam and Bavaria. One boasts a year-round, humid and tropical climate, the other distinct seasons that bring about summer sun and winter snow. Beyond their divergent weather conditions, Tanzania operated as a one-party, socialist state from the time of its independence until the early 90s, while the landlocked German state of Bavaria has long been a bastion of conservative politics in Europe.
Despite their disparities, designer Anne Kiwia is a curious amalgam of these two regions.
The daughter of a Tanzanian father and a Romanian mother, Kiwia grew up in the German city of Munich before deciding to relocate to her father's hometown of Dar es Salaam. Today, she runs a high end fashion range that mirrors the cultural influences of her eclectic heritage.
Kiwia upcycles found materials and second-hand garments sourced from markets across Tanzania to construct her one-of-a-kind artisan headbands. Having previously worked for designers like Akira Isogawa and in the art department of German Vogue, she has a remarkable eye when it comes to fabrics. Silks and high quality cottons dominate the range, carrying with them stories of places visited and of lives lived.
On a recent visit to her home near Jangwani Beach in Dar es Salaam, she showed us around her workshop and spoke in-depth of her journey from German Master School of Fashion student to fashionable business owner in Tanzania.
Bubbly, chatty, and visibly passionate about what she does, Kiwia's residence serves both as a space of respite and one of vibrant creativity. A large property overcrowded with lush greenery, she gently led us to a series of smaller buildings that sit directly behind the main house. Here, her team of local seamstresses comb through the innumerable bags of second-hand garments she has amassed and mix and match the varying textiles to create stylish, singular head wraps, each one different to the next.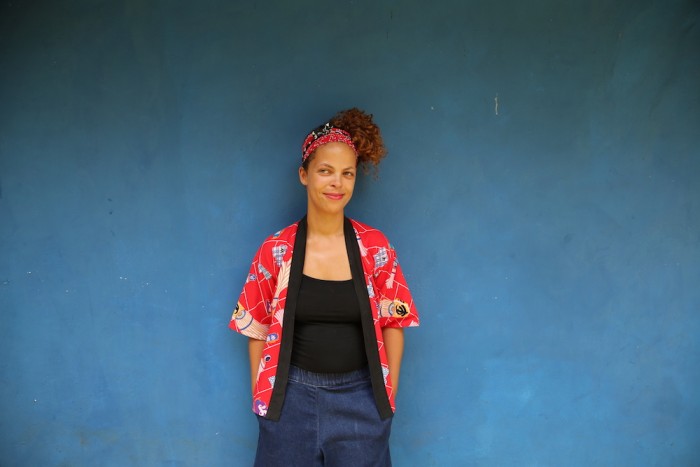 Kiwia prefers the term 'pre-loved' to 'second-hand'; the latter, she tells us, denotes something unwanted or cheap. The materials she uses are neither. She begins to recall her first trip to one of the city's markets and her eyes light up as she lists the many wonders she discovered there: "Everything they had there was so awesome! There were garments they'd received from places like India, England, and South Korea. As I began getting into the practise of upcycling these pieces, I also began to realise that they were made from the most incredible quality fabrics."
The headbands are currently stocked in Dar es Salaam, Dublin, Denmark, and Germany.
Part of the global sustainable fashion movement, the Anne Kiwia label takes this seemingly worthless material and transforms it into a desirable and commodifiable product. Being able to bear witness to something as it changes from the cut-off arm of a shirt or pant leg into a stylish and highly wearable accessory is something that the designer finds incredibly inspirational. But it was her childhood exposure to textiles, embroidery and sewing that provided the kind of inspiration that would follow the creative thinker into adulthood.
"My grandmother showed me how to crochet when I was three years old," says Kiwia. "We did a lot of that, as well as hand-stitching. We would crochet whole ornaments, blankets, and coasters. So I've always had this innate love for working with my hands and being able to see something transform from just a thread."
And that's exactly what she sees every day, as she and the women who work in her studio create their unique stories from her upcycled fabrics. Together, they breathe new life into textiles that have journeyed across the world and, through patience, passion and artistry, combine vibrant colours with unexpected patterns to construct the brand's distinctive headbands.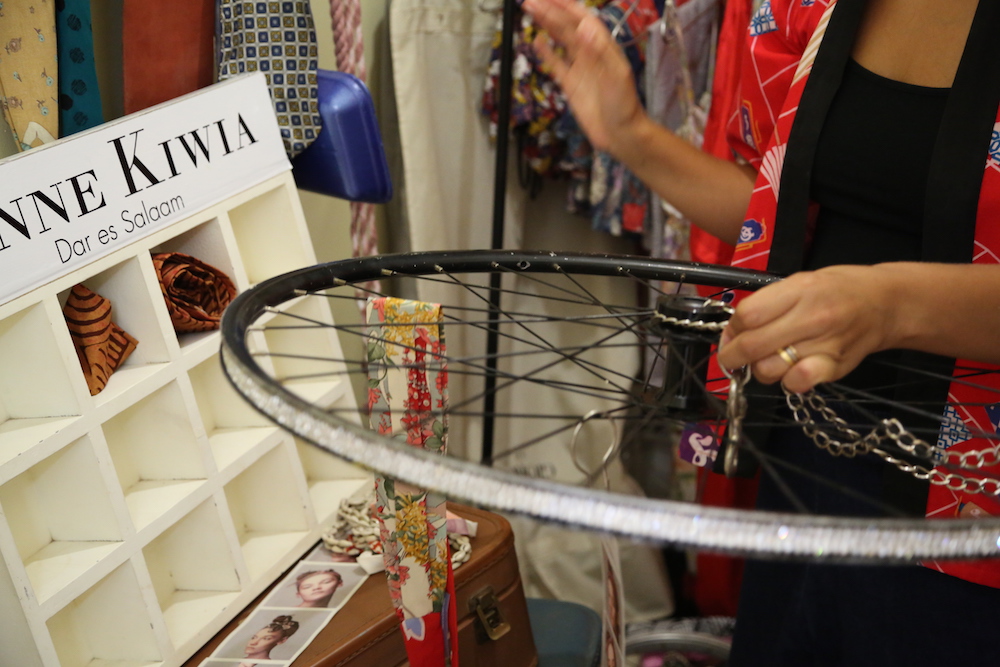 Kiwia understands that some may view what she's doing with her range as a frivolous fashion endeavour, but they'd be underestimating the designer's savvy and her consideration of the bigger picture. Gesturing toward an array of her silken accessories, she begins to talk about how she sees the Anne Kiwia brand and its process of upcycling as a spark that could ignite a new way of thinking about production in Tanzania.
"We have enough clothes," she says firmly. "The world is full of it. We actually need to start protecting our environment and stop being needless consumers." She is hopeful that the growth of her brand will encourage a sense of creativity among those who encounter it and that her environmentally-friendly production style makes a marked impact on her community.
But Kiwia is doing more to make a difference with her work than simply relying upon hopes and dreams. She's developed close relationships with the vendors who sell at the markets she frequents, contributing to the growth of their businesses where she can. Aside from just providing them with consistent business, she also helps them acquire materials for roofing and the general maintenance of their space.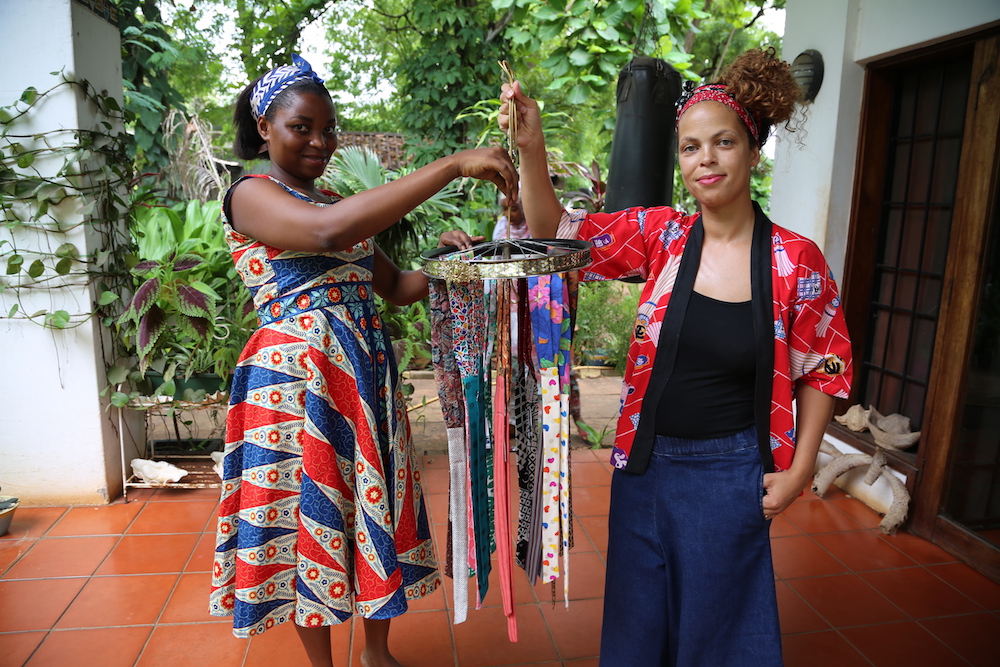 Further, Kiwia is fanatical about empowering the young women who work as her seamstresses. Cognisant of how difficult it is for many of poorer women to find stable, fulfilling employment in Tanzania, she's adamant that her employees learn the full scope of the business – from sourcing fabrics and garment construction to branding and marketing – so that they are able to become independent creatives capable of standing on their own.
"I've trained them to be their own business people," she says. "In two years, something could happen that sees me needing to leave Tanzania and I want to leave something that these women can continue. There is no point in me generating jobs if when I leave they just have to go back to their old lives."
A realistic product to produce that requires few special skills, Kiwia's headband range demonstrates how a laser focus on quality over quantity breeds success. "I have so much passion for what I'm doing," she says earnestly. "I don't want to be here today and gone tomorrow. It's all about how I can transform these people's lives and make sure our label grows into something sustainable."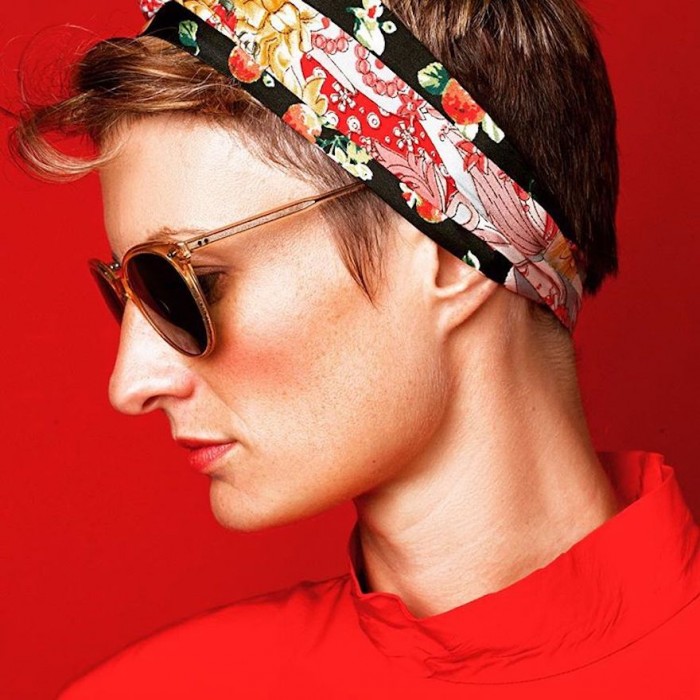 Be sure to check out Kiwia's website here or follow her on Instagram.