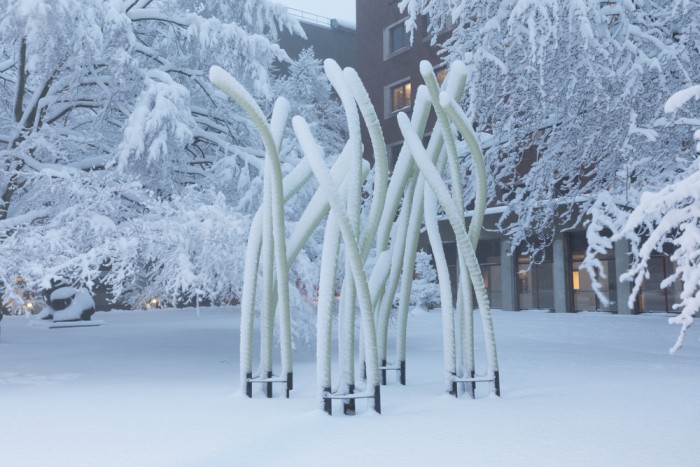 The Mediated Matter Group from the Massachusetts University of Technology (MIT) is known for its otherworldly creations.
Markus Kayser is one of the principal designers at the Mediated Matter group. The designer and inventor was one of the speakera at Design Indaba Conference 2019.
Kayser is known for challenging traditional notions of design, creating a futuristic and novel intersection. Design is what combines technology and biology in his work. Can we learn from nature and replicate its majesty on a mass scale?
This is just one of the questions Kayser's work is known to tackle. Take one of his latest projects, FIBERBOTS.
There are 16 of them in total, and like spiders who in nature weave silk in a pattern and shape that is best suited to their needs and environment, FIBERBOTS are designed to create wind fibreglass filament around themselves.
The swarm of bots create tubular structures that can be built around one another and interwoven to quickly create architectural structures.
The 16 robots, including the design system to control them, were developed in-house and deployed to autonomously create a 4.5m tall structure.
The structure remained outside and undamaged through Massachusetts's winter months, demonstrating the potential of this technology towards future collaborative robotic systems.
Kayser is known for studying and then replicating swarm behaviour through digital fabrication. His research spans from studying swarm behaviour in insects to using the Sun's rays to 3D print glass objects from raw desert sand.
His goal is to challenge traditional design and fabrication conceptions by deploying raw energy and materials, biological systems, and technology to develop new forms of making. Ultimately, he wants to create a new suite of tools for design.
Kayser's work is part of the Museum of Modern Art (MoMA) in New York's permanent design collection and has been exhibited in world-renowned institutions, such as the Centre Pompidou in Paris, The Power Station of Art in Shanghai, the Victoria and Albert Museum in London, the Vitra Design Museum in Weil am Rhein (Germany), and the London Design Museum, among many more.
Watch the Talk with Markus Kayser