Thanks to the legacies of apocalyptic Hollywood blockbusters, most of us associate the word 'meteorite' with the theoretical end of the world. But these solid pieces of outer space debris are more than just film devices used to make us panic; they're also, as designers Kirstie Van Noort and Xandra Van Der Eijk have discovered, a pretty valuable natural resource.
Small enough to survive entry through the earth's atmosphere, micrometeorites range in size from 50 micrometres to 2 millimeters. These extraterrestrial particles make up the 37,000 to 78,000 tons of stardust that falls upon the earth's surface annually. For their collaborative project, As Above, So Below, the designers sought to explore how this substance can be utilised as an alternative to traditional raw materials.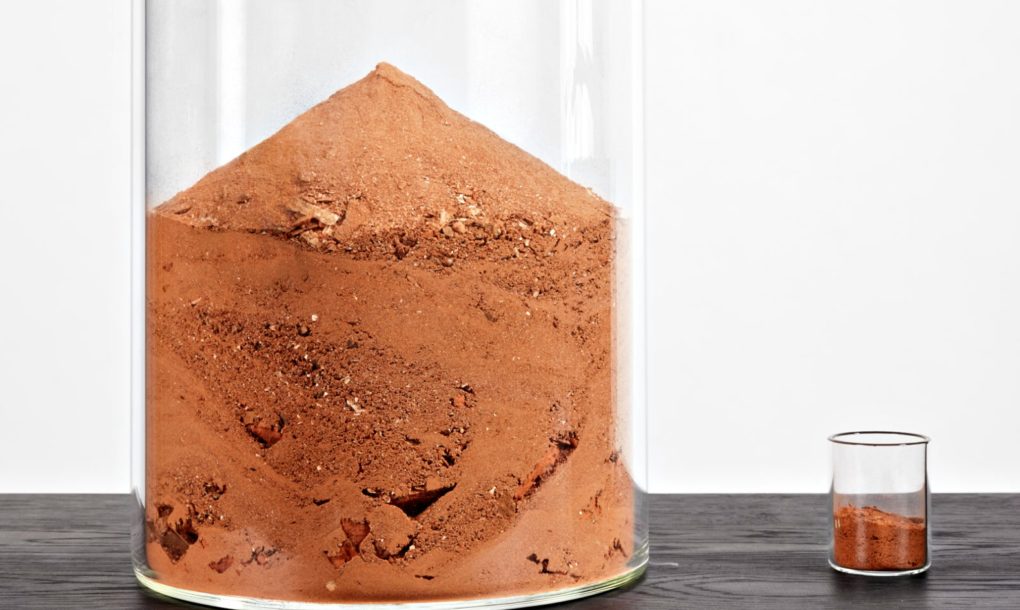 A response to the depletion of natural resources on earth, As Above, So Below is speculative in nature. After spending time collecting matter from the gutters and rooftops of houses in their area, Van Noort and Van Der Eijk went on to incinerate the matter they accumulated before using magnets to extract the micrometeorite particles for inspection. The duo were then able to closely examine their shape and structure to determine which ones actually came from outer space.
Finally, they melted down a verified meteorite to produce a metal cube that served to highlight the potential of the material.
As part of the project, which formed part of at this year's London Design Festival, Van Noort and Van Der Eijk also proposed 'crowd mining' as a new method and resource. Unconvinced that mankind will be able to ever free itself from capitalism, they see it necessary for us to begin reexamining our roles as hunter/gatherers. "As precious earth metals and minerals will eventually be scattered over the earth, re-use will gain new meaning," Van Noort says in an artist statement.
To learn more about the project, visit Van Noort's website.