The recent growth in assistive technology design is apparent in the increase in number of design challenges, conferences and specialised university programmes. Considering that 15 per cent of the global population is living with some form of mental or physical disability, these innovations, no matter how big or small, are helping a worldwide minority become more integrated into their environments and societies. In light of this developing movement in design, we look at three different products that significantly improve the day-to-day life of a disabled person.
Travel anywhere in the world while sitting comfortably at home
BeamPro is a Smart Presence System that allows the user to be in two places at once. The mobile robotic screen recently made headlines when the non-travelling founder of the Disability Visibility Project used BeamPro to attend an event at the White House, while sitting at home in California. The telepresence device allows a user to remotely interact with others and be present at an event through a moving screen; kind of like Skype, but on wheels.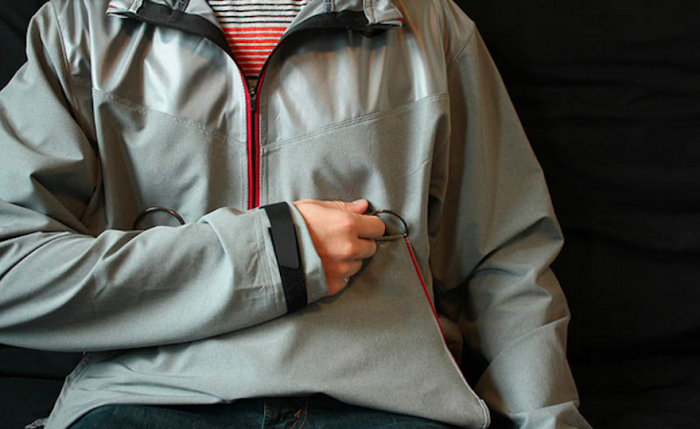 Stay dry in the rain, even when you're on the go
US-based adaptive clothing company, Open Style Lab developed the Rayn Jacket – a waterproof jacket that protects a wheelchair user from getting wet when caught in the rain. The hooded jacket, which is made from a special sportswear fabric that ensures the wearer stays dry, features a magnetic flap in the front that can fold out to cover a wearer's lap and seat. The "lap flap" also features a plastic pouch for a wearer to keep a phone or personal item on his or her lap.
Wearable drum set for tapping out messages
DrumPants TAPS (Trigger Activated Personal Assistant) is an assistive technology for communication that was inspired by a crowdfunded wearable drum set, designed for drumming on the go. When rehabilitation specialist Michael Zinn identified DrumPants as a possible means of communication for people with nonverbal disabilities, DrumPants TAPS was born. The soft Velcro pads are attached to wheelchairs or clothing, and the user can tap one of the built-in sensors to trigger helpful pre-recorded phrases that are played through a Bluetooth-connected smartphone or tablet. While further developments are being explored, this tapping technology is a big step up for nonverbal patients with limited dexterity.