In her latest photographic collection The Dark Room, international photographer Victoria Krundysheva turns to the subject of depression. Though it is not something that Krundysheva has had to live with personally, it is her goal to shed light on the mental disorder because she has witnessed its corrosive nature in the life of a close friend.
"Even being an observer, I feel that the scale and depth of the problem is not being understood enough by society," says Krundysheva, "The way it tortures you from the inside, making you feel like you are the enemy at times, is far worse than some physical pains that people can go through."
The photographer recognises the difficulty of detecting signs of depression and how it can lead to condemnation. That it is a psychological disease with no immediate outward clues often diminishes the perception of its gravity.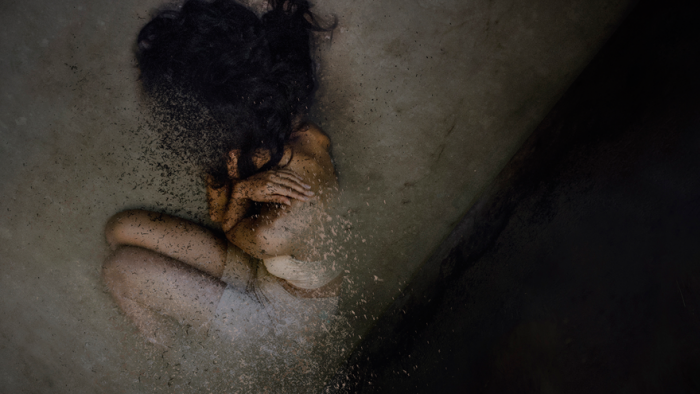 "Because it doesn't leave evident scars, the impact of depression has always been understated – or worse, led to the stigmatisation of the individual. Observing it has played a huge part in my life and made me an advocate of promoting mental health, awareness about depression and anxiety."
Krundysheva explains the creative choices of The Dark Room and how she chose to convey the crux of depression in an atmospheric way: It was an intentional decision to either omit or distort facial expressions in the photographic portrayal, as the artist chose to rather have the human body communicate anxiety on its own.
"I wanted the discomfort in my photos to be authentic. While shooting the screaming picture, for example, I actually wrapped the food tape around the model's head and poked one tiny hole through it for her to breathe. In another shot, I positioned her in a bathtub and had my assistant pour chocolate sauce all over her body to create the effect of being wrapped in sticky darkness. I tried to explain her emotional pain through physical pain so that in the final pictures we can see both."