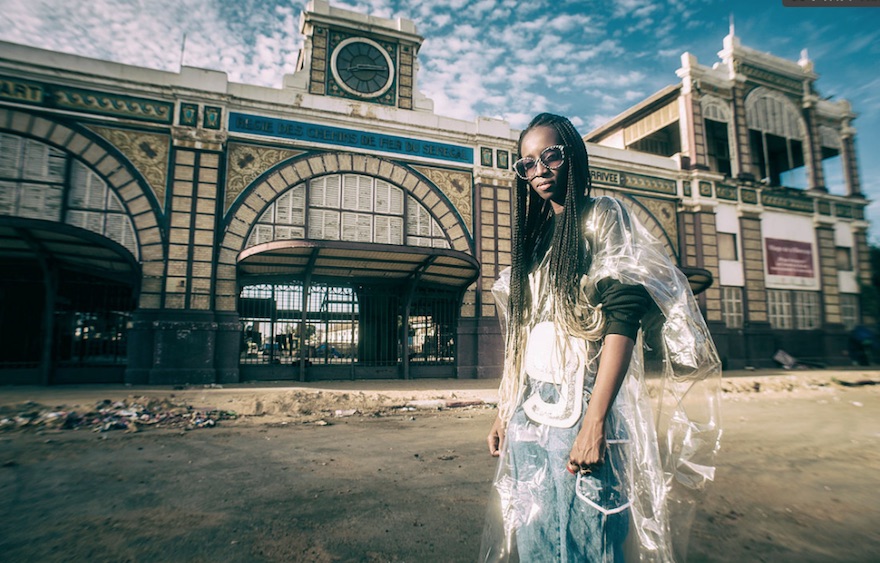 In his ongoing series Dakar Creatives, Senegalese photographer Jean Baptiste Joire takes pictures of the young creative in Dakar in places where they feel inspired. Fashion designer Selly Raby Kane is captured in front of the old Dakar train station.
"I want people to get surprised when they see the pictures. I want them to ask 'where is that?' or maybe just wonder 'why?'."
Joire has been a member of the city's activist creative collective Les Petites Pierres for three years, and many of the characters who appear in this series are also members.
"For this series, I asked to the artists to bring me into a special place for them. A place in the city which provides them energy, relaxation or stimulation," says Joire, "and it has to be representative of their work. I want them to show me their own Dakar. It could be a bar, a seafront, a room, a train station. I ask them to come as they present themselves as artists, characters. So as you are discovering an artist, you are discovering the city."
The creative energy of Dakar is what has kept Joire there. Compared to most of its West African neighbours, Senegal is politically stable and has maintained its own cultural traditions since becoming independent. The common language in Senegal is the local Wolof, not a colonial language, and this brings a sense of unity among the people.
Dakar's artistic scene is evolving fast. The Dak'Art Biennial has been running since 1992 and has given Senegalese artists a well establish (and internationally respected) platform through which they can showcase their work.
Joire also creates music videos, including music video for the producer Ibaaku, whose Afro-hypnotic electro beats have taken him on tour around the world. Joire has taken many incredible portraits of Ibaaku. Watch the video for "Monkey Boy" at the bottom of this article.