Armed with a flame torch and recycled engine parts, Design Indaba Emerging Creative, Kara Schoeman, creates elaborate and intricately designed aluminium bowls to help raise environmental awareness.
Inspired by nature and serving both a functional and decorative purpose, Schoeman's bowls take the form of bird's nests, coral reefs as well as sinkholes, highlighting the impact people have on the environment.
Schoeman makes use of grinders, saws, pliers, drills, heatguns and more while working on her designs. However, she notes that her most significant tool is her hands.
She says: "I have to train my hands to not merely use the tools but to hold the tools in such a way that it is used in an artistic manner".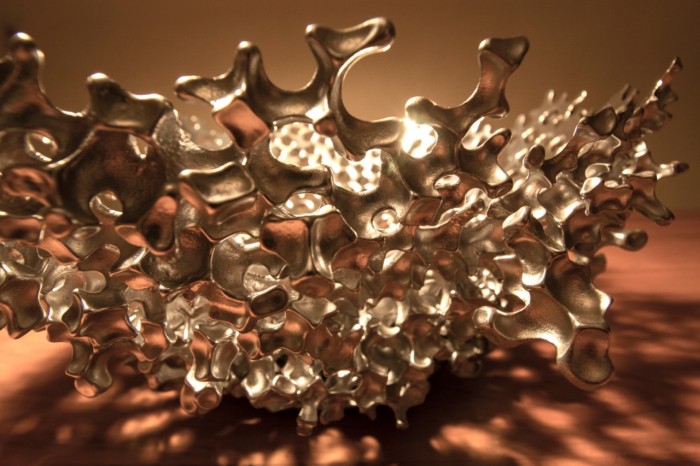 To further enforce her message of environmentalism and conservation, Schoeman collects motor engine parts from scrap yards and uses it to create her artworks.
"With this creation process we aim to create an awareness of species extinction due to the human impact on the species' natural habitats. We want the viewers of the designs to re-evaluate their impact on the environment," says Schoeman.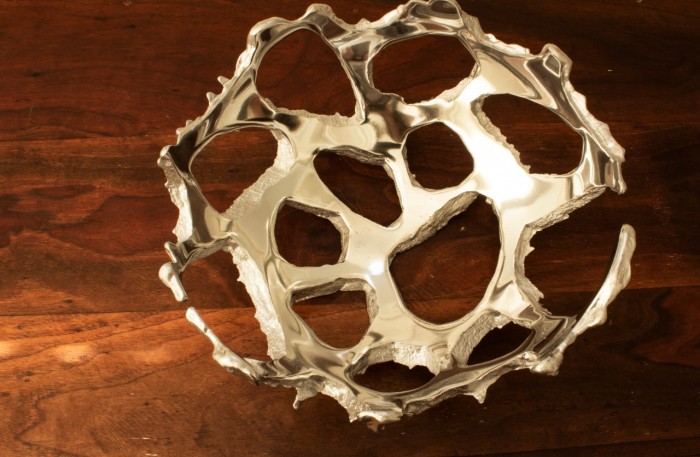 The Free State-based artist studied Fine Art as well as Psychology at the University of the Free State. Together with her father Stephan Schoeman, who is a foundry artist and who built the metal foundry that they create their art out of, Schoeman incorporates her background in fine art and psychology into her work.
"These sculptures display human pride regarding our control over the environment, as well as our guilt and fear towards the environment. This fear stems from our concern that the environment might reject humans due to our parasitic-like symbiotic relationship to the ecology. We fear our extinction along the path to environmental sustainability," notes Schoeman.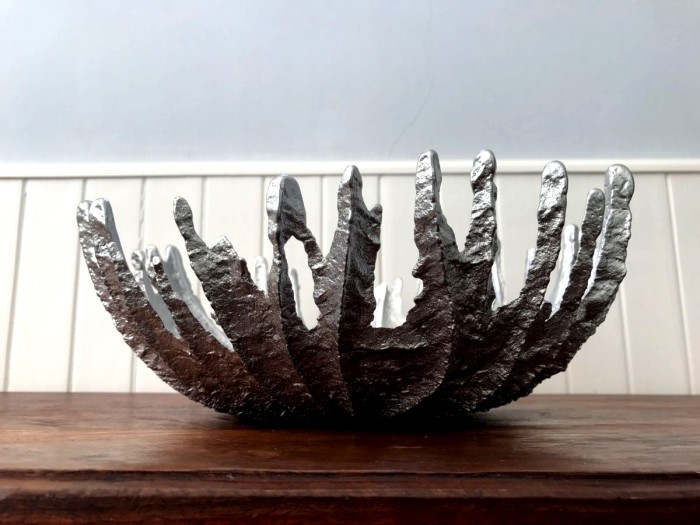 According to the artist her use of aluminium for her artworks was born out of the need to create something new that not only inspires but is beautiful as well. In order to shape and mold the metal it has to be placed in a furnace at very high temperatures.
Aluminium being her favourite material, Schoeman notes that the metal is rarely used in casting artworks, "when the aluminium is polished, it creates an alluring shine which illuminates a room."
The artist also creates sculptures using glass. While she is currently making use of window glass for her work, she is also in the process of creating her own glass.
Speaking about the creation process, "my glass sculptures are slumped in an oven at the same temperatures that we melt aluminium. The glass then loses its form and takes on a new form based on the mold that I made. I also solder glass together to form sculptures. These sculptures, similar to the aluminium bowls, speak about the relationship that we have with our environment."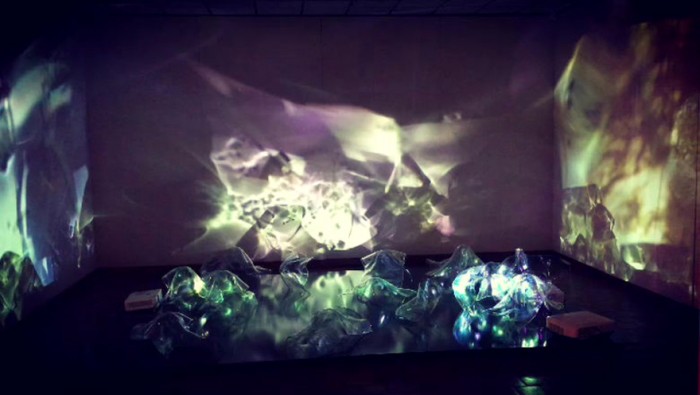 Speaking about her favourite project, the Coral Bleach aluminium bowl, she says that it represents coral that has become bleached due to warmer temperatures in the ocean.
"That these coral can then no longer provide a habitat to dependable sea creatures leading to the extinction not only of coral reefs but also of other ocean species," says Schoeman.
While she loves what she does, Schoeman notes that the hardest part about creating her art is the physical strength that is required to create these molds. "I also need to endure intense heat and various vapours. I therefore need to dress uncomfortably in protective gear and always be alert for hazards. I definitely feel the day's work on my body," she adds.
Applications for the 2019 Design Indaba Emerging Creatives programme are now open! APPLY NOW!
Read more:
8 emerging fashion designers on their interpretation of South African fashion
Doctor turned designer Kgahlego Kewana talks us through her unlikely path
Mapitso Thaisi talks culture, fashion and recognising Africa's impact