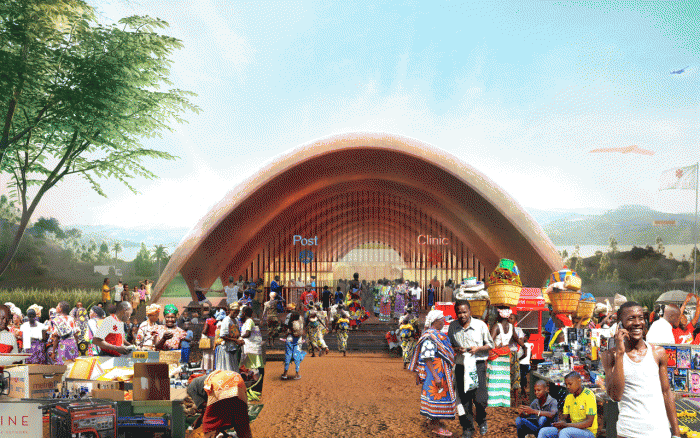 The Droneport pilot project is set to launch in Rwanda in 2016.
Rural Africa is often cut off from the rest of the world because of a lack of paved roads and other infrastructure. This means that supplies, aid, medicines, and technology so desperately needed in these areas have no secure way to get there. Known for designing airports, Foster + Partners have launched a Droneport project in Africa to transcend the physical barriers using cargo drones.
"The Droneport project is about doing 'more with less', capitalising on the recent advancements in drone technology – something that is usually associated with war and hostilities – to make an immediate life-saving impact in Africa," says Lord Foster, founder and chairman of Foster + Partners.
The pilot project will be rolled out in Rwanda in 2016. "Rwanda's challenging geographical and social landscape makes it an ideal test-bed for the Droneport project. This project can have massive impact through the century and save lives immediately," adds Foster.
The Droneport would operate with two parallel services, the Redline using smaller drones for medical and emergency supplies; and the commercial Blueline that would transport crucial larger payloads such as spare parts, electronics, and e-commerce, complementing and subsidising the Redline network.
As for the specifications of the drones, the project will deploy 3-metre wingspan drones, capable of carrying a payload of 10kg. By 2025, there will be drones with a 6-metre wingspan, capable of carrying payloads of 100kg.
Redline founder Jonathan Ledgard says the project aims to engineer drones to be tough and cheap enough to serve poorer communities. "Droneport is an attempt to make that happen, and to improve health and economic outcomes in Africa – and beyond," he adds.
The project will also see the construction of safe landing zones, petrol stations, and health centres, all of which will provide employment opportunities and reliable infrastructure for rural citizens.