Though plenty of evidence implicates the road transport sector as a massive contributor to the high level of carbon emissions noted in modern cities, motor vehicles still dominate the streets.
Founded by Canadian-Danish urban designer and urban mobility expert, Mikael Colville-Andersen, Copenhagenize Design Co. shows the path forward in this area, illuminating their mission to reduce automobile emissions through the endorsement of bicycle usage.
Dubbed "the Pope of urban cycling", Colville-Andersen employs both anthropological and sociological strategies in his work to develop liveable cities that are less reliant upon motor vehicles. Having helped cities like Copenhagen, Barcelona, Amsterdam Paris and Montreal redesign intersections for bicycles, he and his team at Copenhagenize Design Co. are also responsible for the Copenhagenize Bicycle Friendly Cities Index 2017.
A comprehensive ranking of 136 global cities and their level of affability towards cyclists, the 2017 iteration of the Copenhagenize Index was the fourth edition since its launch in 2011. Their rankings are determined by fourteen specific parameters, including bicycle culture, bicycle facilities, gender, perceptions of safety, urban planning and more.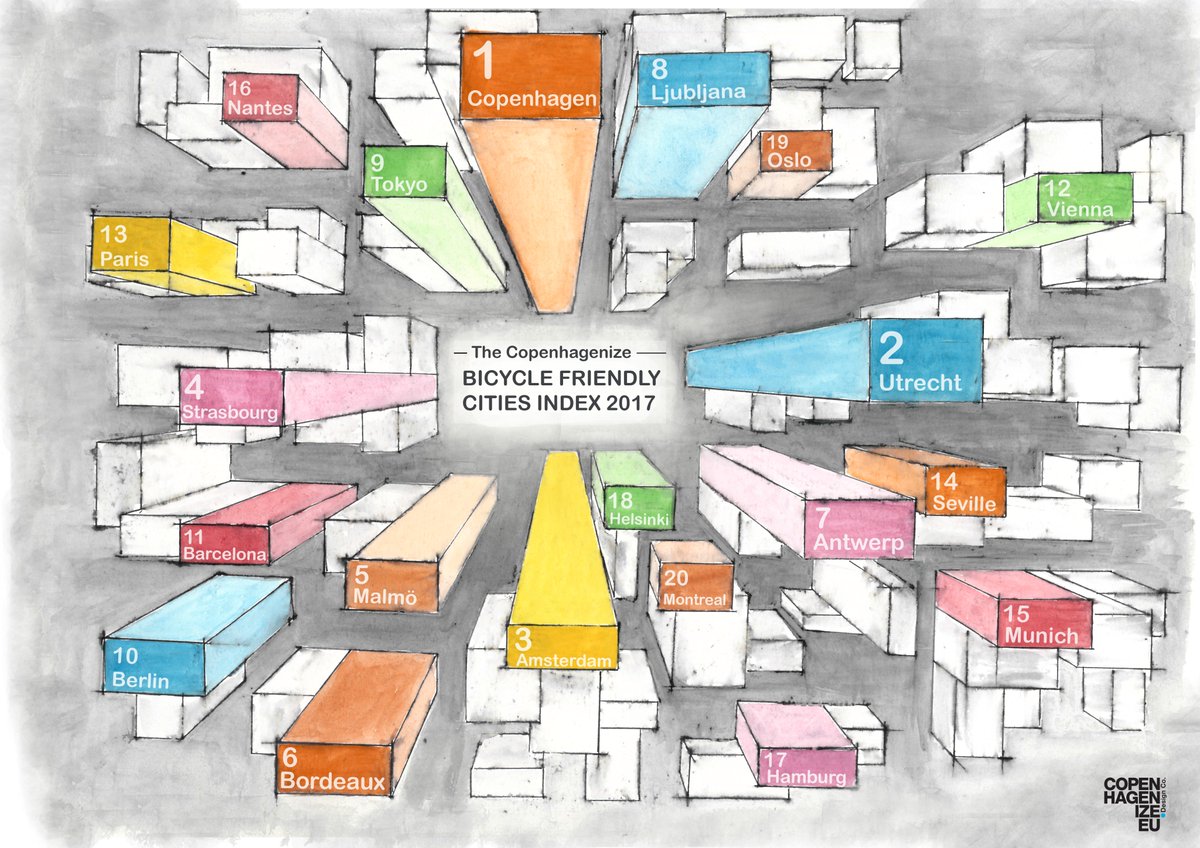 "The bicycle is the most powerful tool in our urban toolboxes to fix our cities," Colville-Andersen states.
Copenhagenize Design Co's work is multi-faceted and varied. From performing analysis' of cyclists' behavior and advising cities and governments on how to become more bicycle-friendly through coaching, to producing communication that promotes cycling as an attractive means of transportation, their overall focus is improving quality of life for city dwellers.
All of these efforts, the company expresses, are approached from a decidedly human-centered point of view, an outlook echoed by the work of designers like Paloma Strelitz.
Co-founder of the Turner Prize-winning design collective Assemble and participant in 2017's inaugural Design Commons, Strelitz works to address how architecture can address the inequity typical of large urban areas.
"It starts with asking the right questions," the urban and architectural designer tells us. "I think we all want to inhabit varied, rich environments and the things that we do the way that we act as humans are enormously complex and our environment should reflect that."
To learn more about Copenhagenize visit their blog here.
Read more on urban design
Urban designer Alice Cabaret on innovation in challenging places like Maboneng
On prioritising walking as a way to design cities differently
How can city layouts be designed to better cope with climate change?