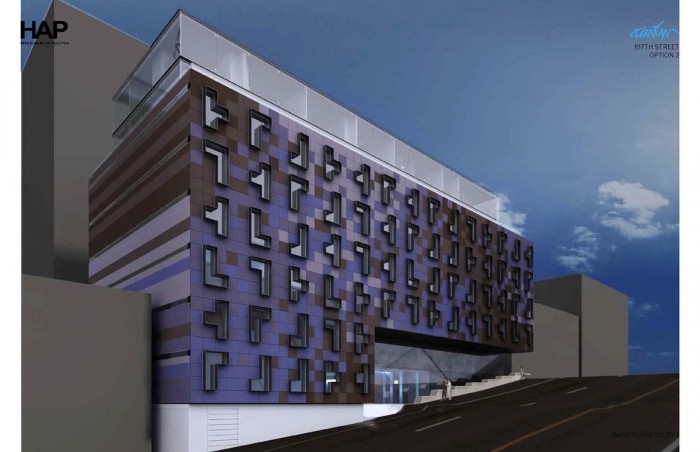 Hap Four apartment block in New York City designed by Karim Rashid.
Karim Rashid embraces affordable luxury with his design for New York City-based apartment block Hap Four.
With the idea of the democratisation of design in mind, Rashid made use of numerous new technologies and smart solutions to ensure a high design, high aesthetic and high performance environment for the investment apartment block in the Big Apple. With the implementation of these, Rashid further offers investors and residents a desirable and eco-conscious yet affordable lifestyle.
With his love and renowned use of unconventional colour, Rashid opted for a lavender shade for the building's exterior, which was inspired by the New York State bush, Lilac (Syringa Vulgaris). The colour is reinterpreted into a pixelated image resulting in various unique shades of purple, lilacs, silver and golds; "I created a building that uses pattern, geometry, light and colour to provide the luxury of well-being to its inhabitants", adds Rashid.
Design can enrich one's life, increase positive experiences through the way we live and afford us a richer life. If we can remove daily banalities, frustrations, and create a sense of simplicity, comfort and positive energy we can spend more time thinking, creating, relaxing, loving, fulfilling our dreams and desires, and use our time in a more constructive more contributively role in life, says Rashid.
The interiors are extremely functional, high performing spaces with light and airiness. Each apartment is finished with marble floors, high ceilings, floor to ceiling storage walls and kitchens with built in appliances.
All in all, the apartments are minimal yet sensual, colourful but relaxing, and comfortable yet progressive.