There are over 6 million premature deaths caused by air pollution globally each year, according to a new report from the International Energy Agency. In a bid to encourage the public to engage with the reality of unseen air pollutants, UK-based artist and designer Kasia Molga sent a team of models out onto the streets of England - all clad in her intuitive, wearable technology. As part of her Human Sensor project, the garments are able to effectively read and reflect surrounding levels of air pollution.
Designed to illuminate and change colour as its wearer breathes in and out, the clothing also responds to greater concentrations of various types of air pollution, notifying both the wearer and those in the vicinity of the wearer of the quality of the air they're breathing. While environmental phenomena like smog provide tangibility to the concept of air pollution, most pollutants are invisible to the naked eye, meaning most people are relatively unaware of the toxins they inhale on a daily basis.
"As an asthma sufferer, I am way more sensitive to air quality than others," Molga told the Washington Post. "This was the beginning of my idea - my body's sensitivity as an environmental indicator for poor air quality. I was suddenly able to see myself and other sufferers as 'superheroes' because of our special ability to detect airborne compounds and chemicals that are bad for us faster than other people."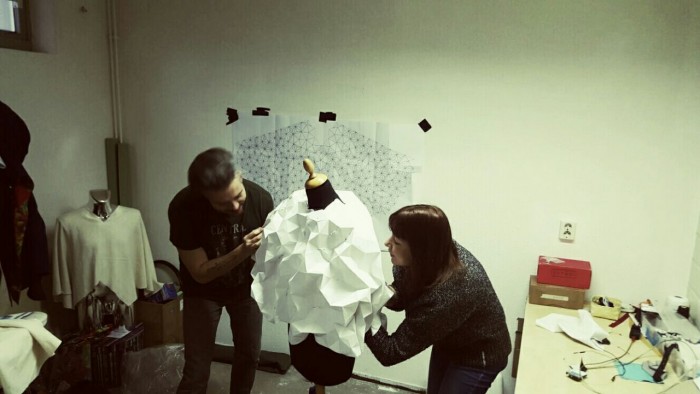 The project had its public debut on 23 July 2016 in Manchester, the birthplace of the Industrial Revolution. Molga's Human Sensor models, all of them clad in her intricate, high-tech garb, marched through various locations, lighting up, changing colour and becoming literal diagnostic tools in the process, encouraging citizens to become active in investigating their environment to challenge government policy surrounding it.
In collaboration with scientists from King's College London, and produced by environmentally conscious agency Invisible Dust, this unique merger of art and science hopes to effectively communicate the risks associated with an act as intimate as breathing. "It's really important for artists and scientists to work together," Kings College senior air quality analyst, Andrew Grieve, told The Guardian. "The big challenge we have is that air pollution is mostly invisible. Art helps make it visible."