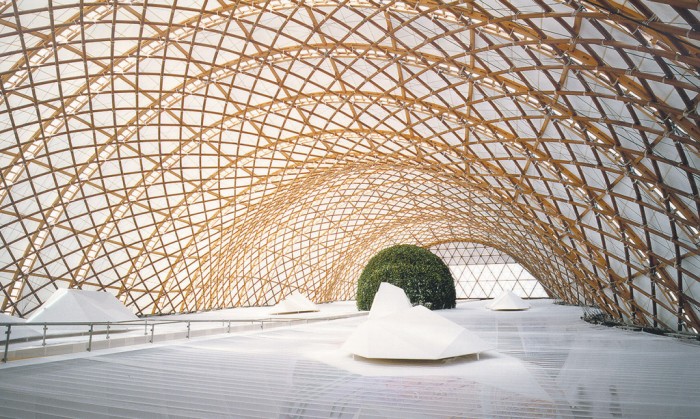 Cardboard city
Shigeru Ban's experiments with paper architecture over the past 10 years have encompassed constructions as diverse as a Catholic Church in Kobe, a gallery for Issey Miyake, and an exhibition hall at the Hanover Expo. More recently, he has made his paper architecture serve the needs of refugees and the victims of disaster.
Ban's experiments in paper architecture began in 1986 when, as curator of Tokyo's Axis Gallery, he had to design a temporary exhibition area. Faced with a limited budget and unable to afford wood, Ban hit on the idea of substituting cardboard tubes for partitions, and so the gentle revolution began.
Struck by the potential and beauty of paper - the most Japanese and insubstantial of materials - as well as the possible benefits to the environment, he carried out tests on the material with the help of the Gengo Matsui laboratory at Waseda University. This led to further temporary structures, further testing (because of the possibility of earthquakes, Japanese building standards are rigorously controlled) and his first permanent paper building in 1989 - a library extension to a poet's house. Ban designed a paper tube frame with glass walls and a steel roof. Steel wires inside the tubes handle tensile forces, while floor-to-ceiling bookshelves double as secondary structural elements.
In 1995, in the devastating aftermath of the Kobe earthquake, Ban used his paper tube architecture to help victims who had lost their homes. Visiting Kobe, he was struck by the sight of Korean and Vietnamese immigrants praying outside in the rain at the place where their Catholic Church once stood. Say Ban: "As an architect, I feel I have a strong obligation to society. Many doctors and lawyers give freely of their skills and knowledge in times of great need, but there aren't many architects doing it."
Eight months later, armed with paper tube, architectural practices, donations and student volunteers, Ban built a new church. It's concrete base, supported internally by paper tubes, stands 5m high. Tube walls, built from laminated layers of recycled paper to a thickness of 16mm, have wooden stoppers at both ends. The walls are clear plastic louvres and the tented roof is made of a white Teflon-coated fabric. The church, which doubles as a community centre, took only five weeks to complete.
Ban then used the same technology to build 21 new houses for earthquake evacuees. The structures are made of waterproofed paper tubing, Teflon-coated tenting and plastic beer crates which raise the structures off the damp earth. In six hours, Ban had assembled a small house for four people that could be heated by a traditional Japanese portable heater.
Ban's successful experimentation with the Kobe houses led him to work closely with the United Nations High Commission for Refugees, building shelters for Sudanese refugees.
His sustainable materials, besides having a structural function, are also helping prevent deforestation as previous shelters had to be assembled from wooden frames. He has further ideas of creating paper tube and mud huts for African refugees and has expressed an interest in working with South African architects and government to help find suitable, sustainable solutions to the country's housing crisis.
"Architecture cannot be separated from society, whether it's in a social or a local context. What really interests me is studying adverse local conditions and then building the solution into the design. The thing is, nothing is really new in architecture. All I am doing is taking what is already there, and using it in a new way," says Ban.
Whether it is a wall-less house, a public building or a refugee tent, Ban's imaginative structures are relatively inexpensive and easily assembled. Paper tube architecture presents interesting, environmentally sound possibilities. His spare elegance, subtle geometries and fluid spaces express a continuing exploration of Western ideas and their delicate fusion with Japanese tradition. Above all, the work is practical. This is, after all, paper tube architecture, far removed from the "paper architects" who have so influenced Ban's work.
"I studied under John Hejduk at the Cooper Union and it was a tradition there to produce the so-called paper architects. So in a way, I too am a paper architect," notes Ban.
It is an irony not wasted on Shigeru Ban, and one that draws a quiet laugh from this most unassuming of heroes.
"Architecture cannot be separated from society, whether it's in a social or a local context."