Kaja Solgaard Dahl is an industrial designer and ECAL graduate based in Oslo, Norway. She interested in tactile design but she's not restricted by any one creative industry such as fashion design, furniture or luxury products. Instead, her work is a mixture of all them.
Now, Dahl is deeply involved with the world of evocative perfumes. Presented for the first time on stage at the Design Indaba Conference 2017, Dahl's Cape Town-inspired scent is called "Tapputi and the sea. Cape Town edition". It is a treat for the nose, meant to encapsulate everything that makes the city of Cape Town unique and present it without a visual cue or a single word.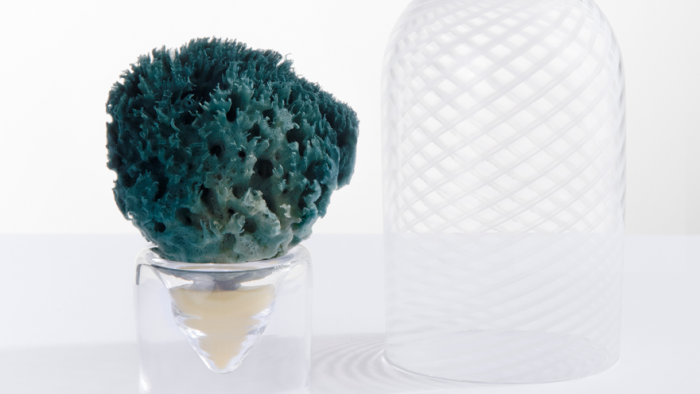 "It is a scent made in Cape Town," said Dahl, "A tailor-made object for a signature scent with bespoke gestures of the Cape. Dyed, natural sea sponges hold the handmade essence. The solid ingredients melt in contact with the skin and the scent transfers."
Dahl travelled far and wide to include signifiers of the incredible variety of nature found here in Africa's southern tip, melding together flavours of sea salt tartness, notes of sun-dried herbs and breezy sweetness. Dahl describes the influence that Cape Town's surrounding oceans had during the development of this scent.
"I was very inspired by the way the kelp changes character here while drying. Working with local perfumer, Agata Karolina, I sampled this and made small absolutes of it to include in the flavours of the perfume. In the end, we included two different kinds of seaweeds to get that same character of Cape Town kelp. This blends in with a very special fennel oil and sweet Namibian myrrah, which are great things that entertain the nose together well."
It is no secret to even the most renowned perfumers around the world that the scent which conjures up a memory or ignites imagery of the mind, leaves a lasting mark for the user. Dahl describes the early feedback that she received during development stages of "Tapputi and the sea."
"I already found that people who have smelled it have a reference of someone or something it reminds them of. A friend also said that after he had smelled the perfume he noticed some of the notes around the city of Cape Town.
The first sentence I sent to my perfumer to explain the scent before we started was 'a perfume from a previous life'. I wanted to create something that is familiar and unknown at the same time. Maybe we came close?"
Imagining what a similar city-specific perfume would be like based on her hometown in Norway, Dahl says it would have to be a scent that evokes the lush woodlands, distinct weather patterns and punishing winters of the region.
"If I were to make something for Oslo, something I would like to catch in the scent would be that cold air you get in the winter, the green spring freshness, those fresh summer nights by the fjord and the melancholic grey rainy days in fall in some way.
I think I have become someone who loves quite complex scents during this project. 'Edited maximalism' is definitely my thing in every project."
The Capetonian scent has been realized as a limited edition production of 50 vials as part of this year's gift to each Conference speaker. Credit to the photography of "Tapputi and the sea. Cape Town edition" goes to Frances Marais.