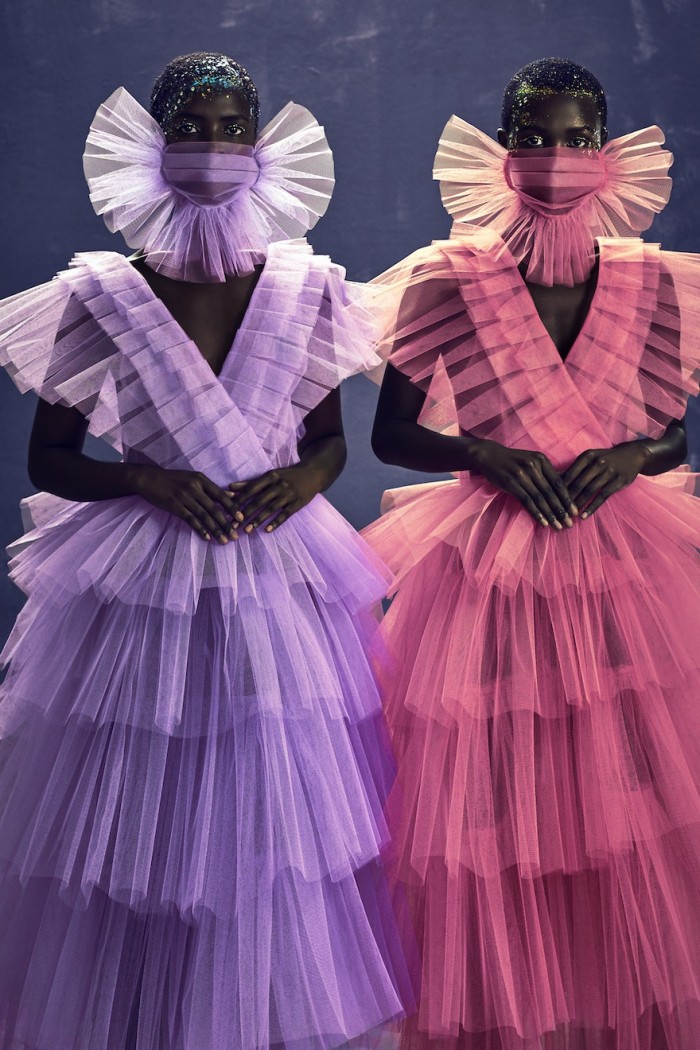 The pandemic has turned the fashion industry - like many other sectors - on its head. At the height of global lockdowns our smart wardrobes sat gathering dust - there were no social engagements to attend, bars and restaurants were closed, and parties were a no-go. While we dug out athleisure to hang around the house, fashion designers were forced to pivot.
By converting the ubiquitous face mask – a now iconic symbol of our time, and a garment we wear begrudgingly – into an object of desire, Kat van Duinen reminds us of fashion's power to allow self-expression. Even while wearing a mask, which by nature hides your face, you can assert a unique identity.
Since July 2020, the Cape Town-based fashion designer has been developing pieces that form part of an expanding collection. These cleverly court controversy for the sake of joie de vivre, transforming the utilitarian into something fanciful, beautiful, and even, fun.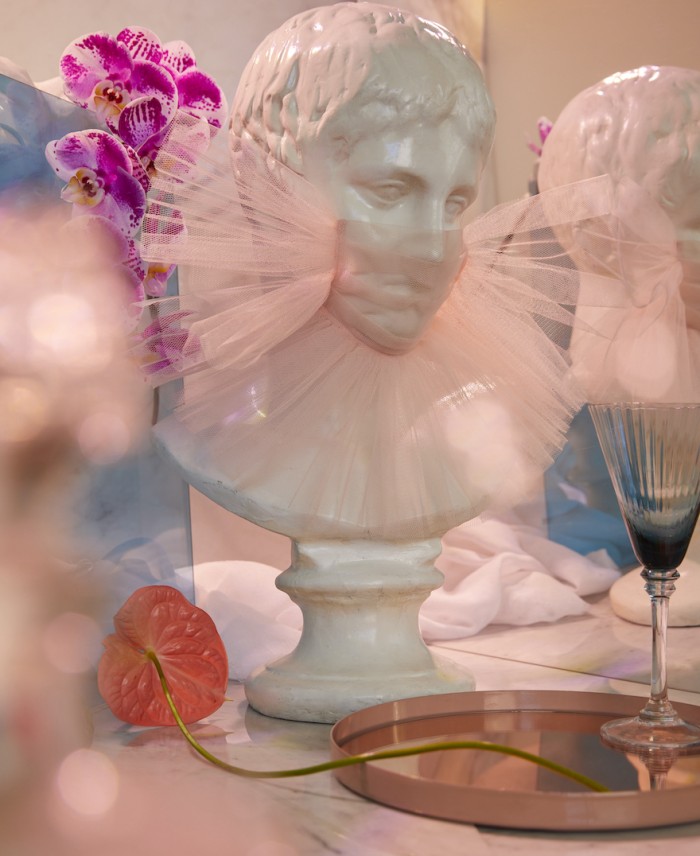 Naysayers could easily point out the frivolity of it, the inappropriateness of being light-hearted in a life-threatening pandemic. Yet Van Duinen identifies the need for a psychological release. Her approach to pandemic 'fashion' comes down to her belief that it's a vital part of a designer's job to problem-solve. "It is our job to make things a bit better for everyone, a little bit more beautiful," she asserts.
Her Practical Magic collection was indeed born out of a desire for lightness in a world that's currently very heavy. Van Duinen has been practical and pragmatic about the opportunities which remain to her.
She developed the collection to reflect an almost child-like yearning for the escapism the imagination affords. "Finding the sense of magic in an everyday world was always fashion's duty" is the ethos behind the collection. The masks and accompanying garments such as voluminous dresses in different tulle weights, colours and lengths "aren't just red carpet-ready… feel free to wear them for any mundane tasks, to grocery stores, or sipping tea in your garden."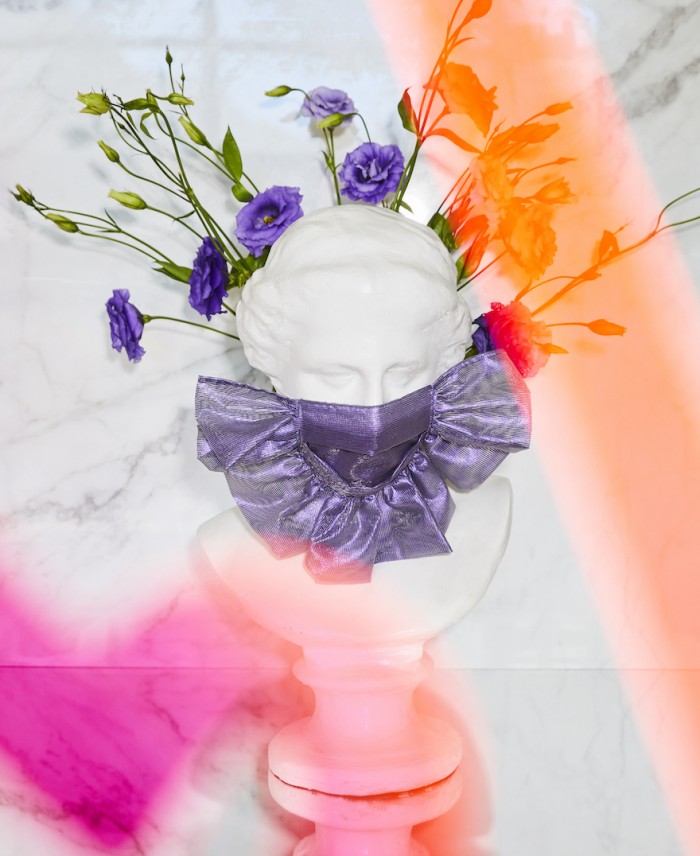 Her flamboyant Fashion VS Covid ruffle mask in metallic chiffon "is a show-stopper and an element of self-care" that tends to get "an overwhelming amount of attention from those who don't dare." But if you prefer yours to have the regular Clinical Precision of a medical mask, then she also makes this variety, too, in a soft, easy-to-wear Poplin.
We asked her if the mask is here to stay… "I think it's wonderful to be able to enjoy a bit of a face holiday... It's hard to say but I have a feeling this is not the last pandemic of this sort,' she says.
Shop her various collections via katvanduinen.com.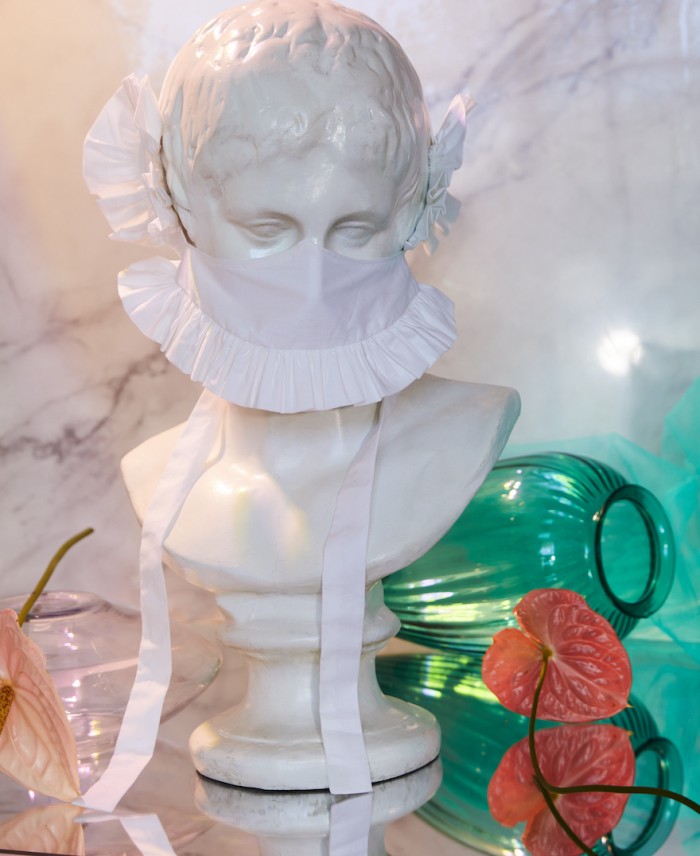 Photos:
Shot 1: Stylist Bev Nates; Photographer Gavin Goodman; Models Boss & Ice; hair and makeup Rain Tauber
Shot 2 & 3: Styling Lyal; Photographer Jacobus Snyman