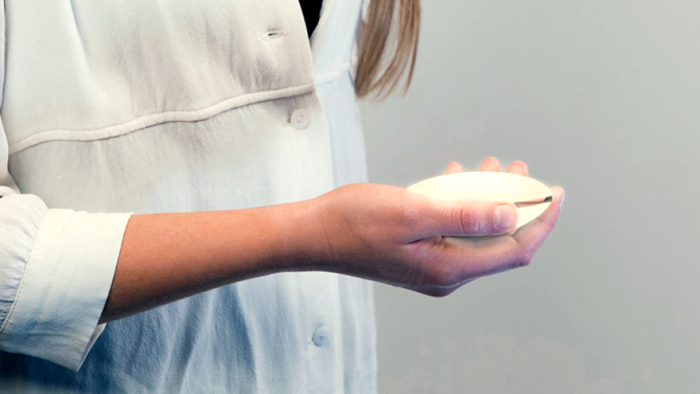 This futuristic looking pebble is a hand-held gadget made to ease panic and anxiety. It's called the Calmingstone, and is a device designed by New Zealand's Ramon Telfer and Alex Johnson. It uses certain sensory signals to ease the body's symptoms of high anxiety.
It was conceived after Telfer struggled with stress management in his own life a number of years ago. At the time, he was disappointed to find no concrete product aimed at alleviating anxiety responses without the use of pharmaceuticals. The Calmingstone answers this lack. It is a haptic device built to return the user's breathing and heart rate to a relaxed state, like a personal meditation helper.
"Because stress is very real and life is a fully tactile, sensory experience, we have created and evolved our learnings into a beautiful, intimate product that anyone can hold, feel and listen to," said Telfer.
Calmingstone achieves this by influencing three human senses at once – sight, hearing and touch. While holding it in the palm of one's hand, the device detects the stress level of the user by monitoring the rate of blood flow to the hand. The elegant copper ring around the side is actually the sensor that picks up the slightest pulses in the hand's arteries.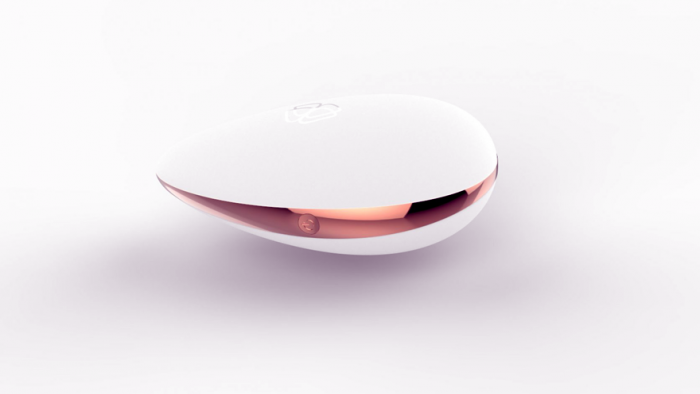 The device matches the pace and mimics it, gently vibrating to the rhythm of the heart and emitting a soft light in the same pattern. It encourages the user to breathe in time with its signals. Accompanying earphones deliver the third ingredient. Carefully selected audio runs in tandem with the vibration and light, giving the user a well-rounded sensory experience.
As the user's heart rate slows down, so do Calmingstone's pulses. Gradually, the device's fluctuations and glow become more subtle until the user has lowered their heart rate and breathing to a safer level.
"Breathing seems second nature to us, however, the ability to be aware of your breath and to maintain a calming breathing pattern can be difficult to achieve when you are constantly distracted by your environment. Calmingstone encourages you to take the time to stop and focus on long, slow, deep breaths to help your body go from tense and anxious to calm and relaxed."
The first prototype Calmingstone was designed in 2014 and now the product has launched officially. This is one example of an important new trend in the design world that focuses on mental health. While physical wellbeing and bodily health have been the focus for designers for decades, creativity for psychological health is becoming increasingly topical, especially among young designers.
"We want people to talk about their mind the same way we talk about our body," said Calmingstone co-founder Johnson. "Sharing experiences and insights are so powerful in normalising the conversation."