POST-NATION STATES:
'To act is to begin something new, that is action' said Hannah Arendt, one of the greatest, controversial thinkers and political theorist of all time who passed away in 1975.
Amongst many others, she coined the concept of the 'banality of evil' while identifying the mechanics of totalitarianism regimes in her book The Origins of Totalitarianism.
'POST-NATION STATES', a 4-week long summer school programme in New York City, takes inspiration from Hannah Arendt and her urge to develop platforms for pluralistic thinking in our contemporary societies which are seeing a resurgence in authoritarian regimes.
In this summer school, the subversive university known as the 'University of the Underground' in collaboration with the Hannah Arendt Center at Bard College, invite 15 international activists, magicians, philosophers, musicians, visionaries, nightlife artists, community supporters and makers of worlds to develop, write, design, and perform reenactments on the history of the United Nations (i.e. the establishment of nation-states) as a means to reveal power structures and histories and to offer a reflection on politics.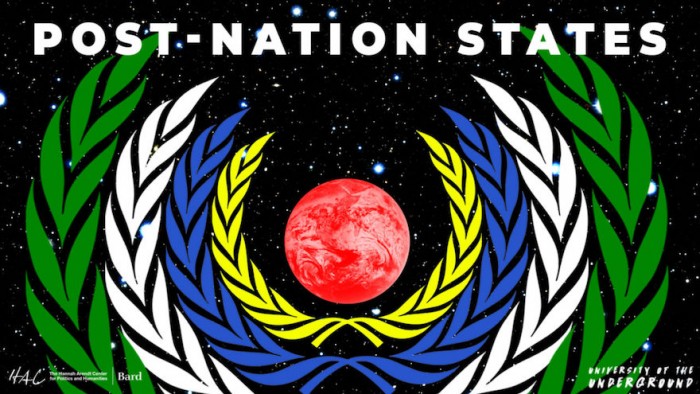 At the start of their investigation, participants will be tasked to use sports, poetry, music and dramaturgy, the architecture of diplomacy and independent publishing as sources of inspiration. Their final performances and experiences will be presented to diplomats themselves.
Through their interventions, participants will bring new perspectives and reflections to bear on the past, present and future of the United Nations as they will be granted access to the nerve centre of international affairs. The goal being to activate new models for politics using theatrical, musical, and other experiential practices as a means to achieve this.
Deadline for all applications: July 7th.
All selected applicants will be informed by email on July 10th
Skype interviews scheduled on 11th and 12th July.
Final results will be communicated on July 15th
The summer programme runs from 1st to 31st of August, 2019 in New York City.
FOR ALL THE INFORMATION YOU WILL NEED ABOUT APPLYING, CLICK HERE!
There will be a number of scholarships of $2000 available, to ensure that all those who want to join us are able to do so. Scholarships will be awarded on a case by case basis. Help us to identify your needs by completing the form you can find here!
Watch the Talk with Nelly Ben Hayoun
Talks
• Duration: 00:47:34
•
26 Jul 17