The new headquarters for G-Star RAW, by OMA takes on the aesthetics and values of brand's clothing line, expressing a raw industrial chic.
The new industrial headquarters for global denim brand G-Star RAW provides an interactive space for work and production, parties and fashion shows all under one roof.
The project is located beside the A10 motorway in Amsterdam's industrial Zuidoost district and consolidates the brand's facilities into a single building that aims to stimulate interaction between various departments. According to G-Star RAW's global brand director Shubhankar Ray, this idea continues the brand's vision to create a unified brand culture.
Rem Koolhaas's OMA was responsible for the redesign and opted for a structure that features a concrete shell, a glass core and a hanger-like façade that slides open.
The building's core departments are surrounded by a ring of offices, parking and support facilities. The distinction between the two is made viable using contrasting materials – a monolithic solidity rendered in black concrete for the ring, while the creative core is visible through the glass façade. The lower part of the ring forms a plinth for parking and drop off; the plinth also provides a location for installations and events.
One of the most prominent features of the building is a massive cantilevered glass box that juts out from the facade and houses G-Star's showrooms.
The building's core features staggered floor plates and double volume spaces that promote a dynamic exchange between the different creative departments.
The RAW-space, a flexible multi-use zone, either open to the outside or concealed behind sliding hangar-type doors, provides a space for work and production, parties, and fashion shows. Oriented towards the A10, the shifting façade and changing uses of the RAW-space, together with the various possible uses of the plinth, will create a constantly varying appearance reflecting the inner dynamism of G-Star RAW.
Watch the Trailer with Shubhankar Ray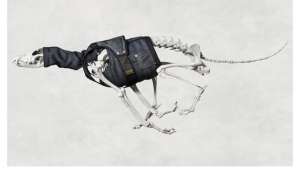 Trailers
• Duration: 00:02:09
•
11 Jun 15